The Takeaway: U.S. Retirement Assets Declining Again; Payroll Tax Deadlock Ends; World's Oldest Yoga Teacher
Posted By Elizabeth Nolan Brown On December 23, 2011 @ 9:23 am In Bulletin Today | No Comments
[1]Stock Market Sent Savings Tumbling: Americans' retirement assets lost a total value of $1.4 trillion last quarter [2], the first decline since the depths of the recession three years ago, according to a new report from the Investment Company Institute [3] (ICI). The drop can partly be blamed on a tumbling stock market-the S&P 500 lost nearly 14 percent during the third quarter of 2011.
But the fact that Americans have gotten better at retirement saving strategies mitigated the stock market's dismal performance somewhat. Retirement account balances held up better than the stock market because of asset diversification and ongoing contributions to retirement savings plans, ICI said.
That's about where the good news ends, however. ICI reports that U.S. retirement assets aren't just down sharply from their recent all-time high-they're also below their pre-recession peak in 2007. In total, U.S. retirement assets fell 7.5 percent, to $17 trillion, at the end of the third quarter, down from a record $18.4 trillion at the end of second quarter 2011. Assets in IRAs fell 8.5 percent since then.
Compromise In Congress: For now, American workers don't have to worry about seeing a $20 a week tax increase come January 1-nor do doctors have to worry about a 27.4 percent pay cut from Medicare. After initially rejecting the measure [4], House Republican leaders yesterday agreed to a two-month payroll tax cut extension [5]-and, with it, an extension of federal unemployment benefits and a temporary 'doc fix.' The Associated Press reports [6]:
After days of wrangling that even Speaker John Boehner acknowledged "may not have been politically the smartest thing in the world," the Ohio Republican abruptly changed course and dropped demands for immediate holiday season talks with the Senate on a full-year measure that all sides said they want. Senate leaders had insisted on the two-month extension to buy time for talks next year.
The compromise legislation would renew the payroll tax cut, unemployment benefits and Medicare pay rate through Feb. 29. Its $33 billion cost would be covered by an increased fee on mortgages backed by Fannie Mae, and Freddie Mac.
U.S. Yoga Teacher Named World's Oldest: Bernice Bates, 91, has been named the world's oldest yoga teacher by Guinness World Records [7]. Here's more: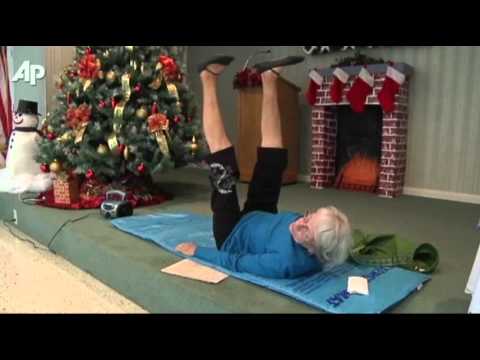 [8]
Friday Quick Hits: 
Photo: Mareen Fischinger/Getty Images
---
Article printed from AARP: http://blog.aarp.org
URL to article: http://blog.aarp.org/2011/12/23/the-takeaway-u-s-retirement-assets-declining-again-payroll-tax-deadlock-ends-worlds-oldest-yoga-teacher/
URLs in this post:
[1] Image: http://aarpblog.files.wordpress.com/2011/12/300-retirement-assets-shrink-recession.jpg
[2] lost a total value of $1.4 trillion last quarter: http://www.cbsnews.com/8301-505123_162-57346985/american-retirement-assets-drop-$1.4-trillion/
[3] Investment Company Institute: http://www.ici.org/
[4] initially rejecting the measure: http://blog.aarp.org/2011/12/21/the-takeaway-with-congress-home-for-the-holidays-docs-face-steep-medicare-pay-cut/
[5] agreed to a two-month payroll tax cut extension: http://www.aarp.org/politics-society/government-elections/news-12-2011/house-accepts-tax-terms.html?intcmp=DSO-HP-SL1
[6] The Associated Press reports: http://www.google.com/hostednews/ap/article/ALeqM5igZi6qTboKjre8BEkVbIUvG3lO7w?docId=38e37f1551da498a9f818228d5da41ff
[7] Guinness World Records: http://en.wikipedia.org/wiki/Guinness_World_Records
[8] Image: http://www.youtube.com/watch?v=AmtALIQ0LVU
[9] according to public interest journalism group ProPublica: http://www.propublica.org/article/gone-without-a-case-suspicious-elder-deaths-rarely-investigated
[10] The number of people who frequently experience heartburn has almost doubled: http://abcnews.go.com/Health/acid-reflux-rise-study-finds/story?id=15208938#.TvRso3OfDgg
[11] extend their lives by an average of two to three years: http://www.telegraph.co.uk/health/healthnews/8973323/Mediterranean-diet-extends-life-by-up-to-three-years.html
[12] are likely to see those pounds return as fat, rather than muscle mass: http://health.usnews.com/health-news/family-health/womens-health/articles/2011/12/22/most-weight-regained-by-older-women-is-fat-study-finds
[13] Thinner brains could signal Alzheimer's disease: http://yourlife.usatoday.com/health/medical/alzheimers/story/2011-12-22/Thinner-brains-could-signal-Alzheimers/52157050/1
[14] still has no director: http://money.cnn.com/2011/12/23/news/economy/consumer_bureau_director/
Click here to print.