The Takeaway: Opera-Singer-Turned-Film-Star Marta Eggerth Still Cabarets At 100
Posted By Elizabeth Nolan Brown On April 13, 2012 @ 8:39 am In Bulletin Today | No Comments
[1]Storyteller and Stage Animal: Hungarian songstress and performer Marta Eggerth got her show-biz start as a child opera prodigy and went on to Broadway and film fame. These days, Eggerth-who will celebrate her 100th birthday April 17-still performs the occasional one-woman show at New York's Cafe Sabarsky, which hosts a series of 'upscale, unconventional cabaret evenings,' according to the Washington Post [2].
The bookers knew they had a promising idea, since Eggerth is a great storyteller and a stage animal, but they were slightly nervous about booking a 95-year-old woman. Would she, they asked her son Marjan before her first appearance, be able to perform for as long as 45 minutes? … Forty-five minutes was too short. She gave them an hour and a half.
"People ask me, How is it to be 100?" she told the Post. "I say, I don't know. I have no standard of comparison. You must ask me when I am 200 what it was like to be 100, and then I will be able to tell you."
Eggerth was married to the Polish tenor Jan Kiepura, who died in 1966. The two starred together in a production of the operetta "The Merry Widow," which ran "in Chicago, in Europe, and on Broadway for a few hundred performances" in the 1940s. Here's Eggerth in concert in 1994, at age 82.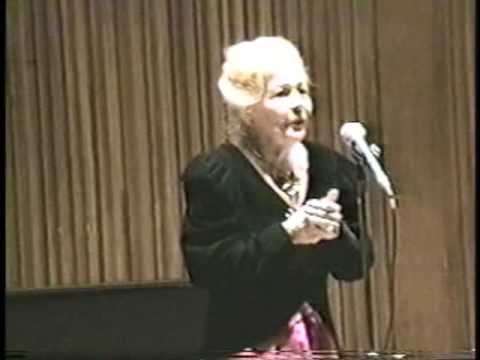 [3]
Friday Quick Hits:
Photo: Andrew Lepley/Redferns/Getty Images
---
Article printed from AARP: http://blog.aarp.org
URL to article: http://blog.aarp.org/2012/04/13/the-takeaway-opera-singer-turned-film-star-marta-eggerth-still-cabarets-at-100/
URLs in this post:
[1] Image: http://aarpblog.files.wordpress.com/2012/04/mar.jpg
[2] according to the Washington Post: http://www.washingtonpost.com/entertainment/music/marta-eggerth-still-singing-at-100/2012/04/11/gIQAZgzXBT_story.html?hpid=z12
[3] Image: http://www.youtube.com/watch?v=EWuVU-Asxlo
[4] is developing innovative technological solutions: http://www.reuters.com/article/2012/04/12/us-usa-economy-healthcare-aging-idUSBRE83B1BY20120412
[5] Neuropsychologist Brad Folley said it's important: http://www.usatoday.com/news/health/wellness/story/2012-04-12/memory-lapse-causes/54222238/1?csp=34news
[6] a new MetLife report shows: http://www.nytimes.com/2012/04/15/realestate/mortgages-reverse-loans-at-a-younger-age.html
[7] more than 2.5 million U.S. grandparents are raising grandchildren: http://www.usatoday.com/news/health/wellness/story/2012-04-12/rise-of-granparents-grandfamilies/54206854/1?csp=34news
Click here to print.