Van Cliburn: 7 Things He and Elvis Had in Common
Posted By Patrick Kiger On February 27, 2013 @ 4:49 pm In Legacy | Comments Disabled
In the mid-to-late 1950s, there were two young men in their early 20s – one born in Mississippi, the other in Louisiana – who not only climbed meteorically to the top of the musical world [1] but caused a sensation with their flamboyant hairstyles and matinee-idol looks.
[2]One of them, of course, was Elvis Presley [3], the hip-wiggling singer whose energetic synthesis of country and rhythm-and-blues was potent enough to wow all the teenagers watching him on grainy black-and-white TVs.
The other was Van Cliburn, a classical pianist whose triumph at first International Tchaikovsky Competition in Moscow in 1958, when he was just 23, enthralled a nation that had been embarrassed just six months before by the Soviets' victory in the race to launch the first space satellite. Cliburn, who died on Feb. 27 at age 78 [4] in Fort Worth, Texas, returned home to a ticker-tape parade in New York City, made the cover of Time magazine and, like Elvis, was invited to play live on national TV. Here's a clip of him performing in Moscow: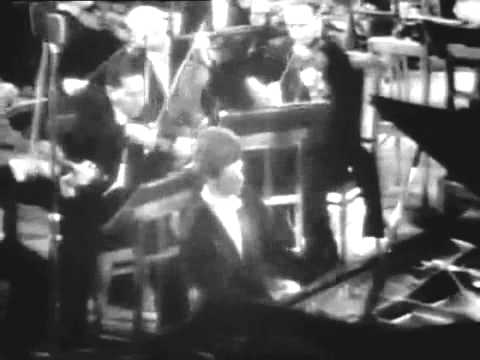 [5]
The parallels between Elvis and Van Cliburn make it intriguing to compare and contrast the two superstars of different musical genres. Here are some similarities:
Both of them were handsome. Time, which proclaimed Cliburn's victory the greatest triumph since Franz Liszt made his St. Petersburg debut, was enamored of his "pale baby face, with its cornflower-blue eyes beneath a tangle of yellow hair."
Both of them had trademark stage mannerisms. Elvis, of course, had the hip shake, which seemed so provocative in those days that Ed Sullivan had his cameraman show the young rocker only above the waist when he performed "Don't Be Cruel [6]." Time noted that Russian music fans doted on Cliburn's "agonized exaltation" at the keyboard, in which the pianist "shakes his head from side to side in a kind of slow frenzy at the grip of the music upon him. In the more fiery passages he crouches close over the keys, his face scowling, his elbows jutting far behind him, like the legs of a praying mantis."
Both of them had been iconoclastic teenage misfits. Elvis famously noted that "I wasn't popular in school," and he occasionally was bullied by classmates who saw him as a fancy-dressing mama's boy. In the Time profile, Van Cliburn described his adolescence as "a living hell" and noted that "You can't love music enough to want to play it, without other kids thinking you're queer or something."
Both of them were TV stars. Both Elvis and Cliburn performed  on the Steve Allen Show and the Ed Sullivan Show. Cliburn also made this amusing appearance on the game show What's My Line?   [7]
Both of them drove the girls crazy. Elvis was famous for his screaming throngs of female fans, but Cliburn had them, too – especially in Russia. "Especially the young girls were going absolutely crazy about Van's performances, heaping flowers on him," New York Times journalist Max Frankel later recalled."And there were long lines to get in [when he played], even longer than usual."
Both of them had unusual names. Elvis Aron Presley's first name is an Anglicized version of Ailbhe [8], a sixth-century Irish saint. Van Cliburn's full name, according to his New York Times obituary [9], was Harvey Lavan Cliburn Jr.
---
Article printed from AARP: http://blog.aarp.org
URL to article: http://blog.aarp.org/2013/02/27/van-cliburn-dies-at-78-classical-pianist-elvis-presley-tchaikovsky/
URLs in this post:
[1] top of the musical world: http://www.aarp.org/entertainment/music/info-02-2013/grammy-night-photos.html#slide1
[2] Image: http://blog.aarp.org/wp-content/uploads/2013/02/Van_Cliburn_Way.jpg
[3] Elvis Presley: http://blog.aarp.org/2012/08/15/cant-help-falling-in-love-with-elvis-35-years-later/
[4] died on Feb. 27 at age 78: http://www.star-telegram.com/2013/02/27/4647640/van-cliburn-dies.html?storylink=addthis#.US5AjmHXcDY.facebook
[5] Image: http://www.youtube.com/watch?v=2FQfcIBZY7s
[6] Don't Be Cruel: http://www.youtube.com/watch?v=mLSgqH2BOeg
[7] Image: http://www.youtube.com/watch?v=2lUFFZqXtoM
[8] Ailbhe: http://www.catholic.org/saints/saint.php?saint_id=1197
[9] New York Times obituary: http://www.nytimes.com/2013/02/28/arts/music/van-cliburn-pianist-dies-at-78.html?hp&pagewanted=all
[10] Elvis Presley Boulevard: https://maps.google.com/maps?hl=en&ie=UTF-8&q=elvis+presley+boulevard&fb=1&gl=us&hq=elvis+presley+boulevard&ei=WWcuUbi9Auy50AHMsIDQCg&ved=0CMMBELYD
[11] Van Cliburn Way: https://maps.google.com/maps?hl=en&q=van+cliburn+way+fort+worth&ie=UTF-8&hq=&hnear=0x864e73c29aabc5f9:0xf3b2003f7c29a88d,Van+Cliburn+Way,+Fort+Worth,+TX+76107&gl=us&ei=6GYuUciuHIvv0QGf9ICAAw&ved=0CEkQ8gEwAw
Click here to print.