Margaret Thatcher: 10 Surprising Facts About the Iron Lady
Posted By Patrick Kiger On April 8, 2013 @ 12:54 pm In Legacy | Comments Disabled
[1]Margaret Thatcher [2], who died on April 8 at age 87 [3], served as British Prime Minister from 1979 to 1990, and she was the first woman to ever hold that office. Her gender, though, wasn't what made her stand out.
Thatcher arguably was the toughest politician who ever occupied 10 Downing Street, so intractably hard-headed that she made another famously gruff Conservative Party leader, Winston Churchill, look almost like a softy by comparison.
But while Thatcher [4] didn't have to confront Nazi Germany, as Churchill had, she had to deal with another, more insidious threat to her country's well-being: rampant inflation [5], a stagnant economy and crushing government deficits [6]. Her solutions – which included slashing education spending, cutting income taxes and replacing them in part with a tax on consumption, privatizating [7] utility companies and government-controlled industries and breaking the power of trade unions – were controversial, and she faced strident resistance from the Labor Party, as this clip of her final speech to Parliament in 1990 demonstrates.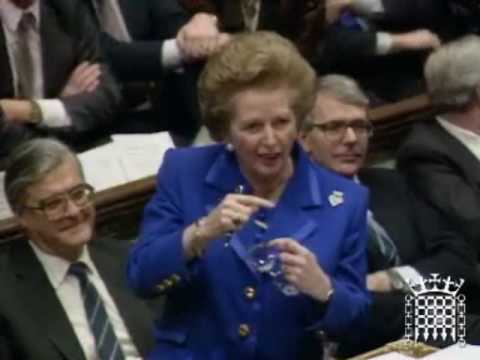 [8]
But Thatcher could take a punch as well as she could throw one, and even her detractors acknowledged that she changed the course of British history, steering it away from socialism and back toward market-based private enterprise. And it was hard not to admire Thatcher's resolve in defeating Argentina in the 1982 Falklands war  [9]and confronting the then-Soviet Union – and her willingness to support a reformist Soviet leader, Mikhail Gorbachev, who credits her [10] with helping to end the Cold War. The UK's Daily Mail newspaper provides this detailed account [11] of her political career. Here's a video biography from Great Britain's ITN television.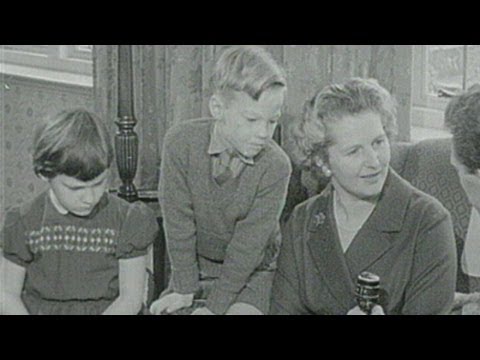 [12]
Here are 10 intriguing facts about the Iron Lady:
She was the daughter of a grocer.
She first worked in a political campaign when he was just 10 years old.
She studied chemistry at Oxford University, and after graduating worked for a time for a food company, testing cake fillings and ice creams.
She gave birth to twins, Carol and Mark, in 1953.
Her favorite poet was Rudyard Kipling.
As education secretary for the Conservative government in the 1970s, she abolished the practice of giving free milk to schoolchildren, which earned her the derisive nickname of "Margaret Thatcher, Milk Snatcher."
She narrowly escaped assassination in October 1984, when the Irish Republican Army detonated a bomb at the Brighton Grand Hotel [13], where the Conservative Party was holding a conference. Five people were killed and 34 were injured in the attack.
She played the piano [14].
Thatcher has appeared as a character at least 45 times in movies and TV shows, according to the Internet Movie Database [15]. She's been portrayed by an assortment of noted actresses, including  Meryl Streep, Greta Scacchi, Patricia Hodge, and Jennifer Saunders of Ab Fab fame. She also was portrayed a bit less flatteringly by a man - impressionist and comic Steve Nallon, who voiced the Margaret Thatcher puppet on the British satirical TV show Spitting Image for 12 years. Streep may have captured Thatcher's persona most accurately. [16]
Unlike Churchill, she will not receive a state funeral [17], but instead will be afforded honors comparable to Diana, Princess of Wales.
Photo: Margaret Thatcher Foundation via Wikipedia
Also of Interest
Join AARP [20]: Savings, resources and news for your well-being
See the AARP home page [21] for deals, savings tips, trivia and more
---
Article printed from AARP: http://blog.aarp.org
URL to article: http://blog.aarp.org/2013/04/08/margaret-thatcher-10-surprising-facts-about-the-iron-lady/
URLs in this post:
[1] Image: http://blog.aarp.org/wp-content/uploads/2013/04/Margaret_Thatcher.png
[2] Margaret Thatcher: http://blog.aarp.org/2013/04/08/margaret-thatcher-prime-minister-iron-lady-british-politicians/
[3] died on April 8 at age 87: http://www.nytimes.com/2013/04/09/world/europe/former-prime-minister-margaret-thatcher-of-britain-has-died.html?hp&_r=0
[4] Thatcher: http://www.aarp.org/entertainment/movies-for-grownups/info-04-2012/meryl-streep-movies-for-grownups.html?intcmp=AE-BLIL-DOTORG
[5] inflation: http://blog.aarp.org/2013/02/21/chained-cpi-for-social-security-not-more-accurate-for-seniors/?intcmp=AE-BLIL-BL
[6] deficits: http://blog.aarp.org/2013/04/05/illinoisans-detest-president-obamas-chained-cpi-budget-proposal/?intcmp=AE-BLIL-BL
[7] privatizating: http://www.guardian.co.uk/commentisfree/2012/mar/29/short-history-of-privatisation
[8] Image: http://www.youtube.com/watch?v=okHGCz6xxiw
[9] 1982 Falklands war : http://www.youtube.com/watch?v=bmlzDKev4ec
[10] credits her: http://www.reuters.com/article/2013/04/08/us-britain-thatcher-gorbachev-idUSBRE9370KK20130408
[11] detailed account: http://www.dailymail.co.uk/news/article-2305755/Margaret-Thatcher-dead-How-Iron-Lady-woman-Prime-Minister.html
[12] Image: http://www.youtube.com/watch?v=hIwzjxYlLR8
[13] detonated a bomb at the Brighton Grand Hotel: http://news.bbc.co.uk/onthisday/hi/dates/stories/october/12/newsid_2531000/2531583.stm
[14] played the piano: http://www.wildsoundmovies.com/the_iron_lady.html
[15] Internet Movie Database: http://www.imdb.com/character/ch0028330/?ref_=fn_ch_ch_1
[16] Image: http://www.youtube.com/watch?v=IKPltuiEVJ8
[17] will not receive a state funeral: http://www.guardian.co.uk/politics/2013/apr/08/no-state-funeral-margaret-thatcher
[18] Lilly Pulitzer: 5 Facts about the Woman Who Lead a Fashion Rebellion: http://blog.aarp.org/2013/04/08/lilly-pulitzer-5-facts-about-the-woman-who-led-a-fashion-rebellion/?intcmp=AE-ENDART1-BL-REL
[19] Barbara Walters is Retiring: 5 of Her Greatest Interviews: http://blog.aarp.org/2013/03/29/barbara-walters-is-retiring-5-of-her-greatest-interviews/?intcmp=AE-ENDART2-BL-BOS
[20] Join AARP: https://appsec.aarp.org/MSS/join/application?intcmp=AE-ENDART3-BL-MEM
[21] AARP home page: http://www.aarp.org/?intcmp=AE-ENDART3-BL-HP
Click here to print.