George Jones: 10 Facts About the Country Music Legend
Posted By Patrick Kiger On April 26, 2013 @ 3:49 pm In Legacy | Comments Disabled
[1]George Jones, who died on April 26 at age 81 [2] in Nashville, was such a giant in the world of country music that a song Jim Lauderdale wrote about him, "The King of Broken Hearts [3]," became a hit for George Strait. And that was a fitting appellation.
Jones, who possessed a superlative, pitch-perfect baritone – Frank Sinatra reportedly once called him "the second greatest singer in the world" – was royalty as a vocalist. But he also exemplified the tension between the beautiful and the tragic that makes country music so resonant to so many.
See also: Reba McEntire-A Country Girl At Home in Hollywood (slideshow) [4]
The Nashville Tennessean eulogized Jones [2] as "a master of sad country ballads whose voice held the bracing power, the sweetness and the burn of an evening's final pull from a bourbon bottle." That feeling is encapsulated in one of his myriad hits, "He Stopped Loving Her Today":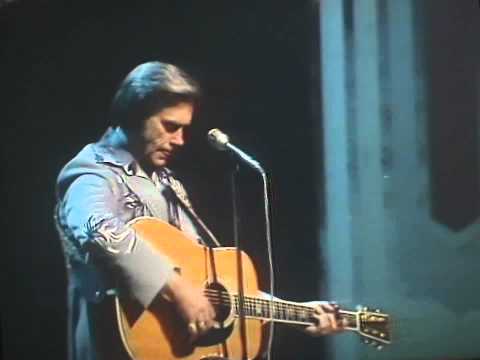 [5]
Here are 10 tidbits about Jones' life and times:
A lot of country singers have had rough lives, but Jones' troubles started at his birth in east Texas, according to a 1982 Texas Monthly profile [6]. He was a 12-pound breech baby, and the doctor had to break his arm to get him out. His father, a truck driver and pipefitter, sometimes chased him while in inebriated rages, but also introduced him to Grand Ole Opry on the radio, and bought him his first guitar, an inexpensive model endorsed by Gene Autry. As a young boy, Jones began playing and singing outside the local cafe for anyone who would listen.
As a teenager, Jones got a job playing guitar on a local radio show in Beaumont, Texas. That was where he met Hank Williams, who advised the starstruck youngster not to try to imitate anyone, but to develop his own distinctive style as a performer.
In 1966, Jones tried to start a country music theme park, George Jones Rhythm Ranch, in Vidor, Texas, which failed after Jones gave an initial live performance and then disappeared for a month on an alcoholic bender. He had more success with Old Plantation Theme Park, a concert venue that he and Wynette operated on their estate in Lakeland, Tenn., and later with Jones Country Theme Park, which he operated with his fourth wife in east Texas.
When Jones finished the studio session for his 1980 hit "He Stopped Loving Her Today," he reportedly told producer Billy Sherill: "It' ain't gonna sell. Nobody'll buy that morbid [expletive]."
Jones was a famously hard drinker – he once reportedly rode his riding lawn mower to a bar in the middle of the night, and on another occasion led police on a car chase through Nashville – but unlike some other country greats, he didn't romanticize his struggle with alcohol. "Sooner or later, you're gonna drink too many and make a butt out of yourself or lose a friend or something," he once explained. "It's just a shame that it took me so damn long to understand that I wasn't getting a damn thing by it. All I was doing is making things worse every day." As country star Clint Black told People magazine [10] in 1992: "George lives out his songs and suffers for his art. Success didn't solve his problems."
In a 2012 interview with photographer and blogger Alan Mercer, [12] Jones complained that traditional country music had largely been exiled from commercial country radio. saying, "They don't even know who I am in downtown Nashville."
Photo: Rick Diamond/WireImage/Getty Images
Also of Interest
Join AARP [15]: Savings, resources and news for your well-being
See the AARP home page [16] for deals, savings tips, trivia and more
---
Article printed from AARP: http://blog.aarp.org
URL to article: http://blog.aarp.org/2013/04/26/george-jones-10-facts-about-the-country-music-legend-famous-musicans/
URLs in this post:
[1] Image: http://blog.aarp.org/wp-content/uploads/2013/04/240-george-jones-nashville-country-music-legacy.jpg
[2] died on April 26 at age 81: http://www.tennessean.com/article/20130426/TUNEIN/130426004/George-Jones-dies-age-81?nclick_check=1
[3] The King of Broken Hearts: http://www.nucountry.com.au/articles/diary/2002_early2003/lauderdale.htm
[4] Reba McEntire-A Country Girl At Home in Hollywood (slideshow): http://www.aarp.org/entertainment/music/info-11-2012/reba-mcentire-hair-photos.html#slide1?intcmp=AE-BLIL-DOTORG
[5] Image: http://www.youtube.com/watch?v=ipHIzSOA5I4
[6] 1982 Texas Monthly profile: http://books.google.com/books?id=My4EAAAAMBAJ&pg=PA149&dq=%22george+jones%22+beaumont&hl=en&sa=X&ei=2bd6UeipB-250QHLsoCgCA&ved=0CD0Q6AEwAg#v=onepage&q=%22george%20jones%22%20beaumont&f=false
[7] Image: http://www.youtube.com/watch?v=kcf1NgnD64Y
[8] Image: http://www.youtube.com/watch?v=A8t8xw38QT4
[9] Image: http://www.youtube.com/watch?v=Q9KniULwvjE
[10] People magazine: http://www.people.com/people/archive/article/0,,20109144,00.html
[11] Image: http://www.youtube.com/watch?v=HSj6SayDnR0
[12] Alan Mercer,: http://amprofile.blogspot.com/2012/03/george-jones.html
[13] Ashley Campbell: Alzheimer's is Stealing My Dad's Memories: http://blog.aarp.org/2013/04/25/ashley-campbell-alzheimers-is-stealing-my-fathers-memories/?intcmp=AE-ENDART1-BL-REL
[14] 5 Surprising Facts About Leave It to Beaver's 'Lumpy' Rutherford: http://blog.aarp.org/2013/04/17/5-surprising-facts-about-leave-it-to-beavers-lumpy-rutherford/?intcmp=AE-ENDART2-BL-BOS
[15] Join AARP: https://appsec.aarp.org/MSS/join/application?intcmp=AE-ENDART3-BL-MEM
[16] AARP home page: http://www.aarp.org/?intcmp=AE-ENDART3-BL-HP
Click here to print.