The Sting-Ray: Was It the Coolest Bike Ever?
Posted By Patrick Kiger On May 13, 2013 @ 2:39 pm In Legacy | Comments Disabled
If you were a prepubescent boy in the mid-1960s, a great deal of your social status hinged on your bike [1]. If you rode a big clunky cruiser with fat tires that looked like a hand-me-down from Beaver Cleaver, you had no chance for membership in the Cool Kids Club, even if you adorned it with streamers and stuffed baseball cards in the spokes.
[2]No, what you bugged your parents to get you for your birthday or Christmas was a Schwinn Sting-Ray [3]. It had strangely tiny wheels and an undersized 20-inch frame, with a curvy "banana" seat and ape-hanger handlebars. Adults thought it was goofy, but in your mind, it looked exactly like one of the Harley-Davidson choppers you saw in the newspaper ads for those drive-in movies you weren't old enough to go to see yet. You imagined pedaling around your neighborhood, slouched back as you clutched those plastic-handle grips, looking so boss as you popped a wheelie and balanced on the back wheel for a split second, like a cowboy trying to break a wild horse.
See also: Hottest summer songs from 1960s (slideshow) [4]
Schwinn executive Al Fritz, who died on April 7 at age 88 [5]in Barrington, Ill., was the bicycle industry visionary responsible for your youthful fantasy. As the then-Chicago-based company's director for research and development in the early 1960s, Fritz found out that kids in California were getting old 20-inch-frame bikes from the scrap heap and customizing them to look like motorcycles by replacing the factory seats and handlebars. He devised a prototype [6], and although company management initially snickered at the idea, it quickly became a runaway hit. From 1963 to 1968, Schwinn sold nearly two million Sting-Rays, and the style became so popular that for a while, with competitors churning out clones, it accounted for 60 percent of all the bikes sold in the United States. Here's a video that plays tribute to classic Sting-Ray advertisements: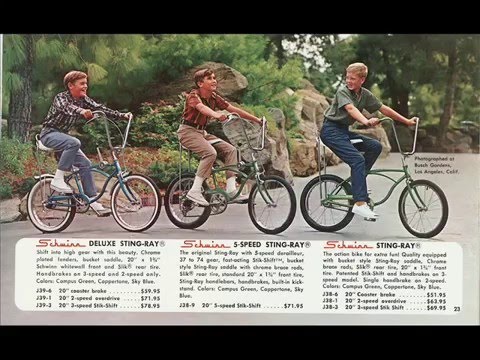 [7]
Here are 5 intriguing facts about Fritz and his brainchild:
According to Bicycle Retailer and Industry News [8], before he invented the Sting-Ray, Fritz played a significant role in the development of Schwinn's Varsity and Continental 10-speeds, which were the first U.S.-made lightweight derailleur bikes. He also came up with the idea for the Airdyne, a stationary exercise bike with moving arms that powered a giant fan.
The "banana seat" of the Sting-Ray actually evolved from a seat designed for use in playing bicycle polo, according to bike historian William Love. [9]
Though the Sting-Ray originally was intended to evoke a custom motorcycle, Schwinn also imitated 1960s car fads. It tried to capitalize on the growing popularity of drag racing with a 1965 model that featured a dragster-style slick rear tire. The following year, it came out with a Sting-Ray model, the Fastback,  that incorporated a gearshift, just like the ones in the Pontiac GTO and other mid-1960s muscle cars.
Schwinn made an even smaller version of the Sting-Ray, the Midget, from 1967 to 1972, which had a scaled-down frame so that your little brother or sister could pretend to be a big kid, which probably drove you crazy.
The apex of Sting-Ray coolness was the Krate line, introduced in 1968, which an advertisement touted as the "flashiest" Sting-Ray ever. It featured a tiny 16-inch front wheel, designed to emulate a rail dragster, with a heavy-duty aluminum-encased front brake, a five-speed "Stik-Shift," spring struts under the banana seat and a frame with a flamboyantly bright paint job. The original Orange Krate model was followed by the red Apple Crate, the yellow Lemon Peeler, and the green Pea Picker.
Wham-O, more famous for its flying disks, tried to capitalize on the Sting-Ray fad by marketing an add-on gadget that made it easier to do a wheelie. Here's the commercial, which is a hoot: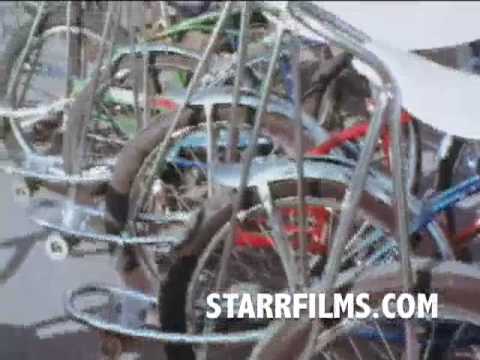 [10]
Photo: Nels P. Olsen via Wikipedia
Also of Interest
Join AARP [13]: Savings, resources and news for your well-being
See the AARP home page [14] for deals, savings tips, trivia and more
---
Article printed from AARP: http://blog.aarp.org
URL to article: http://blog.aarp.org/2013/05/13/sting-ray-bike-exec-al-fritz-dies-at-age-81-5-facts-about-iconic-bike/
URLs in this post:
[1] bike: http://www.aarp.org/livable-communities/Plan/assessments/info-12-2012/bike-friendly-america-awards-lists-and-profiles.html
[2] Image: http://blog.aarp.org/wp-content/uploads/2013/05/758px-Schwinn_StingRay_OrangeKrate_5speed_1968.jpg
[3] Schwinn Sting-Ray: http://schwinncruisers.com/bikes/stingray/
[4] Hottest summer songs from 1960s (slideshow): http://www.aarp.org/entertainment/music/info-07-2012/summer-songs-1960s-slideshow.html#slide1?intcmp=AE-BLIL-DOTORG
[5] died on April 7 at age 88 : http://www.latimes.com/news/obituaries/la-me-al-fritz-20130510,0,7472254.story
[6] prototype: http://www.aarp.org/health/healthy-living/info-07-2011/recumbent-trikes.html?intcmp=AE-BLIL-DOTORG
[7] Image: http://www.youtube.com/watch?v=ujhHqEcma6w
[8] Bicycle Retailer and Industry News: http://www.bicycleretailer.com/north-america/2013/05/09/schwinn-sting-ray-inventor-al-fritz-remembered#.UY1K87VOR8E
[9] William Love.: http://books.google.com/books?id=HDfpb3tnUg4C&pg=PA108&dq=%22schwinn+sting-ray%22&hl=en&sa=X&ei=SVKNUc7EFqvC4AOM1YHgDQ&sqi=2&ved=0CDwQ6AEwAQ#v=onepage&q=%22schwinn%20sting-ray%22&f=false
[10] Image: http://www.youtube.com/watch?v=tWDprSdH2xQ
[11] 5 Surprising Facts About Leave It to Beaver's "Lumpy" Rutherford: http://blog.aarp.org/2013/04/17/5-surprising-facts-about-leave-it-to-beavers-lumpy-rutherford/?intcmp=AE-ENDART1-BL-REL
[12] 'Buy American' – Guess Who Does It the Most: http://blog.aarp.org/2013/05/03/buy-american-guess-who-does-it-most/?intcmp=AE-ENDART2-BL-BOS
[13] Join AARP: https://appsec.aarp.org/MSS/join/application?intcmp=AE-ENDART3-BL-MEM
[14] AARP home page: http://www.aarp.org/?intcmp=AE-ENDART3-BL-HP
Click here to print.