A TED Talk on Preparing for the Inevitable
Posted By Patrick Kiger On May 22, 2013 @ 2:48 pm In Bulletin Today | Comments Disabled
When the annual Technology, Entertainment, Design (TED) conference [1] began in 1984, the Los Angeles Times [2] called it "an obscure gathering of engineers, theorists and artists." But in the nearly three decades since then, TED has morphed into a series of mind-expanding showcases staged in several countries that attract scores of celebrity visionaries, ranging from physicist Steven Hawking and neurologist Oliver Sacks to former President Bill Clinton and rock stars Bono and Peter Gabriel. Better yet, the nonprofit Sapling Foundation, which stages the conferences, now makes hundreds of  TED talks available on its website. (If you're not sure which ones to pick, you can even listen to playlists [3] of TED talks selected by luminaries in various fields.)
A surprising number of the TED talks turn out to be related to aging [4], such as Stanford Center for Longevity director Laura Carstensen's 2011 talk, "Older People are Happier [5]," and Jane Fonda's talk from that same year on "Life's Third Act [6]." But a just-posted TED talk gets into another age-related subject, one that many of us probably try to avoid thinking about.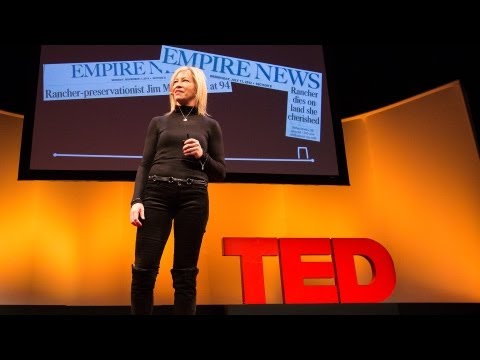 [7]
"Prepare for a Good End of Life" is a February 2013 presentation by Judy MacDonald Johnston [8], a publisher of learn-to-read materials for children who also has started a side project, Goodendoflife.com [9]. The latter is a set of online worksheets and advice aimed at helping older people to make difficult decisions [10] – who should speak for you if you cannot speak, and whether you should fill out a do-not-resuscitate form – before that inevitable day arrives when such instructions may be needed.

Johnston, as she makes clear at the beginning of her talk, isn't a geriatrician, and her knowledge about end-of-life preparations [11] is based on the experience of two close friends, Sonoma County, Calif., livestock ranchers and wildlife preservationists Jim and Shirley Modini, for whom she served a trustee and advocate when they reached their 80s and found themselves in ill health. "I became the person who managed their end-of-life experiences," she explains. "And we learned a few things about how to have a good end."
Johnston suggests these five important steps for anyone preparing for the end of life:
Make a plan. This involves "answering straightforward questions about the end you want," she explains. "Where do you want to be when you're no longer independent? What do you want in terms of medical intervention? And who's going to make sure that your plan is followed?"
Find multiple advocates for your interests. "Having more than one increases your chance of getting the end you want," she says. Rather than automatically relying on your spouse or child [12], think about who has the time and the physical proximity to do the job well and also has the ability to work with the people who may have an important influence on your fate.
Be ready for the hospital. Johnston advises preparing a one-page summary of your medical history, medication list and physician's contact information, and putting it in an envelope with copies of your insurance cards, power-of-attorney form, and do-not-resuscitate order. "Tape a set to your refrigerator," she advises.
Line up good caregivers. Johnston recommends assessing your personality and financial situation, in order to determine whether moving into a senior community or staying at home is best for you. In either case, though, she says that it's crucial to find caregivers who'll not only be attentive and communicative, but willing to put in a little extra effort when needed. In her friends' case, finding a caregiver who was willing to shoot video of their ranch, so that they would see that it was being maintained, provided real peace of mind.
Choose your last words. "What do you want to hear at the very end, and from whom would you like to hear it?" Johnston asks. "In my experience, you'll want to hear that whatever you're worried about is going to be fine."
Also of Interest
Join AARP [15]: Savings, resources and news for your well-being
See the AARP home page [16] for deals, savings tips, trivia and more
---
Article printed from AARP: http://blog.aarp.org
URL to article: http://blog.aarp.org/2013/05/22/end-of-life-plan-caring-for-dying-family-ted-conference-aging-well/
URLs in this post:
[1] Technology, Entertainment, Design (TED) conference: http://www.ted.com/
[2] Los Angeles Times: http://www.latimes.com/business/la-fi-ted-conference-20130226,0,580766,full.story
[3] playlists: http://www.ted.com/playlists
[4] aging: http://blog.aarp.org/2013/05/22/senate-aging-committee-gerijoy-virtual-dog-dementia-apps-for-elderly/?intcmp=AE-BLIL-BL
[5] Older People are Happier: http://www.ted.com/talks/laura_carstensen_older_people_are_happier.html
[6] Life's Third Act: http://www.ted.com/talks/jane_fonda_life_s_third_act.html
[7] Image: http://www.youtube.com/watch?v=6We_1bXRBOk
[8] Judy MacDonald Johnston: http://www.ted.com/speakers/judy_macdonald_johnston.html
[9] Goodendoflife.com: http://www.goodendoflife.com/about.htm
[10] make difficult decisions: http://www.aarp.org/relationships/caregiving-resource-center/info-08-2010/elc_beginning_the_conversation_about_end_of_life.html?intcmp=AE-BLIL-DOTORG
[11] end-of-life preparations: http://www.aarp.org/home-family/friends-family/info-07-2012/question-when-is-life-too-long.html?intcmp=AE-BLIL-DOTORG
[12] relying on your spouse or child: http://www.aarp.org/health/conditions-treatments/info-03-2013/how-death-changed-my-thinking-about-end-of-life-care.html?intcmp=AE-BLIL-DOTORG
[13] Caregivers: 3 Easy Tips to Remember Your Health Checkups: http://blog.aarp.org/2013/05/13/caregivers-3-easy-tips-to-remember-your-health-checkups/?intcmp=AE-ENDART1-BL-REL
[14] ER Visits Soar for Older Adults Taking Ambien: http://blog.aarp.org/2013/05/01/ambien-er-visits-increase-zolpidem-risk-factors-sleeping-pills/?intcmp=AE-ENDART2-BL-BOS
[15] Join AARP: https://appsec.aarp.org/MSS/join/application?intcmp=AE-ENDART3-BL-MEM
[16] AARP home page: http://www.aarp.org/?intcmp=AE-ENDART3-BL-HP
Click here to print.