Over the past 40 years or so, we've gotten used to seeing Elliott Gould large and in charge. From the original Trapper John in M*A*S*H to Philip Marlowe in The Long Goodbye to mobster Reuben Tishkoff in the Ocean's movies, Gould can be a pretty intimidating screen presence.
So it takes some getting used to, seeing him as the vulnerable title character in the family drama Fred Won't Move Out, now on DVD and digital download. Although Fred was clearly once a domineering personality, as he's grown older he has seen his world shrink considerably. His wife Susan (Judith Roberts) is drifting off into the haze of Alzheimer's. He putters around their suburban house, trying to stay out of the way of Susan's health care worker. And now his grown children are arranging for the couple to move into an assisted living facility in New York City.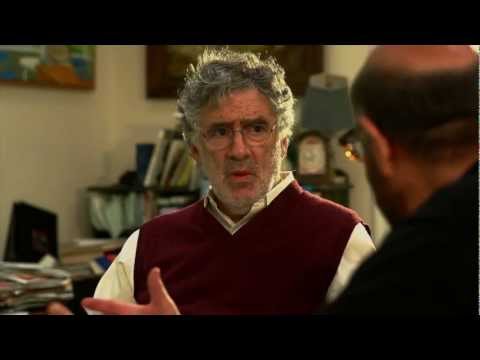 "It's the human condition that attracted me to this movie," Gould says. "It was an opportunity to examine the dynamics of time and reality on human relationships."
Fred Won't Move out was shot almost documentary-style by writer/director Richard Ledes, who filmed it in the Westchester, N.Y., house his own parents shared for 50 years. "I think it was a very personal film that he created," says Gould.
We've seen quite a few couples dealing with Alzheimers in the movies lately. There was 2006's Away From Her, with Julie Christie. And a darling of last year's Oscar race was the darkly beautiful French film Amour. In each of those films, husband and wife faced their dilemma more or less alone. Fred Won't Move Out, on the other hand, balances the couple's experience with those of their children, their granddaughter-and perhaps most intriguingly the caregiver (Mfoniso Udofia), an African immigrant who finds she has almost as big a stake in the situation as the family does.
"It's important for people to see that we're not alone, " says Gould. "We all have something to share. I believe there's nothing of value other than what we have to share. It's one thing to share goodness and accomplishment; it's another thing to share a problem."
Sometimes, he added, it requires a certain amount of awareness to spot problems that are slowly unfolding-a challenge that specifically faces the grown children in Fred Won't Move Out (Fred Melamed and Stephanie Roth Haberle).
"The second generation, the children, they're the most difficult," he said. "That generation is in some ways not so evolved as to stop worrying about themselves.
"Once we are willing to communicate directly, we can finally see that one of us has a problem."