Slim Whitman: The Haunting High Tenor of Country
Posted By Patrick Kiger On June 19, 2013 @ 6:11 pm In Legacy | Comments Disabled
[1]Were you a late-night television-watching insomniac in the early 1980s?
If so, you undoubtedly remember all those commercials that peddled "Not Sold in Any Store!" record albums and cassette tapes by a singer you'd never heard of whose most distinguishing features were a pencil-thin mustache, outlandishly flared sideburns and a towering lacquered widow's peak. He  warbled country ballads in a mellifluous high voice, occasionally breaking into a full-throttle yodel that put Julie Andrews in The Sound of Music [2] to shame.
Slim Whitman was his name (off the stage he was Ottis Dewey Whitman Jr.), and the announcer proclaimed not only that "his heart-touching voice has captured America," but also that he'd sold more records than Elvis [3] and the Beatles [4] combined, or something to that effect.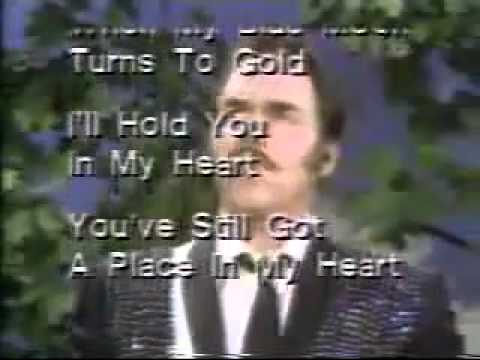 [5]
Whitman, who died on June 19 at age 90 [6] in his native Tampa, Fla., wasn't just some telemarketing hype. Discovered in 1948 by Elvis Presley's future manager Col. Tom Parker, Whitman quickly rose to become one of the biggest stars in pop music in the early 1950s. He became a regular on The Louisiana Hayride, a popular country music radio show. Whitman had a modest hit in 1949 with "Casting My Lasso Toward the Sky," which showcased his yodeling ability.
[7]
Whitman's first really big hit was his 1951 cover of "Indian Love Call," a song that had been recorded in operetta style in 1936 by Jeanette MacDonald and Nelson Eddy [8] and then reinterpreted as an instrumental by county guitarist Chet Atkins. But Whitman's version, with its otherworldly, theremin-like wail, is the one everybody remembers. It became a million-seller.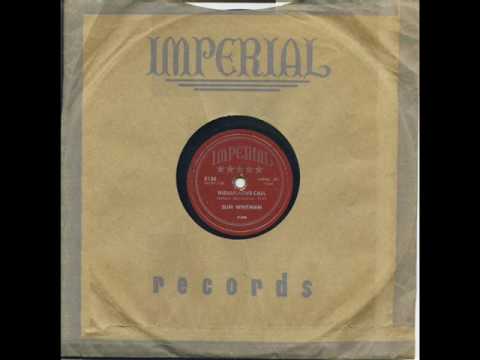 [9]
In 1955, Whitman released a single, "Rose Marie," which flopped in the United States but became a huge crossover hit in England, holding the top spot on the charts for 11 weeks straight. Its lavish, baroque arrangement and vocal pyrotechnics exemplified Whitman's distinctively unorthodox style.
[10]
By then, the ascendance of rock-and-rollers such as Chuck Berry, Elvis and Jerry Lee Lewis already had stamped an expiration date on Whitman's stardom on the pop charts.  (In a BBC story [11], he recalled appearing on a concert bill with young Elvis in 1955: "He was just a guy on the show. And then he started wiggling and then he took over the show.")
But as country music historian Richard Carlin [12] notes, Whitman remained a star in England and Europe, where his fluttery, flowery singing and heavy reliance on pedal-steel guitar seemed to perfectly fit how overseas listeners expected an American country singer to sound. Here's his song "I Remember You":
[13]
Whitman's virtuosity also inspired parodies, such as this 1980s SCTV skit, in which Joe Flaherty portrayed how Whitman might have sounded as a singer in a Bollywood musical.  
[14]
Also of Interest
Join AARP [17]: Savings, resources and news for your well-being
See the AARP home page [18] for deals, savings tips, trivia and more
---
Article printed from AARP: http://blog.aarp.org
URL to article: http://blog.aarp.org/2013/06/19/country-tenor-slim-whitman-dies-at-age-90-famous-musician-obituaries/
URLs in this post:
[1] Image: http://blog.aarp.org/wp-content/uploads/2013/06/Slim_Whitman_1968.jpg
[2] The Sound of Music: http://www.aarp.org/entertainment/arts-music/info-04-2011/new-sound-of-music.html?intcmp=AE-BLIL-DOTORG
[3] Elvis: http://blog.aarp.org/2012/08/15/cant-help-falling-in-love-with-elvis-35-years-later/?intcmp=AE-BLIL-BL
[4] Beatles: http://blog.aarp.org/2012/06/20/the-beatles-favorite-costar-dies-at-81/?intcmp=AE-BLIL-BL
[5] Image: http://www.youtube.com/watch?v=J3C9ygie2lQ
[6] died on June 19 at age 90: http://tbo.com/arts_music/tampa-native-yodeling-country-singer-slim-whitman-dies-at-90-20130619/
[7] Image: http://www.youtube.com/watch?v=89NEVixHboI
[8] Jeanette MacDonald and Nelson Eddy: http://www.youtube.com/watch?v=1n_bUSywN94
[9] Image: http://www.youtube.com/watch?v=nSsJmrI2XFg
[10] Image: http://www.youtube.com/watch?v=ROq4YFsiP1Y
[11] BBC story: http://www.bbc.co.uk/news/entertainment-arts-22965155
[12] Richard Carlin: http://books.google.com/books?id=UWmyUQVUqhQC&pg=PA428&dq=%22slim+whitman%22&hl=en&sa=X&ei=a_TBUaXAKsH54AOJ3YHYBA&ved=0CFEQ6AEwBzgU#v=onepage&q=%22slim%20whitman%22&f=false
[13] Image: http://www.youtube.com/watch?v=QlIK_W69H9c
[14] Image: http://www.youtube.com/watch?v=ztXm1_fZd4Y
[15] Bob Thompson: He Made Music to Sip Martinis By: http://blog.aarp.org/2013/06/10/bob-thompson-bachelor-pad-music-composer-dies-at-age-88-in-l-a/?intcmp=AE-ENDART1-BL-REL
[16] Esther Williams: Who Says Mermaids Aren't Real?: http://blog.aarp.org/2013/06/06/esther-williams-swimming-champion-turned-actress-dies-at-age-91/?intcmp=AE-ENDART2-BL-BOS
[17] Join AARP: https://appsec.aarp.org/MSS/join/application?intcmp=AE-ENDART3-BL-MEM
[18] AARP home page: http://www.aarp.org/?intcmp=AE-ENDART3-BL-HP
Click here to print.