Eydie Gormé: 10 Things You Didn't Know About the Pop Diva
Posted By Patrick Kiger On August 12, 2013 @ 1:48 pm In Legacy | Comments Disabled
[1]Eydie Gormé was the sort of entertainer that you could imagine a young Don Draper [2] taking his first wife Betty to see in some swank late-1950s nightclub [3] – or better yet, curling up with her on the couch to watch on the Philco TV as Gormé  appeared with husband-to-be Steve Lawrence on The Tonight Show, where the musical couple were regulars during the Steve Allen era.
Gormé, who died on Aug. 10 at age 84 [4] in Las Vegas, was a superstar of the decade that preceded the British invasion and psychedelic rock, a dark-haired chanteuse who sang show tunes and lighthearted pop songs churned out by Brill Building songsmiths. She was the perfect star for what seemed to be a more genteel, carefree and romantic time – an ambiance that's exemplified by her early 1963 hit, "Blame It on the Bossa Nova," which reached No. 7 on the Billboard Hot 100.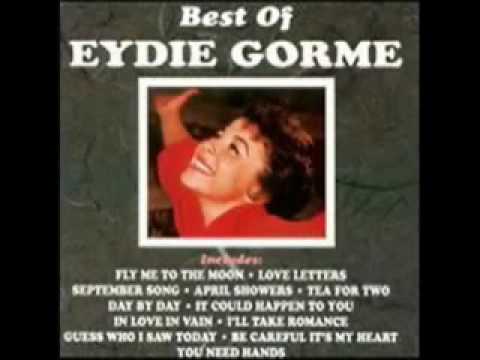 [5]
But the singer, like the age in which she flourished, was a bit more complicated beneath the surface. Here are 10 intriguing facts about Gormé:
She was the cousin of singer-songwriter Neil Sedaka.
She began singing in high school, and, after graduation, successfully auditioned to become the lead singer with Tex Beneke's Big Band – a job that she juggled with her daytime work as a translator at the United Nations. Her first hit was the 1953 song "Frenesi," a half-English, half-Spanish jazz number. [6]
She tried out on five occasions for Arthur Godfrey's Talent Scouts [7], and, amazingly, was rejected each time. "The last time they saw me coming up the stairs, they locked the doors," she told television historian Ben Alba [8]. "God forbid, I should come in for one more audition!"
She finally got a regular TV job on The Tonight Show in 1953 at age 21. It was there that she met her future husband, singer and comedian Steve Lawrence, who was three years her junior. The pair initially hit it off, Gormé later told Alba, because "we always liked the same songs from the same movie musicals." They married in 1957 and remained together until Gormé's death. [9]
At one point in the mid-1950s, NBC executives tried to persuade Allen to fire Gormé and Lawrence because, in Gormé's words, "we were too ethnic-looking." Allen called their bluff by saying that he'd be happy to can the couple if the network would hire Frank Sinatra [10] and Peggy Lee as their replacements.
Gormé and Lawrence starred in the Broadway musical Golden Rainbow in 1968.
In the 1960s and 1970s, Gormé and Lawrence had a hot nightclub act, in which they combined singing with comic repartee that they had picked up on Allen's show. In the 1980s, they transitioned into large theaters and concert halls. For the most part, they eschewed rock music, preferring the likes of Gershwin and Cole Porter. (As Gormé's Associated Press obituary [12] notes, the couple had a song-selection policy that they described as "No punk, no funk, no rock, no schlock.") However, they occasionally bent that rule slightly. Here's a clip of them covering the 1969 Blood Sweat & Tears hit "You Made Me So Very Happy." [13]
In 2006,  Gormé began writing a blog [14], in which she reminisced about her 1950s recording sessions and her half-century-long romance with Lawrence, and about trying to perform while recovering from knee surgery. "During rehearsal they cut two inches off my onstage stool so I could reach the top of seat," she recalled. "Of course, Steve is so caring, he wanted to cut the piano legs down and make the entire orchestra bend over to make it all look normal for me."
Photo: Maurice Seymour via Wikipedia [15]
Also of Interest
Join AARP [18]: Savings, resources and news for your well-being
See the AARP home page [19] for deals, savings tips, trivia and more
---
Article printed from AARP: http://blog.aarp.org
URL to article: http://blog.aarp.org/2013/08/12/eydie-gorme-10-things-you-didnt-know-about-the-pop-diva/
URLs in this post:
[1] Image: http://blog.aarp.org/wp-content/uploads/2013/08/Steve_lawrence_eydie_gorme.jpg
[2] Don Draper: http://blog.aarp.org/2013/04/07/mad-men-returneth-is-don-draper-losing-his-touch/?intcmp=AE-BLIL-BL
[3] 1950s nightclub: http://blog.aarp.org/2013/06/10/bob-thompson-bachelor-pad-music-composer-dies-at-age-88-in-l-a/?intcmp=AE-BLIL-BL
[4] died on Aug. 10 at age 84: http://www.latimes.com/news/obituaries/la-me-eydie-gorme-20130811,0,174833.story
[5] Image: http://www.youtube.com/watch?v=MYQBd9ordbE
[6] Image: http://www.youtube.com/watch?v=pB6q_znnIJ4
[7] Arthur Godfrey's Talent Scouts: http://www.youtube.com/watch?v=3FlVhQTIL1Q
[8] Ben Alba: http://books.google.com/books?id=0OSb-FWS_H4C&pg=PA200&dq=eydie+gorme&hl=en&sa=X&ei=udAHUpySLdCFyQGrw4GoAg&ved=0CEcQ6AEwBTgU#v=onepage&q=eydie%20gorme&f=false
[9] Image: http://www.youtube.com/watch?v=Axtt9ftjh4s
[10] Frank Sinatra: http://www.aarp.org/entertainment/music/info-07-2012/frank-sinatra-best-of-the-best.html?intcmp=AE-BLIL-DOTORG
[11] Image: http://www.youtube.com/watch?v=Di1fC0FDvew
[12] Associated Press obituary: http://www.nytimes.com/aponline/2013/08/10/us/ap-us-obit-eydie-gorme-.html
[13] Image: http://www.youtube.com/watch?v=B9qu_o0laLs
[14] writing a blog: http://steve-eydie.com/blog/blog1-sept-262006.html
[15] Maurice Seymour via Wikipedia: http://en.wikipedia.org/wiki/File:Steve_lawrence_eydie_gorme.JPG
[16] Karen Black: Five Great Movie Appearances: http://blog.aarp.org/2013/08/08/karen-black-five-great-movie-appearances/?intcmp=AE-ENDART1-BL-REL
[17] Dennis Farina: He Didn't Just Play a Detective on TV: http://blog.aarp.org/2013/07/22/dennis-farina-he-didnt-just-play-a-detective-on-tv/?intcmp=AE-ENDART2-BL-BOS
[18] Join AARP: https://appsec.aarp.org/MSS/join/application?intcmp=AE-ENDART3-BL-MEM
[19] AARP home page: http://www.aarp.org/?intcmp=AE-ENDART3-BL-HP
Click here to print.