Iowa Senator Gets a Tearful Earful
Posted By Tamara Lytle On August 13, 2013 @ 1:27 pm In Washington Watch | Comments Disabled
The August recess gives Capitol Hill lawmakers a chance to hear from their constituents [1] back home, and sometimes that earful is downright heartbreaking.
An anguished woman wept at the North Senior Center in Des Moines, Iowa, as she explained how a proposal to change the method of calculating cost-of-living increases for Social Security [2] would leave her nowhere to cut in her precarious budget.
Sen. Tom Harkin, a Democrat who opposes the "chained CPI [3]" proposal, heard this [4] from Sheryl Tenicat:
"I have $624 a month, that's what I'm living on. Ninety-nine [dollars] of that goes to Medicare Part D and B. After I get my check, in two weeks, it's gone. I have nothing [5]. I live on what I eat here. And I just do not want my cost of living cut because I've paid in since I was 16 to the government. I'm looking for work in my retirement years so that I can exist. I do own my house, but I don't know how long that will go because I have property taxes to pay."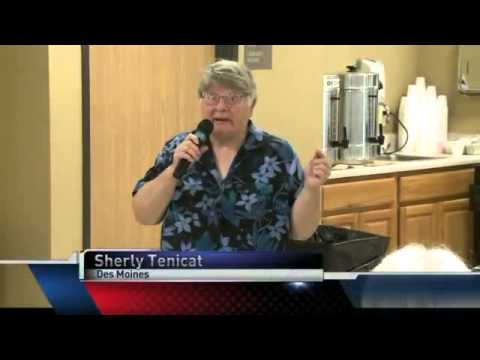 [6]
Also of Interest
Join AARP [9]: Savings, resources and news for your well-being
See the AARP home page [10] for deals, savings tips, trivia and more
---
Article printed from AARP: http://blog.aarp.org
URL to article: http://blog.aarp.org/2013/08/13/iowa-senator-gets-a-tearful-earful/
URLs in this post:
[1] hear from their constituents: http://blog.aarp.org/2013/08/09/chained-cpi-petition-delivered-to-capitol-hill-millions-say-no/?intcmp=AE-BLIL-BL
[2] Social Security: http://blog.aarp.org/2013/04/11/why-the-chained-cpi-is-wrong-for-social-security-presidents-budget/?intcmp=AE-BLIL-BL
[3] chained CPI: http://www.aarp.org/politics-society/government-elections/info-04-2013/older-voters-oppose-switch-to-chained-cpi.html?intcmp=AE-BLIL-DOTORG
[4] heard this: http://www.rawstory.com/rs/2013/08/08/woman-weeps-to-senator-over-social-security-cuts-theres-no-way-for-me-to-eat-less/
[5] I have nothing: http://blog.aarp.org/2013/05/24/americans-65-and-older-living-in-poverty-elderly-health-care-costs/?intcmp=AE-BLIL-BL
[6] Image: http://www.youtube.com/watch?v=doOUi020Pak
[7] Chained CPI for Social Security Not More Accurate for Seniors: http://blog.aarp.org/2013/02/21/chained-cpi-for-social-security-not-more-accurate-for-seniors/?intcmp=AE-ENDART1-BL-REL
[8] Another (Disabled) Senator Heads for the Exit: http://blog.aarp.org/2013/03/27/disabled-senator-heads-for-exit-employees-with-disabilities/?intcmp=AE-ENDART2-BL-BOS
[9] Join AARP: https://appsec.aarp.org/MSS/join/application?intcmp=AE-ENDART3-BL-MEM
[10] AARP home page: http://www.aarp.org/?intcmp=AE-ENDART3-BL-HP
Click here to print.