Marian McPartland: From Jazz Virtuoso to Radio Host
Posted By Patrick Kiger On August 22, 2013 @ 3:30 pm In Legacy | Comments Disabled
Marian McPartland had not just one, but two stellar careers.
As a pianist during the halcyon days of modern jazz, she became enough of a star that photographer Art Kane included her [1] in Esquire magazine's famous 1958 group photograph in Harlem, alongside such immortals as Dizzy Gillespie and Charles Mingus. Here she is in 1974, performing "In A Mist."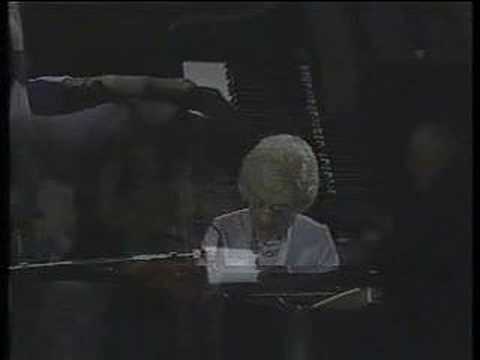 [2]
From 1978 to 2011, McPartland had a second act as host of National Public Radio's popular show Piano Jazz [4]. She built a vast audience with her deft, engaging style as an interviewer, and performed duets with performers ranging from Sarah Vaughan to Diana Krall.
Here are some intriguing facts about McPartland, who died on Aug. 20 at age 95 [5] in Port Washington, N.Y.:
A native of Great Britain, she won a scholarship at age 18 to study classical piano and composition at the Guildhall School of Music – where she proceeded to annoy her piano professor by experimenting with jazz and pop music instead.
Related: Dave Brubeck – 5 Little-Known Facts About the 'Take Five' Jazz Pianist [6]
During World War II, she joined the USO, and was sent to France, equipped with an accordion, to entertain U.S. soldiers in the field. "We were given fatigues and helmets and mess kits," she later recalled, according to her obituary [7] in the Telegraph, a British paper. "We lived in tents and ate in orchards, and jumped into hedgerows when the Germans came over." While playing in a jam session in a tent on the Belgian border, she met a GI named Jimmy McPartland, who was an accomplished jazz cornetist. They married in 1945, and eventually moved to Chicago after the war.
After McParland and her husband resettled in New York in the early 1950s, she made a name for herself as leader of her own jazz trio – an unlikely achievement in the then-male-dominated world of jazz. Her first big solo gig was in 1952 at the Hickory House, a nightclub on 52nd Street, where she met luminaries ranging from Duke Ellington to Thelonious Monk. Here's a recording of a 1954 performance of "Tickle Toe," with Bill Crow on bass and Joe Morello on drums. [8]
In the 1960s, she played for a time in Benny Goodman's band.
In the 1970s, she operated her own record label, which marketed records by performers such as Earl Hines and Jimmy Rowles.
She dabbled in music criticism as well, and wrote pieces for the Boston Globe, Detroit Free Press, Down Beat, and other publications. An anthology of her work, entitled All in Good Times, was published in 1987.
Even after she embarked on her second career as a radio host at age 60, McPartland continued to make well-received jazz records and perform concerts. In 2007, at age 89, she performed at the premiere of her composition A Portrait of Rachel Carson [9], a tribute to the environmentalist hero, with the South Carolina Symphony Orchestra. [10]
McPartland, who kept her British citizenship during her years in the United States, was awarded the Order of the British Empire in 2010.
Photo: Melisa Goh/NEA via Wikipedia [11]
Also of Interest
Join AARP [14]: Savings, resources and news for your well-being
See the AARP home page [15] for deals, savings tips, trivia and more
---
Article printed from AARP: http://blog.aarp.org
URL to article: http://blog.aarp.org/2013/08/22/marian-mcpartland-from-jazz-virtuoso-to-radio-host/
URLs in this post:
[1] included her: http://www.harlem.org/people/mcpartland.html
[2] Image: http://www.youtube.com/watch?v=0PMP8RZ2-eo
[3] Image: http://blog.aarp.org/wp-content/uploads/2013/08/Marian_McPartland_interviews_Ramsey_Lewis.jpg
[4] Piano Jazz: http://www.npr.org/series/15773266/marian-mcpartland-s-piano-jazz
[5] died on Aug. 20 at age 95: http://www.nytimes.com/2013/08/22/arts/music/marian-mcpartland-jazz-pianist-and-npr-radio-staple-dies-at-95.html?pagewanted=all&_r=0
[6] Dave Brubeck – 5 Little-Known Facts About the 'Take Five' Jazz Pianist: http://blog.aarp.org/2012/12/05/dave-brubeck-5-little-known-facts-about-the-take-five-jazz-pianist/?intcmp=AE-BLIL-BL
[7] obituary: http://www.telegraph.co.uk/news/obituaries/10257776/Marian-McPartland.html
[8] Image: http://www.youtube.com/watch?v=H-zxHC2B7VA
[9] A Portrait of Rachel Carson: http://www.npr.org/templates/story/story.php?storyId=89725172
[10] Image: http://www.youtube.com/watch?v=JZjGwjPDClE
[11] Melisa Goh/NEA via Wikipedia: http://en.wikipedia.org/wiki/File:Marian_McPartland_interviews_Ramsey_Lewis.jpg
[12] Eydie Gormé: 10 Things You Didn't Know About the Pop Diva: http://blog.aarp.org/2013/08/12/eydie-gorme-10-things-you-didnt-know-about-the-pop-diva/?intcmp=AE-ENDART1-BL-REL
[13] Bob Thompson: He Made Music to Sip Martinis By: http://blog.aarp.org/2013/06/10/bob-thompson-bachelor-pad-music-composer-dies-at-age-88-in-l-a/?intcmp=AE-ENDART2-BL-BOS
[14] Join AARP: https://appsec.aarp.org/MSS/join/application?intcmp=AE-ENDART3-BL-MEM
[15] AARP home page: http://www.aarp.org/?intcmp=AE-ENDART3-BL-HP
Click here to print.