Eric Bana: Don't Cheat Your Audience!
Posted By Bill Newcott On August 27, 2013 @ 10:45 am In Entertainment | Comments Disabled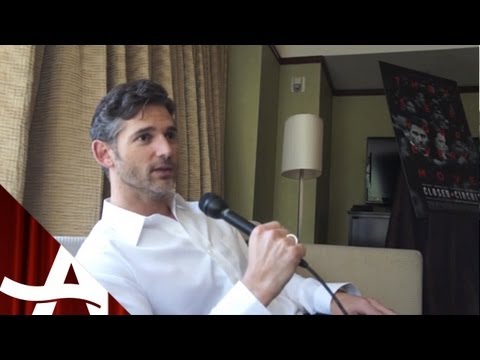 [1]
Almost from the moment I Tweeted a photo [2]from my chat with the Australian actor Eric Bana last week, I've been hearing from various women around the office who, for lack of a better analogy, are melting like butter on a hot stack of pancakes over the man's hunkiness (I guess I'm not actually lacking a better analogy, but that's the one I'm going with).
Bana puts his charms to excellent use in his new thriller Closed Circuit [4]-costarring Rebecca Hall and Jim Broadbent [5]-but I'm also happy to report that in addition to being a bonafide beefcake, Bana is an engaging, fun guy. Although he plays a lot of serious roles (they don't get much more grim than that of his terrorist-tracking assassin in Steven Spielberg's Munich [6]), Bana started out doing stand-up comedy, so he has a healthy and endearingly ironic perspective when it comes to the business of being a movie star.
Contest: Share your favorite one-tank road trip for a chance to win $100 [7]
Here's a video blog of our conversation. Bana talks about how some thrillers cheat their audiences with outrageous twists; how his beloved father-in-law, a leading Australian judge, influenced his role as a lawyer in Closed Circuit; and why sometimes the most serious-minded movies are the ones that are the most fun to shoot.
Also of Interest
Join AARP [10]: Savings, resources and news for your well-being
See the AARP home page [11] for deals, savings tips, trivia and more
---
Article printed from AARP: http://blog.aarp.org
URL to article: http://blog.aarp.org/2013/08/27/eric-bana-dont-cheat-your-audience/
URLs in this post:
[1] Image: http://www.youtube.com/watch?v=lg_W0uF462I
[2] Tweeted a photo : https://www.facebook.com/photo.php?fbid=632153060137822&set=a.481049881914808.113002.481039535249176&type=1&theater
[3] Image: http://blog.aarp.org/wp-content/uploads/2013/08/Eric-Bana-AARP-Interview.jpg
[4] Closed Circuit: http://www.focusfeatures.com/closed_circuit
[5] Jim Broadbent: http://www.aarp.org/entertainment/movies-for-grownups/info-07-2012/meryl-streep-leading-men-slideshow.html#slide20?intcmp=AE-BLIL-DOTORG
[6] Munich: http://www.youtube.com/watch?v=0LFfT44BlaQ
[7] Share your favorite one-tank road trip for a chance to win $100: http://www.aarp.org/online-community/forums.action/travel_tips_share-favorite-one-tank-road-trip-chance-win-100?intcmp=AE-IL-CONT-COMM
[8] Patrick Dempsey Shows Us His Passion in 'Le Mans': http://blog.aarp.org/2013/08/25/patrick-dempsey-shows-us-his-passion-in-le-mans-docu/?intcmp=AE-ENDART1-BL-REL
[9] Linda Ronstadt Discloses Her Battle With Parkinson's Disease: http://blog.aarp.org/2013/08/23/linda-ronstadt-discloses-her-battle-with-parkinsons-disease/?intcmp=AE-ENDART2-BL-BOS
[10] Join AARP: https://appsec.aarp.org/MSS/join/application?intcmp=AE-ENDART3-BL-MEM
[11] AARP home page: http://www.aarp.org/?intcmp=AE-ENDART3-BL-HP
Click here to print.