Computer-Operated Car Takes Congressman for a Ride
Posted By Tamara Lytle On September 6, 2013 @ 1:43 pm In Bulletin Today,Technology | Comments Disabled
Rep. Bill Shuster (R-Pa.) yelled at his driver on the way to the airport on Sept. 6, but the driver didn't even bother to respond.
It was a computer.
[1]Shuster, the chairman of the House Transportation and Infrastructure Committee, was testing a driverless car, designed by Carnegie Mellon University researchers, on a 30-mile ride to Pittsburgh International Airport.
One of the researchers was positioned in the driver's seat — just in case. (Or maybe to make sure that people in other cars didn't freak out on seeing no one in the driver's seat.)
A video [2] of the experiment shows the man in the driver's seat gesturing but not steering (though he did once use the steering wheel as a precaution). Cameras, laser sensors and radar help the car steer, check the speed of other traffic and detect pedestrians, road signs and the like.
Discussion: Global Warming — The Crisis Is Now [3]
Pennsylvania Department of Transportation Secretary Barry Schoch also came along for the trip in the 2011 Cadillac SRX.
At the end of the ride, Shuster gave the invisible driver a round of applause and, on stepping out of the car, said, "Well, my nerves aren't wracked. It was excellent — it's amazing."
He confessed to yelling at the computer but said that it did its thing "without a hitch."

Shuster told the Associated Press [4] that in addition to making driving safer and more efficient, the technology could also help put unmanned vehicles in combat roles.
Carnegie Mellon developed the car after winning a $2 million competition sponsored by the U.S. Defense Advanced Research Projects Agency.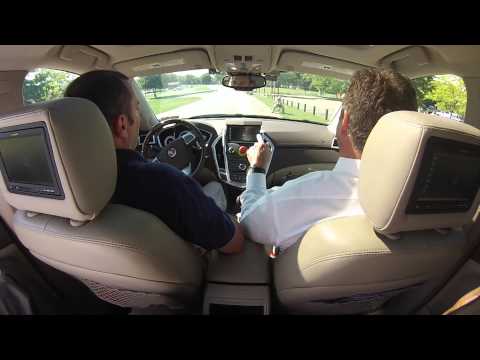 [2]
Also of Interest
See the AARP home page [9] for deals, savings tips, trivia and more
---
Article printed from AARP: http://blog.aarp.org
URL to article: http://blog.aarp.org/2013/09/06/computer-operated-car-takes-congressman-for-a-ride/
URLs in this post:
[1] Image: http://blog.aarp.org/wp-content/uploads/2013/09/Screen-shot-2013-09-06-at-10.47.08-AM.png
[2] video: http://www.youtube.com/watch?v=Nt80zt8TCaE
[3] Global Warming — The Crisis Is Now: http://www.aarp.org/online-community/groups/index.action?plckGroupId=Group1472&plckGroupPage=forum#plckforumpage=ForumDiscussion&plckdiscussionid=Cat%3AprivateForum%3A5606be00-fd7c-454b-abb5-f7866b3f5f55%40D%7C9%3B9%7CCommGroupGroup1472%7CDiscussion%3A396605fe-d4f7-4cfa-807c-830cdf27aa24&plckforumpostonpage=1&plckpostid@intcmp=AE-IL-CONT-COMM
[4] told the Associated Press: http://bigstory.ap.org/article/computer-operated-car-transports-pa-congressman
[5] Poker Photo Flushes McCain's Pastime Into the Open: http://blog.aarp.org/2013/09/05/poker-photo-flushes-mccains-pastime-into-the-open/?intcmp=AE-ENDART1-BL-REL
[6] Another (Disabled) Senator Heads for the Exit: http://blog.aarp.org/2013/03/27/disabled-senator-heads-for-exit-employees-with-disabilities/?intcmp=AE-ENDART2-BL-BOS
[7] Obama Touts Insurance Rebates and Lower Premiums in 2014: http://blog.aarp.org/2013/07/18/obama-touts-insurance-rebates-and-lower-premiums-in-2014/?intcmp=AE-ENDART3-BL-ADV
[8] Join AARP: https://appsec.aarp.org/MSS/join/application?intcmp=AE-ENDART3-BL-MEM
[9] AARP home page: http://www.aarp.org/?intcmp=AE-ENDART3-BL-HP
Click here to print.