Elton John: Still a Student at 60 Years On
Posted By Meg Grant On September 20, 2013 @ 11:53 pm In Entertainment | Comments Disabled
Elton John [2], whose first solo studio album in seven years comes out today, told University of Southern California students treated to a free concert of his last week, "You have to keep trying and improving. Coasting is dangerous. I can't just play 'Bennie and the Jets' over and over again."
But John did play "Bennie and the Jets" during his concert at the university's 1,250-seat Bovard Auditorium, along with other hit classics including "Goodbye Yellow Brick Road" and "Rocket Man." In introducing "The Greatest Discovery," he noted that the 1970 song had new meaning for him now that he's a father to sons Elijah, eight months, and Zachary, two, with spouse David Furnish.
John also performed five of his new songs from "The Diving Board," which was produced by T-Bone Burnett, including "Home Again," a song he said celebrates the feeling he has each time he walks through his back door after having been out on the road. The album, a return to John's piano-centric roots, is "mature and reflective," said the singer, dressed in a sparkling black suit and hot pink socks. "It's a record by a 66-year-old man, not by a 26-year-old guy who made 'Rocket Man.' As you get older, you change. I haven't been on the radio, and rightly so, because it's other people's turn — but I'm at an age where I can do what I want."
He may be changed, but John has still got it. Ushers passed out earplugs as concertgoers entered the venue, and three times the artist elicited standing ovations from the crowd. His voice roared, as strong as ever, and though he joked about not being able "to beat the shit out of the piano" in the way a guitarist could with a guitar, he did a pretty darn good job of it — even hopping on top of it during "Bennie."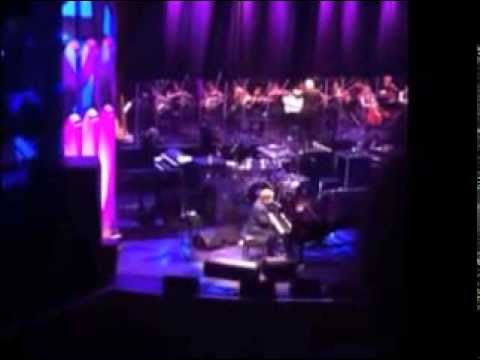 [3]
About 40 students from USC's Thornton School of Music were chosen to perform with John on stage, including string players, a harpist, and vocalist, and John was attentive and complimentary to them, at one point blowing them a kiss during his performance. He said, "There is an energy you have called youth that can change the world. I used to have it. I have energy now, but it's not like the energy you have in your 20s, and you're fearless and you go for broke."
At the same time, John shows all of us that courage is ageless [4], as he continues to put himself out there. "I'm not Lou Reed [5], I'm not Neil Young [6], I'm not Bob Dylan [7], but I'm Elton, so I can still push things," he said. His undiminished passion is what makes his music so beautiful still.
[8]
Also of Interest
See the AARP home page [13] for deals, savings tips, trivia and more
---
Article printed from AARP: http://blog.aarp.org
URL to article: http://blog.aarp.org/2013/09/20/elton-john-still-a-student-at-sixty-years-on/
URLs in this post:
[1] Image: http://blog.aarp.org/wp-content/uploads/2013/09/EJ-Finals-37.jpg
[2] Elton John: http://www.aarp.org/entertainment/music/info-03-2012/video-martina-navratilova-elton-john.html?intcmp=AE-BLIL-DOTORG
[3] Image: http://www.youtube.com/watch?v=m-4ggMaSsNY
[4] ageless: http://www.aarp.org/politics-society/advocacy/info-02-2013/life-aging-seniors-retirement-relationships.html?intcmp=AE-BLIL-DOTORG
[5] Lou Reed: http://blog.aarp.org/2013/06/03/lou-reeds-new-liver-sparks-old-debate-about-transplants/?intcmp=AE-BLIL-BL
[6] Neil Young: http://www.aarp.org/entertainment/books/info-10-2012/neil-young-memoir-photos.html#slide1?intcmp=AE-BLIL-DOTORG
[7] Bob Dylan: http://blog.aarp.org/2013/03/13/bob-dylan-recognized-by-stuffy-american-academy-of-arts-and-letters/?intcmp=AE-BLIL-BL
[8] Image: http://games.aarp.org/?intcmp=AE-QKTK-BL-GAMES
[9] Emmy Highlights and Chats with Stars: http://blog.aarp.org/2013/09/23/jeff-daniels-michael-douglas-sexy-sexegenarians-highlights-of-this-years-post-emmy-win-chats-with-the-stars/?intcmp=AE-ENDART1-BL-REL
[10] 8 Foods We Eat That Other Countries Ban: http://blog.aarp.org/2013/06/25/8-foods-we-eat-that-other-countries-ban/?intcmp=AE-ENDART2-BL-BOS
[11] Questions about the Affordable Care Act? Get your answers here.: http://healthlawanswers.aarp.org/?intcmp=AE-ENDART3-BL-ADV
[12] Join AARP: https://appsec.aarp.org/MSS/join/application?intcmp=AE-ENDART3-BL-MEM
[13] AARP home page: http://www.aarp.org/?intcmp=AE-ENDART3-BL-HP
Click here to print.