Goodnight, Sweet Wii?
Posted By Patrick Kiger On October 23, 2013 @ 12:47 pm In Bulletin Today,Technology | Comments Disabled
Your grandchildren are probably too busy bugging you to preorder Call of Duty: Ghosts for them to notice, but this news will bring a tear to the eye of older gamers (and there are more of us out there than you might realize). Nintendo has just revealed that it's ending production of the original Nintendo Wii [1] in Japan, which means that seven-year-old gaming system's days in the United States might be numbered as well.
Sign up for the AARP Health Newsletter [2]
[3]When the Wii — code-named "Revolution" during its development — was introduced, it was truly a game-changer, if you'll excuse the pun. It sported an innovative controller that allowed users to play by mimicking physical actions — to hit a volley in a video tennis game, you swing the controller as if it's a racket, and driving an SUV over treacherous terrain in a racing game necessitated twisting it like a steering wheel. The physicality of the Wii allowed groups of people to have fun playing together, and it was so simple to use that it was hard to resist joining in, even if you'd never played a video game before in your life.
At first, that meant a lot of graying newbies playing games with their kids or grandkids, but pretty soon, a lot of us started using the Wii on our own. That was no accident; as Nintendo America President Reginald Fils-Aime told USA Today in 2006 [4], the company deliberately targeted 50-plus users. "We're trying to expand this business here in the U.S. in a way that it really hasn't been expanded," he said.
A big part of the Wii's appeal for older users has been the Wii Fit [5], a balance board that transforms the video console into a personal trainer in your living room, putting you through workouts that range from walking and yoga to aerobics and strength training, and measuring your vital signs and body mass index as well. It particularly was good for helping seniors improve their balance [6] and avoid falls, a major cause of injury-related deaths among older people. As this 2010 New York Times article [7] details, researchers at Elon University in North Carolina found that subjects in their mid-70s were able to improve their one-legged balance significantly after just a few sessions of Wii Fit workouts. As the study's lead author, Elon University assistant professor of exercise science Caroline J. Ketcham, explained to the Times: "Older adults would greatly benefit from balance training in their daily routines, and Wii Fit is an affordable and effective tool to use in their homes."
Get discounts on health products and services with your AARP Member Advantages. [8]
Senior centers like this one in Brooklyn also started staging Wii bowling tournaments.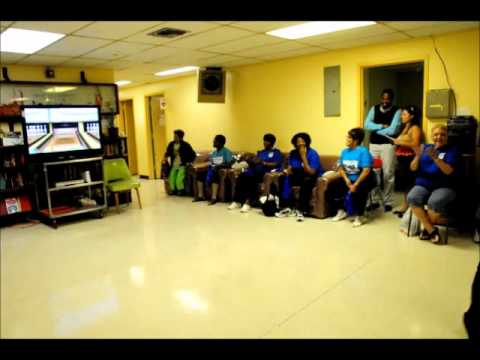 [9]
Unfortunately, in some ways the Wii was a victim of its own success, as other gaming systems began introducing motion controllers. And while Nintendo's decision to eschew sophisticated graphics made it affordable, the Wii eventually began to seem too primitive compared to the HD vividness of its competitors. In 2012, Nintendo came out with an upgraded console, the Wii U, that featured a more powerful graphics card, but so far sales have been sluggish [10], in part because third-party designers have been reluctant to create new games especially for it.
A spokesman for Nintendo of America told the website GameSpot [11] that the announcement was "specific to Japan" and that there's "no change in the status of Wii in the United States."
Here's hoping.
Photo: Evan-Amos via Wikipedia [12]
[13]
Also of Interest
See the AARP home page [18] for deals, savings tips, trivia and more
---
Article printed from AARP: http://blog.aarp.org
URL to article: http://blog.aarp.org/2013/10/23/goodnight-sweet-wii/
URLs in this post:
[1] Nintendo Wii: http://www.nintendo.com/wii
[2] Sign up for the AARP Health Newsletter: https://login.aarp.org/online-community/memberLoginForm.action?referrer=https%3A%2F%2Fsecure.aarp.org%2Fapplications%2Faccount%2FeditNewsletters.action%3Fo%3Dsuccess%26intcmp%3DILC-EMAIL-SUB-HLTH%26newsletterId%3D19061
[3] Image: http://blog.aarp.org/wp-content/uploads/2013/10/Wii-Console.png
[4] told USA Today in 2006: http://usatoday30.usatoday.com/tech/gaming/2006-08-14-nintendo-qa_x.htm
[5] Wii Fit: http://www.nintendo.com/games/detail/hoiNtus4JvIcPtP8LQPyud4Kyy393oep
[6] helping seniors improve their balance: http://www.bucknell.edu/x63518.xml
[7] 2010 New York Times article: http://well.blogs.nytimes.com/2010/12/01/phys-ed-why-wii-fit-is-best-for-grandparents/?_r=0
[8] Get discounts on health products and services with your AARP Member Advantages.: http://discounts.aarp.org/savings/discounts/health-andamp;-wellness/uSource/HCTN/categoryId/724/subCategoryId/726?intcmp=AE-BL-HEA-DISC
[9] Image: http://www.youtube.com/watch?v=63ma147Yxrw
[10] sluggish: http://www.forbes.com/sites/jasonevangelho/2013/01/30/nintendo-cuts-sales-projections-by-17-based-on-sluggish-wii-u-sales/
[11] told the website GameSpot: http://www.gamespot.com/articles/wii-discontinuation-in-japan-won-t-affect-availability-in-united-states/1100-6415717/
[12] Evan-Amos via Wikipedia: http://en.wikipedia.org/wiki/File:Wii-Console.png
[13] Image: http://games.aarp.org/?intcmp=AE-QKTK-BL-GAMES
[14] The Man Who Gave Us Donkey Kong and the Mario Bros.: http://blog.aarp.org/2013/09/19/the-man-who-gave-us-donkey-kong-and-the-mario-bros/?intcmp=AE-ENDART1-BL-REL
[15] Slideshow: 10 Easy Do-It-Yourself Home Improvement Fixes: http://www.aarp.org/money/budgeting-saving/info-09-2013/diy-home-improvement-fixes-photo.html#slide1?intcmp=AE-ENDART2-BL-BOS
[16] Shopping for health insurance? The health insurance marketplace is now open: http://healthcare.gov/?intcmp=AE-BL-ENDART3-ADV-HCGOV
[17] Join AARP: https://appsec.aarp.org/MSS/join/application?keycode=U9ZTPH9&intcmp=AE-ENDART3-BL-MEM
[18] AARP home page: http://www.aarp.org/?intcmp=AE-ENDART3-BL-HP
Click here to print.