Oprah Sunday Show Features Oldest Facebooker
Posted By Austin O'Connor On October 24, 2013 @ 5:16 pm In Entertainment | Comments Disabled
Edythe Kirchmaier posts to Facebook a few times each week. Her "Likes" include Prince William and The Cheesecake Factory, and most of her comments are about her family; others concern her charity work for nonprofit Direct Relief, [1] which delivers medical supplies to disaster sites around the globe.
So how did Kirchmaier get more than 41,000 Facebook followers? [2]
She is 105, the world's oldest Facebook user. That distinction brought the California resident all kinds of media attention this year. In January, her local newspaper, the Santa Barbara Independent, wrote a feature on Kirchmaier [3], highlighting her online activity. Producers of Ellen invited her on the daytime talk show, where the audience gave her a standing ovation [4] and sang "Happy Birthday" as host Ellen DeGeneres wheeled out a cake ablaze with 105 candles. Kirchmaier urged the show's viewers to support Direct Relief, where she has volunteered for more than 40 years. The Today  show devoted a segment to her as well.
The spotlight isn't fading as Kirchmaier approaches the 106-year mark this January. Sunday morning, Kirchmaier — who still drives her own car — will be the subject of a short profile on Super Soul Sunday [5], the weekly talk show on Oprah Winfrey's OWN [6] network. The episode, which features a lengthy sit-down between Winfrey and author Anne Lamott, airs at 11 a.m. ET.  A preview: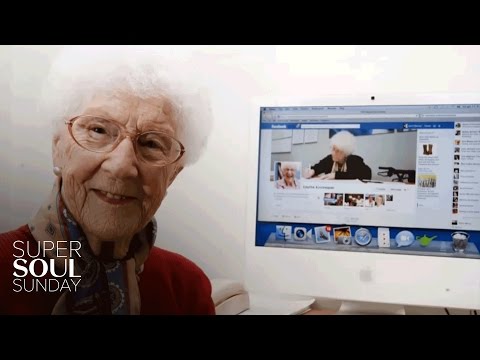 [7]
---
Article printed from AARP: http://blog.aarp.org
URL to article: http://blog.aarp.org/2013/10/24/oprah-meets-the-oldest-facebooker/
URLs in this post:
[1] Direct Relief,: http://www.directrelief.org/
[2] 41,000 Facebook followers?: https://www.facebook.com/edythekirchmaier105
[3] feature on Kirchmaier: http://www.independent.com/news/2013/jan/17/facebooking-104/
[4] gave her a standing ovation: http://www.youtube.com/watch?v=pFu8JIasS98
[5] Super Soul Sunday: http://www.oprah.com/own-super-soul-sunday/super-soul-sunday.html
[6] OWN: http://www.oprah.com/own
[7] Image: http://www.youtube.com/watch?v=jLbv2LAfrCY
Click here to print.