Lou Brissie: Baseball's Wounded Warrior
Posted By Patrick Kiger On December 2, 2013 @ 1:19 pm In Legacy | Comments Disabled
During World War II, major league baseball [1] stars who were called up to serve in the military often got relatively cushy assignments, working as physical education trainers or playing in exhibition games to entertain their fellow troops [2]. But not pitcher Lou Brissie, at the time a promising prospect coveted by the Philadelphia Athletics' Connie Mack.
[3]After leaving South Carolina's Presbyterian College to enlist in the Army, the 20-year-old corporal nearly lost his life on an Italian battlefield in 1944, when a German artillery shell exploded alongside him, so severely mangling his left leg that a surgeon told him it would have to be amputated. Instead, Brissie somehow persuaded the doctors to spare his leg and, after working to rehabilitate it, even managed to achieve his dream of pitching for the A's. Not only that, at his peak in 1949, he achieved a 16-11 record and even pitched three innings in the All-Star Game.
>> Sign up for the AARP Health Newsletter [4]
"I knew I was a symbol to many veterans [5] trying to overcome problems," Brissie, who died on Nov. 25 at age 89 in North Augusta, S.C. [6], told New York Times writer Ira Berkow in a 1994 interview. "I wasn't going to let them down."
Here are some facts about Brissie:
He was such a talented player that, by age 16, he had more than a dozen pro offers. But he took the advice of A's owner Connie Mack, who encouraged him to go to college before trying for the majors.
According to the 1994 Times article, the shell that hit his unit in the Apennines in central Italy killed 11 soldiers around him. Brissie himself, after crawling away from the blast, passed out alongside a nearby creek and was initially left for dead, until a medic returned to carry him away.
Brissie was awarded the Purple Heart and the Bronze Star, but perhaps his most prized memento was a stainless steel watch that had stopped at 10:57:53 a.m., the moment he was hit by the German shell.
He was the first soldier in the European Theater to receive penicillin to prevent infection after his surgery.
The military surgeon who saved Bissie's leg, William Brubaker, became a lifelong friend.
Back in the United States, Brissie – ignoring doctors' advice that he should think about another career – began throwing a baseball while still on crutches. He got his form back by pitching on a sandlot team, wearing a bulky aluminum brace to protect his damaged leg.
After playing for the A's from 1947 to 1951, he was traded to Cleveland, where he became a relief pitcher. His most memorable game was a scoreless duel against St. Louis Browns great Satchel Paige in a game that went 19 innings, before the Indians eked out a win.
After retiring in 1953, he became the national director of American Legion baseball, and a leading advocate for enshrining Shoeless Joe Jackson [7] in the Baseball Hall of Fame.
Late in his life, though so hobbled by his injuries that he had to use crutches to walk, Brissie still visited the Veterans Administration hospital in Augusta to give encouragement to young patients who'd been wounded in Iraq and Afghanistan.
>> Get travel discounts with your AARP Member Advantages. [8]
Here's a 2008 interview in which Brissie talks about a memorable incident in which Ted Williams hit a line drive off his leg brace on opening day in 1948.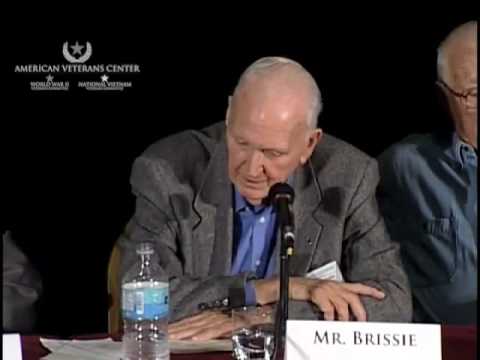 [9]
Photo: U.S. Army photo of Brissie in 2009 by Frank H. Carter [10]
Also of Interest
See the AARP home page [15] for deals, savings tips, trivia and more
---
Article printed from AARP: http://blog.aarp.org
URL to article: http://blog.aarp.org/2013/12/02/lou-brissie-baseballs-wounded-warrior/
URLs in this post:
[1] baseball: http://www.aarp.org/entertainment/arts-leisure/info-02-2011/baseball_quiz.html?intcmp=AE-BLIL-BL
[2] troops: http://www.aarp.org/giving-back/volunteering/info-2004/11_ways_to_help_the_troops.html?intcmp=AE-BLIL-DOTORG
[3] Image: http://blog.aarp.org/wp-content/uploads/2013/12/428px-Lou_Brissie.jpg
[4] >> Sign up for the AARP Health Newsletter: http://www.aarp.org/online-community/people/subscribeFromEmail.action?id=19061&intcmp=ILC-EMAIL-SUB-HLTH
[5] veterans: http://www.aarp.org/politics-society/history/info-09-2013/voices-of-veterans.html?intcmp=AE-BLIL-DOTORG
[6] died on Nov. 25 at age 89 in North Augusta, S.C.: http://www.northaugustastar.com/article/20131128/STAR01/131129572/1105/STAR/north-augusta-resident-lou-brissie-dies-at-89
[7] Shoeless Joe Jackson: http://www.shoelessjoejackson.com/
[8] >> Get travel discounts with your AARP Member Advantages.: http://discounts.aarp.org/travel/index/uSource/HCTN?intcmp=AE-BL-TRV-DISC
[9] Image: http://www.youtube.com/watch?v=my7wEtiMnE0
[10] U.S. Army photo of Brissie in 2009 by Frank H. Carter: http://www.defenseimagery.mil/imagery.html;jsessionid=2C72600D4331127CC9616B6F2B1EA05B#a=search&s=baseball&chk=6cfe0&guid=72c6480a373c54883008c17d0f9cc0d411f2c3d0
[11] The Secret Millionaire Twins: http://blog.aarp.org/2013/11/27/the-secret-millionaire-twins/?intcmp=AE-ENDART1-BL-REL
[12] America's Top 5 Football Stadiums: http://www.aarp.org/travel/destinations/info-11-2012/college-football-games-nfl-stadium.html?intcmp=AE-ENDART2-BL-BOS
[13] Please give to the Typhoon Haiyan relief fund to maximize donations for those in need.: http://www.aarp.org/disasterrelief?intcmp=AE-BL-QKTK-SOC-TYPHOON-RELIEF13
[14] Join AARP: https://appsec.aarp.org/MSS/join/application?keycode=U9ZTPH9&intcmp=AE-ENDART3-BL-MEM
[15] AARP home page: http://www.aarp.org/?intcmp=AE-ENDART3-BL-HP
Click here to print.