'Takei's Take' Takes Boston
Posted By Steve Mencher On July 14, 2014 @ 12:05 pm In The Download | No Comments
One if by land and two if by sea? Maybe Paul Revere was a digital pioneer, since he "got" binary communication centuries before the digital cataclysm started to shake today's world.
From the home of the first American revolution, tech adventurer George Takei [1] begins a series of four episodes of his award-winning YouTube series Takei's Take [2] in the Boston metro area, with three questions:
How did Boston drive the tech revolution in America?
Why did the scene shift to Silicon Valley?
What's the future for Boston tech?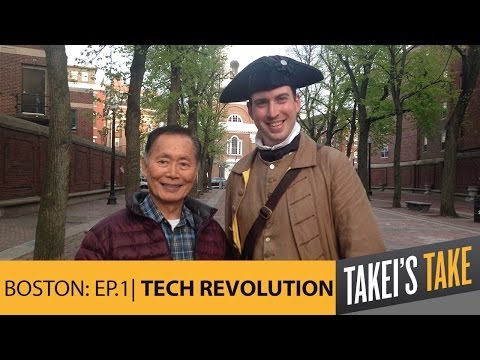 [3]
>> Get discounts on electronics with your AARP Member Advantages. [4]
He talks with tech writer Scott Kirsner [5] and a pair of entrepreneurs William Poduska (founder of Apollo and Prime Computer) and Bill Warner (founder of Avid Technology) about how technology [6], especially along the famed "Route 128 corridor," was a key engine for Boston's business growth, and they explore the state of the art today.
Join us for three more episodes – posted Thursdays – from the home of MIT [7] and Harvard [8], and perhaps the second most important incubator of tech ideas and trends in the country today.
Also of Interest
See the AARP home page [13] for deals, savings tips, trivia and more
---
Article printed from AARP: http://blog.aarp.org
URL to article: http://blog.aarp.org/2014/07/14/takeis-take-takes-boston/
URLs in this post:
[1] George Takei: http://video.aarp.org/video/Oh-myyy-George-Takei-s-favorite?intcmp=AE-BLIL-DOTORG
[2] Takei's Take: https://www.youtube.com/user/TakeisTake
[3] Image: http://www.youtube.com/watch?v=aG_qQvZBGoE
[4] >> Get discounts on electronics with your AARP Member Advantages.: http://discounts.aarp.org/technology/index/uSource/HCTN?intcmp=AE-BL-TECH-DISC
[5] Scott Kirsner: http://www.scottkirsner.com/
[6] technology: http://blog.aarp.org/2014/05/28/googles-newest-car-is-adorable-electric-homemade-and-drives-itself/?intcmp=AE-BLIL-BL
[7] MIT: http://agelab.mit.edu/
[8] Harvard: http://www.hsph.harvard.edu/pgda/
[9] Google Glass: 5 Funniest Test Drives: http://blog.aarp.org/2014/06/20/google-glass-5-funniest-test-drives/?intcmp=AE-ENDART1-BL-REL
[10] Oldest-Ever Congressman Ousted After 17 Terms: http://blog.aarp.org/2014/05/28/oldest-ever-congressman-ousted-after-17-terms/?intcmp=AE-ENDART2-BL-BOS
[11] Fight fraud and ID theft with the AARP Fraud Watch Network.: http://www.aarp.org/money/scams-fraud/fraud-watch-network/?intcmp=AE-BL-ENDART-ADV-FWN
[12] Join AARP: https://appsec.aarp.org/MSS/join/application?keycode=U9ZTPH9&intcmp=AE-ENDART3-BL-MEM
[13] AARP home page: http://www.aarp.org/?intcmp=AE-ENDART3-BL-HP
Click here to print.