George Takei Is Back in Boston: Driving Miss Daisy and Hanging with AGNES
Posted By Steve Mencher On July 17, 2014 @ 4:58 pm In The Download | No Comments
Young adults are increasingly living with older members of their families, according to a report just released [1] by the Pew Research Center. To aid family harmony and help the younger generation understand their elders, AGNES – the Age Gain Now Empathy System – might be the perfect extra housemate.
AGNES is one of many wonders that George Takei [2], tech explorer extraordinaire, found on a recent visit to the Massachusetts Institute of Technology in Cambridge, Mass., just across the Charles River from Boston. There, the former Trekkie explores the "nexis of science and art" at MIT's Media Lab [3]. At the school's AgeLab [4], where AGNES was created, the emphasis is on technological advances that can make our longer life spans healthier and more enjoyable.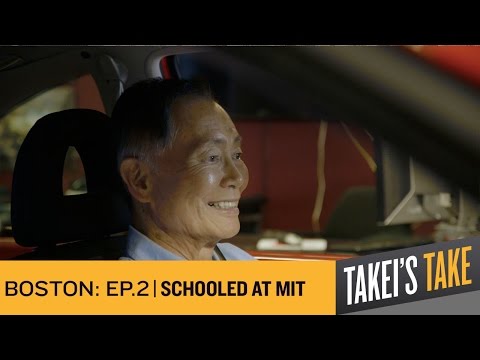 [5]
Join us again next week, as we return to Boston with George Takei, to explore the city's rich past, present and future as a leader in tech.
Also of Interest
See the AARP home page [10] for deals, savings tips, trivia and more
---
Article printed from AARP: http://blog.aarp.org
URL to article: http://blog.aarp.org/2014/07/17/george-takei-is-back-in-boston-driving-miss-daisy-and-hanging-with-agnes/
URLs in this post:
[1] a report just released: http://www.pewsocialtrends.org/2014/07/17/in-post-recession-era-young-adults-drive-continuing-rise-in-multi-generational-living/
[2] George Takei: https://www.youtube.com/user/TakeisTake
[3] Media Lab: http://www.media.mit.edu/
[4] AgeLab: http://agelab.mit.edu/
[5] Image: http://www.youtube.com/watch?v=kaobyKxdJyg
[6] Are Those Fun Online Quizzes Invading Your Privacy?: http://blog.aarp.org/2014/03/31/are-those-fun-online-quizzes-invading-your-privacy/?intcmp=AE-ENDART1-BL-REL
[7] They Found $1 Million in Their Trash: http://blog.aarp.org/2013/07/26/they-found-1-million-in-their-trash-2/?intcmp=AE-ENDART2-BL-BOS
[8] Fight fraud and ID theft with the AARP Fraud Watch Network.: http://www.aarp.org/money/scams-fraud/fraud-watch-network/?intcmp=AE-BL-ENDART-ADV-FWN
[9] Join AARP: https://appsec.aarp.org/MSS/join/application?keycode=U9ZTPH9&intcmp=AE-ENDART3-BL-MEM
[10] AARP home page: http://www.aarp.org/?intcmp=AE-ENDART3-BL-HP
Click here to print.