Cómo hablar sobre la pérdida auditiva con alguien que no quiere escucharte
In English | La pregunta que me hacen más que cualquier otra es: "¿ Cómo le hablo a mi cónyuge sobre la pé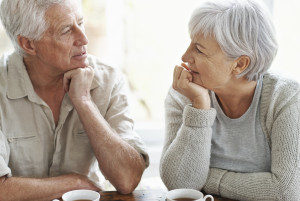 rdida auditiva?".

Cada vez que trato de traer a colación el tema, dicen, mi cónyuge le resta importancia. "Puedo oír bien", es la respuesta impaciente. O: "Es porque tú murmuras". O: " Este restaurante es demasiado ruidoso". O (y esta es la más frustrante): "Quizá así sea, pero no me molesta".

Fotos: Famosos con pérdida de audición.

"Bueno, me molesta a mí", tal vez te sientas tentado a contestar. No es una buena idea.

Lo que podría funcionar es cambiar la dirección de la conversación. "Mi amor", dices, "¿te has dado cuenta de que no escucho cosas que dice la gente? Pienso que podría estar perdiendo algo de mi audición". Tu amor podría mirarte con algo de recelo.

"Hay una clínica gratis en la universidad donde realizan pruebas de audición", continúas. "Voy para allá. Hoy en día hay tantos dispositivos nuevos para ayudarte a oír mejor".

"Audífonos", dice tu amor.

"Sí, audífonos. Pero también otras opciones que funcionan como los audífonos pero cuestan aproximadamente una décima parte. Escuché que son excelentes para la pérdida leve de la audición. Me pierdo mucho de lo que dicen en la televisión y además, cuando comemos afuera, nunca puedo oír cuando mencionan los especiales".

Suscríbete a nuestro boletín.

"Como ya dije", dice tu amor. "Los restaurantes son demasiado ruidosos".

"De todos modos", sigues, "podría ser solamente cerumen en el oído, y sería bueno que me lo extrajeran".

No hay respuesta.

"Leí el otro día que puedes usar un teléfono inteligente como audífono. Puedo convertir mi iPhone en un micrófono; lo leí en Gizmag (en inglés). Hay otra opción que puedes utilizar con un iPhone o un Android con Bluetooth. Leí un artículo sobre eso en The New York Times (en inglés).Me has vuelto adicto a la tecnología".

No hay respuesta.

"También hay un dispositivo sensacional que funciona casi como un audífono, pero parece como un auricular de Bluetooth. Se llama Soundhawk (en inglés). De hecho, hay muchísimas cosas que no son audífonos pero que suenan muy bien".

Tu amor: "Ajá...".

"Voy a la clínica mañana y tal vez haga una parada en la tienda de Apple para ver las nuevas opciones. ¿Puedes conducir tú, por si acaso no puedo estacionarme?"

Descuentos en Salud y Bienestar: Ahorros de hasta un 30% en un estilo de vida más sano.

Tu amor acepta conducir. Encuentran un lugar donde estacionar. "No tiene sentido quedarse en el automóvil", piensa tu amor. "¿Por qué no hacerme la prueba de audición? Igual ya estoy aquí".

Si puedes lograr que tu amor vaya a la prueba de audición, es un primer paso enorme. Si el resultado es una solución intermedia, como la aplicación para teléfonos inteligentes o el Soundhawk, no es un mal segundo paso.

Resultó ser que tú también tienes algo de pérdida de la audición. El audiólogo sugiere el Bean (en inglés), ya que en verdad no quieres parecer un operador bursátil de Wall Street con el Soundhawk. Es invisible. Luego, quizá más adelante, los audífonos.

Tu amor decide usar el Soundhawk. Proyectar una imagen poderosa. El promedio de tiempo que se espera entre descubrir que necesitas audífonos y de hecho obtenerlos es de siete años, así que comiencen ahora mismo.



También te puede interesar:



Página de inicio de AARP

Foto: annebaek/iStock

Katherine Bouton escribió Shouting Won't Help , una autobiografía sobre la pérdida de audición en adultos. Ha tenido pérdida de audición progresiva y bilateral desde los 30 años y bloguea sobre la vida saludable —y envejecer de manera saludable— en Hear Better With Hearing Loss (Escucha mejor con pérdida auditiva). Es miembro de la junta directiva de la Hearing Loss Association of America (Asociación Estadounidense de Pérdida de la Audición).