Cómo cuidar el pie diabético
By Sara Justicia, December 4, 2015 11:54 AM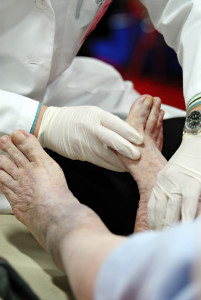 Podría resultar extraño pensar que los postres, las pizzas y los panes que ingerimos, pueden afectar la forma principal mediante la cual nos movemos en la vida: utilizando nuestros pies.

Fotos: 6 maneras de vencer la diabetes y mejorar la salud

Los pies son los que nos permiten caminar al baño en la mañana, bailar en las fiestas y hacer compras. En fin, son una parte del cuerpo humano en muchas ocasiones desatendida y sin embargo, requieren de una atención especial, más aún cuando hablamos de los niveles de azúcar en la sangre.

La Asociación Americana de la Diabetes ha estimado que unas 29 millones de personas en Estados Unidos se encuentran en riesgo de desarrollar diabetes. Así que si en un chequeo de rutina tu doctor te indica que tienes algo alta el azúcar, es hora de hacer ajustes en la dieta, comenzar a hacer ejercicio y seguir sus recomendaciones.

Según informó la American Orthopaedic Foot & Ankle Society (AOFAS), "la diabetes es una enfermedad complicada que puede causar neuropatía (pérdida de la función normal de los nervios) y enfermedad vascular periférica (pérdida de la circulación normal)".

Suscríbete a nuestro boletín

A continuación se detallan cinco condiciones que pueden afectar el pie y derivarse de la diabetes:



Úlceras del pie diabético: lesiones que no se curan o que se infectan.

Infecciones del pie: se pueden infectar tanto la piel como los huesos.

Gangrena: tejido muerto como resultado de la pérdida total de circulación.

Artropatía de Charcot: fracturas y dislocaciones del pie que pueden llevar a severas deformidades

Amputación: amputación parcial del pie, todo el pie o por debajo de la rodilla.


Como quieres evitar sufrir estas complicaciones hay varias recomendaciones que el National Institute of Diabetes and Digestive and Kidney Diseases sugiere. Una buena higiene es muy importante. Se recomienda limpiar los pies diariamente y mantener la piel en el área suave. Los callos deben ser tratados diligentemente. Las uñas deben ser cuidadas y cortadas. Si no lo puedes hacer tú, acude a un podiatra para que lo haga por ti. Utiliza zapatos cerrados y medias todo el tiempo. Los expertos además aconsejan proteger los pies de temperaturas extremas, tanto frías como calientes y mantener la circulación siempre fluyendo hacia los pies.

Descuentos en Salud y Bienestar: Ahorros de hasta un 30% en un estilo de vida más sano

La AOFAS advierte que los diabéticos deben visitar a su médico una o más veces al año para un examen en los pies. Además, en caso de notar una infección o cambio en la apariencia del pie la visita debe ser de emergencia.

Para más información puedes visitar la página Diabetic Foot Problems en FootCareMD.org para aprender cómo se diagnostican y tratan estos problemas.

También te puede interesar:



Página de inicio de AARP

Foto de jorgeantonio via IStock.