¿Tienes pérdida auditiva? Negarlo no funciona. Créeme
In English | Boomers y personas de más edad: ha llegado el momento de reconocer que probablemente tienen pérdida de la audición. Se estima que 48 millones de estadounidenses la tienen, y el 55% de ellos son menores de 60 años. Es fácil de ignorar, pero sus vidas serán mucho mejor si no lo hacen.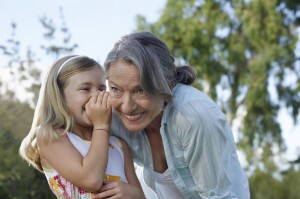 Fotos: Famosos con pérdida de audición.
Como muchos, pasé años —¡décadas!— negando que mi pérdida auditiva era un problema. Me sucedió de repente y fue grave, así que no pude negar su existencia. Sin embargo, negué bastante bien que interfería con mi trabajo y mis relaciones personales.
La mayoría de las personas pierden la audición de manera gradual y tal vez ni siquiera se den cuenta. Es fácil olvidar que muchas cosas que ves también tienen un sonido. ¿Oyes las hojas susurrar mientras caminas en el otoño? ¿Dejas el grifo del lavamanos abierto porque no oyes el agua? Si tu cónyuge hace un comentario al salir de la habitación, ¿lo descartas como algo que no se supone que escucharas de todos modos?
¿Te cuesta trabajo oír en los restaurantes? El restaurante es demasiado ruidoso. ¿Tratas de sentarte en las primeras filas durante los servicios religiosos? El pastor murmura. ¿Te cuesta trabajo entenderle a tu nieta de tres años? Ella cecea. ¿Tu amigo de Rusia? Tiene acento. ¿Tu vecino? Tiene el bigote grande y poblado.
¿Por qué importa, si tienes éxito engañándote a ti mismo y a los demás? ¿Cuál es el daño?
La pérdida de la audición sin tratar tiene consecuencias sociales, físicas y psicológicas.
En el contexto social, la pérdida auditiva se confunde con una actitud distante o esnobismo cuando no respondes a un saludo. En el trabajo, tus colegas podrían pensar que estás aburrido o agotado. O quizá que simplemente estás perdiendo las facultades mentales. O que andas borracho. Muy pocos se imaginarán que es pérdida de la audición, porque es algo que no reconocemos si podemos evitarlo.
Físicamente, el ruido o proceso de envejecimiento que causó tu pérdida auditiva —al destruirte las diminutas células ciliadas del oído interno— también ha vuelto vulnerables a otras células ciliadas. A menos que comiences a tener más cuidado con la exposición al ruido, tu pérdida de la audición se acelerará. En lo psicológico, corres mayor riesgo de padecer disminución cognitiva y demencia.
Descuentos en Salud y Bienestar: Ahorros de hasta un 30% en un estilo de vida más sano.
La buena salud auditiva es esencial para una vida saludable. Me entusiasma comenzar esta nueva serie de artículos donde compartiré lo que aprendo cada día sobre cómo vivir una mejor vida con pérdida auditiva.
Katherine Bouton escribió Shouting Won't Help (Gritar no ayudará), una autobiografía sobre la pérdida de audición en adultos. Ha tenido pérdida de audición progresiva y bilateral desde los 30 años y bloguea sobre la vida saludable —y envejecer de manera saludable— en Hear Better With Hearing Loss (Escucha mejor con pérdida auditiva). Es miembro de la junta directiva de la Hearing Loss Association of America (Asociación Estadounidense de Pérdida de la Audición).
También te puede interesar:

Foto: IPGGutenbergUKLtd/iStock