AARP Celebrates Stonewall 50th Anniversary During LGBT Pride Month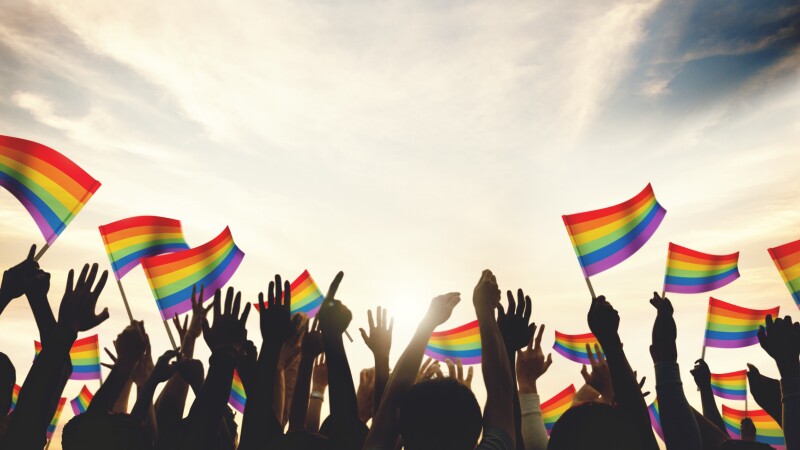 June is LGBT Pride month and AARP is proud to show its support for the LGBT community. This year marks the 50th anniversary of the Stonewall riots in New York City, a watershed moment in the LGBT gay rights movement in America.

"The 50th anniversary of the Stonewall uprising feels like a good time to take stock of how far we've come and how far we must go to ensure that all LGBT older adults are free to be their whole selves, without fear of any kind of discrimination," said Nii-Quartelai Quartey, AARP Senior Advisor and National LGBT Liaison. "The fight to maintain the dignity of LGBT older adults is not for the faint of heart, but we're up for the challenge and willing to do our part."

A lot has changed for the better in the lives of LGBT people since Stonewall, but there are still challenges, particularly for older LGBT adults.

Challenges with housing and health
A national study of senior housing—which includes assisted living, independent living, and continuing care facilities—found that nearly half of LGBT housing testers experienced at least one type of discriminatory treatment. This ranged from not being offered a promotional incentive to being quoted a higher rental rate to being directed to less ideal housing than non-LGBT testers.

AARP's research shows that 34 percent of older LGBT adults are worried they'll have to hide their sexual identities if they move into a retirement home. Sixty percent say they are concerned about facing verbal or physical harassment in long-term care facilities.

We also know that, statistically, older LGBT adults generally have poorer health than their heterosexual counterparts.

In addition, older LGBT adults are less likely than others to have children to care for them as they age. This has significant implications for long-term care in a rapidly aging population.
How AARP is meeting some of these unique challenges
We work closely with a diverse and growing number of community, state, and national groups, including Lambda Legal, SAGE (Services and Advocacy for GLBT Elders), and the National Association of Gay & Lesbian Real Estate Professionals, among others, to help educate community leaders about the challenges faced by older LGBT adults, as well as the opportunities to improve their quality of life.

In 2017, AARP and AARP Foundation supported Lambda Legal by filing an amicus in defense of Marsha Wetzel, an elderly woman who was harassed and physically assaulted based on her sexual orientation while living in the Glen St. Andrew Living Facility, a senior housing facility in Niles, Illinois. AARP has long been a strong advocate for all seniors so that they can retain their independence, safety, and dignity and are free from discrimination throughout their life, regardless of their sexual orientation or gender identity.

To help address the caregiving needs of older LGBT adults, AARP worked with SAGE to develop a free Prepare to Care Guide specifically tailored for LGBTQ caregivers.

Most recently, AARP has been working through the National Association of Gay & Lesbian Real Estate Professionals to add specific content on LGBT seniors to the National Association of Realtors senior real estate professional (SRES) credential training.

Supporting the LGBT community
AARP staff and volunteers routinely participate in local LGBT events across the country year-round, including film screenings and programs on caregiving, livable communities, social isolation, and the 50th anniversary of Stonewall.

This year, AARP state offices are participating in LGBT Pride festivals and parades in dozens of communities across the country, including Anchorage, AK, Salt Lake City, UT, Dallas, TX, Fargo, ND, Wilmington, NC, and many more.

How AARP supports its LGBT staff
AARP was an early adopter of employee benefits for same-sex partners, long before the 2015 Supreme Court ruling that legalized same-sex marriage. These early benefits included medical, prescription drug, dental, and vision coverage. Today, comprehensive transgender medical services and coverage for employees and their dependents are covered.

Early on, AARP included same-sex domestic partners under our family medical leave program. AARP staff are also eligible for caregiving leave up to 80 hours a year to care for their same-sex spouses or domestic partners.

In the guiding words of our founder, Ethel Percy Andrus, "What we do, we do for all."

For more information, visit www.aarp.org/pride.