A Challenge to Caregivers: Exercise and Get Fit!
AARP has launched a new online fitness and weight-loss challenge to encourage caregivers to take charge of their own health.
What are the odds that caregivers will rise to the challenge? Not as bad as you might think.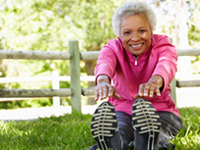 The average caregiver is a 49-year-old woman who has a job and a family. She spends 20 hours a week providing care for a loved one - usually her mother, who lives alone about 20 minutes away. About 6 in 10 caregivers say that their eating (63 percent) and exercising (58 percent) habits are worse than before becoming a caregiver. That takes its toll. Feeling bad about oneself, on top of the stress of too-full days, can put a caregiver on the edge of burnout.
>> Sign up for the AARP Health Newsletter 
But the 24/7 Web is a lifesaver. The Internet ranks second as caregivers' go-to source for help - right after health and medical professionals. Searches for "care for the caregiver" come close to topping searches on AARP's own Caregiving Resource Center. Plus, the buzz is that caregivers also cluster on weight-loss websites.
So chances are good that caregivers will join the Care4YouToo online fitness challenge from July 14 to Aug. 24. Caregivers know they have to put their oxygen mask on first or risk the well-being of their loved ones. They just need a little incentive.
To help the caregivers who join the challenge, twin fitness experts Kymberly Williams-Evans and Alexandra Williams will offer fitness tips, exercises and encouragement. The prospect of winning gift card rewards won't hurt turnout either. Plus, it's an easy time of year to find fresh fruits and vegetables.
Also of Interest

See the AARP home page for deals, savings tips, trivia and more