AARP Congratulates Incoming CEO Jo Ann Jenkins
In an announcement today, Jo Ann Jenkins was made AARP's incoming CEO, effective Sept. 1, 2014. Gail Aldrich, chair of the AARP Board of Directors, said in a press release announcing the board's unanimous selection that Ms. Jenkins "is an inspirational leader who proactively engages at all levels of the organization and is comfortable operating in the public eye. She has demonstrated experience working across party lines that, coupled with her broad business experience, are essential to AARP's success at this time."
In a Washington Post article announcing her incoming appointment, Jenkins said, "People want AARP to be with them every day in their community."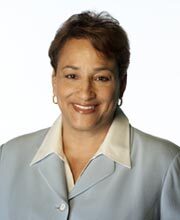 The Post article also noted Jenkins' commitment to health and economic security of Americans 50+ and a "focus on boosting older adults' digital skills."
Jenkins, a native of Mobile, Ala., has had an extensive and impressive career including a 15-year stint at the Library of Congress, where she developed and directed two of its most renowned projects, the National Book Festival and the Library of Congress Experience.
AARP's announcement concluded with Board Chair Aldrich praising current CEO Barry Rand by saying: "The Board would also like to thank Barry Rand for his vision, leadership and stewardship which guided AARP through some challenging and exciting times these past five years. AARP is a more vibrant, relevant and financially healthy organization for people 50+ than it was when Barry joined AARP in 2009. His legacy will be his financial acumen, creation of Life Reimagined, ability to attract quality talent and focus on the changing multicultural demographics of the country. We are grateful Barry will continue to lead AARP until Jo Ann takes the helm on Sept. 1. We wish Barry all the best as he rediscovers what he wants to do in the next chapter of his very distinguished career."