AARP Report Finds Sky-High Drug Prices
Escalating drug prices have been making the news in recent months. In particular, the exorbitant price tags of two brand-name drugs used to treat Hepatitis C — Solvaldi and Harvoni — have ignited intense controversy. I talked with Leigh Purvis, director of health services research, AARP Public Policy Institute, and coauthor of AARP's Rx Price Watch Report: Trends in Retail Prices of Brand Name Prescription Drugs Widely Used by Older Americans, 2006-2013 about the trend in rising drug prices and what it means for consumers.
Q: Do we know what's driving the escalating drug prices?
Leigh: It's not clear why drug manufacturers are increasing their prices. Probably the shortest answer is "because they can." And it's not just brand-name drugs prices that are increasing — some generic drug prices are also skyrocketing.
>> 9 Types of Medication Older Adults Should Use With Caution
Q: Can you explain how increasing drug prices are affecting people in everyday life?
Leigh: The most obvious example is when someone suddenly notices that they're paying more for their prescriptions. We know that when drug costs get too high, people are often forced to choose between the medications they need to stay healthy or paying for food and rent. Then, when people don't take their medications because they need to pay their electric bill, they can get even more sick and face higher health care costs when they go to the doctor or hospital.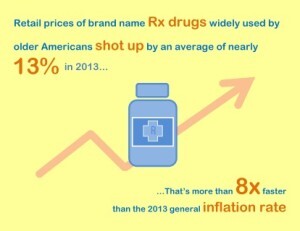 Increasing drug prices affect everyone who has health insurance through higher premiums, deductibles and cost sharing like co-payments — even those who don't take medications. Government spending increases driven by large drug price increases will eventually affect all Americans in some way, such as higher taxes, cuts to public programs like Medicare and Medicaid, or both.
Q: If a brand name drug is too expensive, can't people just switch to a generic medication?
Leigh: In some cases, yes. Generic drugs are extremely helpful for people who need to cut costs. The problem is that not all brand name drugs have generic equivalents so many people don't have the option of switching. And, in some cases, generic drug prices are also rapidly increasing just like brand name drug prices.
Q: What is your response to the argument that the high prices of prescription drugs simply reflect the high cost of research and development to bring them to market?
Leigh: Honestly, I don't believe it's a particularly good argument. Several critics have noted that drug companies spend a lot more on marketing than they do on researching and developing new drugs. The CEO of a major drug company recently called the often-cited $1.3 billion (recently upped to $2.6 billion) price tag for developing a new drug " one of the great myths of the industry." And finally, it's worth noting that we, the taxpayers, fund a large amount of drug-related research these days.
>> Get discounts on health services with your AARP Member Advantages.
Q: Is anything being done to address the increasing drug prices?
Leigh: There are numerous policies and legislative proposals floating around that could help reduce drug prices, all of which are fiercely opposed by the pharmaceutical industry. Some ideas that AARP supports include:

Allowing the US Department of Health and Human Services to negotiate lower drug prices for Medicare beneficiaries
Requiring drug makers to pay rebates for drugs used by certain low-income Medicare Part D enrollees
Reducing the amount of time that expensive drugs called biologics are allowed to remain on the market without any competition
Allowing Americans to safely import less expensive medications for their personal use from Canada or other developed countries.
Also of Interest:


See the AARP home page for deals, savings tips, trivia and more.