Leslie Nettleford's Life Reimagined
By Media Relations , November 12, 2014 03:58 PM
By Jessica Winn

Why one woman's story on following her dream should inspire you to do the same
Have you ever had an idea that kept you up all night, or a desire to do something extraordinary? Perhaps you even have a special talent that you've always wanted to pursue more fully? We are all familiar with those urges toward purpose and passion; it's human nature to aspire for something more. Unfortunately, we are also all familiar with the excuses for why our great ideas, dreams or talents will never be.

I'm too busy
It's not practical
I wouldn't know where to begin
>> Sign up for the AARP Money newsletter
The list could go on forever. However, instead of focusing on these excuses, perhaps we should take Leslie Nettleford's advice; that is, to not worry about whether something will work out or not… but, to consider what we could miss if we do not even try. This is at the heart of Life Reimagined — a vision, a methodology, and a community from AARP that helps people rediscover what truly matters and focus on what they really want to do. Does all of this seem easier said than done? Keep reading to find out how Leslie took her own advice and began a singing career in just one year.
After 15 years working as a property law attorney with the general counsel team at AARP, Leslie was both successful and comfortable in her professional life. In fact, she was thrilled to work in an organization committed to serving the 50+ community.
"My mother was a registered nurse who helped older people," Leslie recalls. "I really liked following that path using my own talents."
However, handling contracts to protect real and intellectual property is not Leslie's only talent. Beginning at a young age, Leslie had a passion and talent for music. One of her favorite pastimes as an only child was starring in her own "radio show." She would record herself singing on cassette tapes then play them back adding commentary as if she was the show's host. However, performing at church with the help of a member, Bobby Soverall, was what really sparked her interest in gospel music. While working with Bobby, Leslie had the chance to see how her music could be arranged for her to perform live. This was an eye-opening experience for her.
However, as years went by Leslie followed the pragmatic path. Her mother impressed upon her at an early age the importance of having a good education in order to "make a life" for herself. Consequently, Leslie defined herself as a professional woman — an attorney — not as a singer.
"I never saw singing as a viable career option," remembers Leslie. "It was merely a hobby to me."
That changed in March 2013. Leslie saw that a friend of hers from law school — Marcus Johnson — was speaking at a Life Reimagined event and she decided to attend. While at the event, she took the time to reflect on her own desires and really think about what she could do to make her life different. Moreover, she was inspired by Marcus' example. Not only was he a lawyer, he was also an actively performing musician. It was her "aha" moment. If he could pursue a professional and musical career at the same time, why couldn't she? That was when Leslie decided to finish her first album in one year.
"Life Reimagined helps you to see yourself in all your strengths," explains Leslie.
Fast forward, Leslie released her first album — A Place Called Home — on April 24, 2014, with the help of her friend and producer, John Stoddart, and her many supporters who crowdfunded the release through a Kickstarter campaign. She was ecstatic to not only have friends and family join her for this momentous occasion in her life, but coworkers as well. For her, releasing this album gave her a feeling of fulfillment that only comes when something is so long awaited.
"I can look back at this year and be happy that I accomplished something," Leslie exclaims. "This year was special for me."
Leslie's motto is to be open for change and prepared for opportunities. It was this mind-set that led her to meet Henry Harris with SpiritCo1.com — an online radio station for independent Gospel artists — during a networking event. Henry chose her song, Count It all Joy, to be played on the radio, which was more than Leslie could have hoped for only a year ago. Even more, last month Leslie won the DMV Gospel Jazz Artist of The Year award. That one decision to finish her album last year has led to her amazing success — and it doesn't appear that Leslie will be slowing down anytime soon.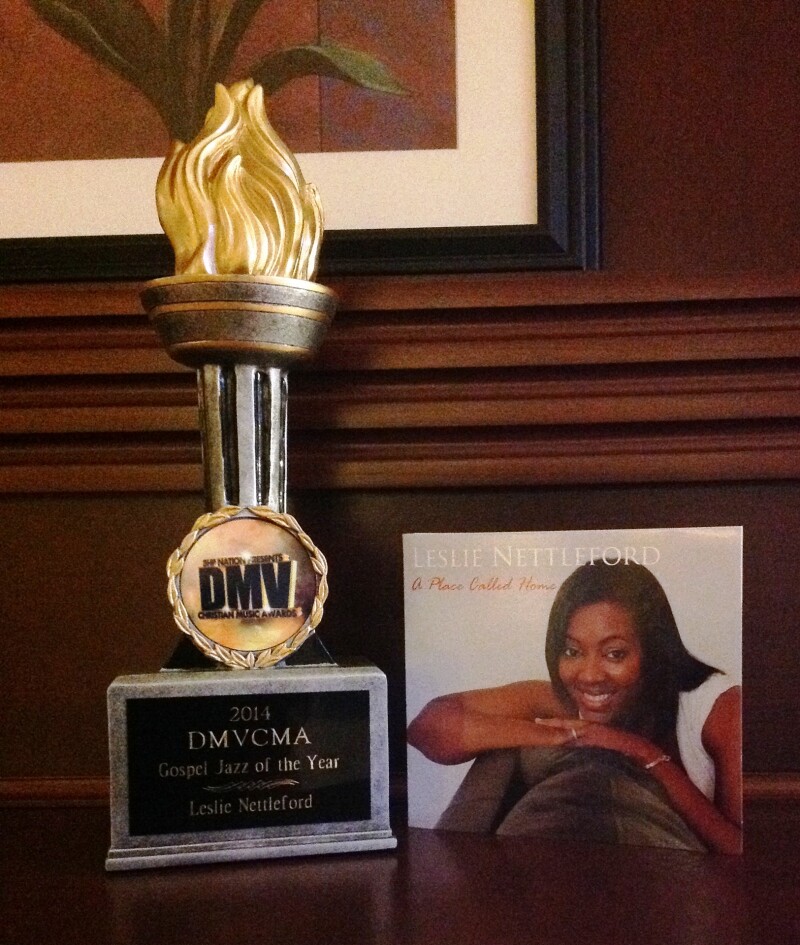 When we are faced with a story like Leslie Nettleford's — someone who went far outside of her comfort zone to follow her dream — we are compelled to reexamine our mind-set and our excuses; we are encouraged to reimagine our lives and pursue our great ideas, passions and talents. Visit Life Reimagined now to start your journey toward passion and purpose!
Also of Interest

See the AARP home page for deals, savings tips, trivia and more.