There's a New Girlfriend on the Block, AARP launches Newest E-Newsletter
By Jasmine Rennie, August 02, 2017 11:26 AM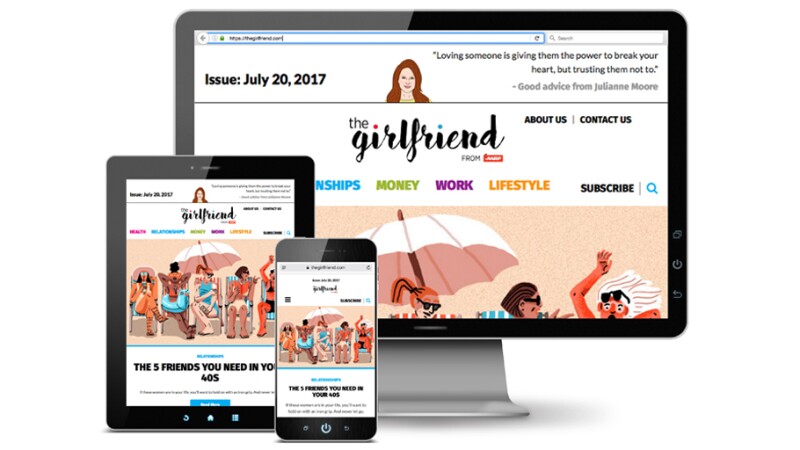 Nowadays, you're lucky to find a publication that really gets you. Millennial women have Buzzfeed and Refinery 29 and Boomer women have AARP The Magazine. But for the Gen X Woman, the search may not be easy.

To reach this overlooked population of women; AARP recently announced the launch of " The Girlfriend," a new sassy and savvy digital publication for today's 40-plus woman. The free weekly newsletter will feature short and snappy essays, which cover everything from pop culture and the hottest health tips to battling divorce and leadership lessons from the mother of dragons.

The Girlfriend puts a new spin on things and attracts a younger audience compared to AARP's traditional 50-plus audience. The e-newsletter will bring readers stories, quizzes and videos about relationships, money, lifestyle, pop culture and health.

"We were looking for something different and wanted to appeal to a population we didn't see other publications speaking directly to. We created The Girlfriend to fill the void in communication and better serve today's 40-plus woman," said Myrna Blyth, Senior Vice President and Editorial Director, AARP Media.

The Girlfriend Editor-in-Chief, Shelley Emling says, "each week we feature a True Confessions video; it's like sitting with your girlfriend over a glass of wine and she is telling you her deepest, darkest secret."

Emling's personal favorites are the first-person essays and the True Confessions videos, "I love it when women get real with each other and aren't afraid to show their vulnerability," she said. Emling also urges readers to submit true confessions videos and share stories about their real life best friends.

Readers can find The Girlfriend's unique and empowering content on Twitter, Facebook, YouTube and Instagram. With a strong reader response within the first week of the launch, the e-newsletter could spread to Pinterest and even Snapchat in the future.

Whether it's a shoulder to cry on, a laugh over #toomuchwine or navigating the next chapter of your life, make sure you join the conversation because The Girlfriend's got your back.