AARP's Commitment to Family Caregivers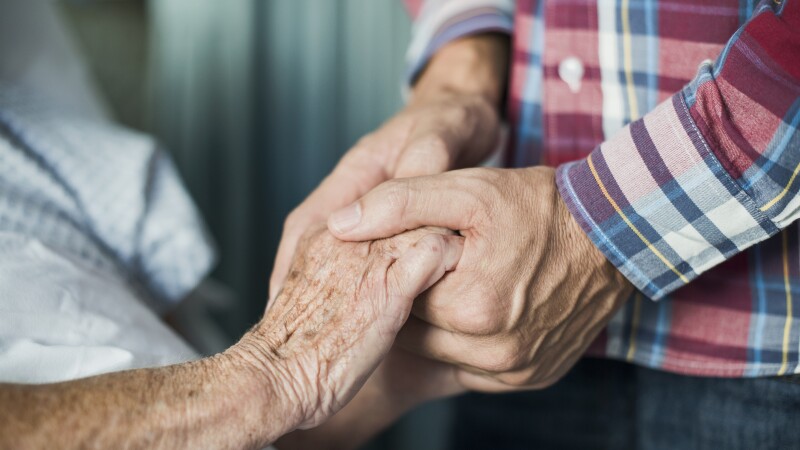 Hard-working family caregivers need all the support they can get. That's why AARP is proud to endorse the Credit for Caring Act, a bipartisan proposal that would provide welcome relief for some of these dedicated individuals who often must dip into their own pockets to help older parents, spouses, and other loved ones.

This legislation, which would provide a nonrefundable tax credit of up to $5,000 for eligible working family caregivers, is the latest in an array of initiatives advocated by AARP to support family caregivers and ensure their concerns are on the radar of leading policymakers.

We have sponsored research to improve understanding of the challenges faced by caregivers. We have developed a vast inventory of content to help Americans navigate the landscape of long-term care and answer their many questions. And we have secured hundreds of victories in state capitals to support family caregivers in areas varied as legal, financial, workplace flexibility, telehealth, and respite services.

In the process, AARP has enhanced the nation's awareness of caregiver needs and served as the trusted, go-to source of information for policymakers and consumers.

While the pandemic has highlighted the crucial role played by family caregivers, AARP was working on their behalf long before COVID-19 added to the difficulties of millions. Maya Angelou once said, "there is no greater agony than bearing an untold story inside you." About seven years ago, we purposefully and deliberatively listened to many of the untold stories of AARP members who were also family caregivers, and it became very clear that this deeply personal issue – one that folks didn't really want to talk about – was truly a public policy and legislative issue. So, we got to work on Capitol Hill and in state legislatures.

Since that time, our advocates have worked with policymakers to enact more than 500 state laws, helping over 174.6 million family caregivers (cumulatively). These laws address such issues as recognition and training of family caregivers prior to hospital discharge; legal supports in uniform guardianship and power of attorney laws; care access through telehealth, nursing scope of practice and home care services; financial supports through cash stipends and long term care benefits; workplace supports like paid and unpaid family leave; respite care to give caregivers a break.

For example, over the past several years, states around the country have passed the CARE Act, which gives important rights and guidance to family caregivers whose loved ones are in the hospital. The model legislation developed by AARP is now law in 41 states, the District of Columbia, Puerto Rico, and the U.S. Virgin Islands. We are continuing to build on the CARE Act's foundation in state capitals across the nation.

At the federal level, AARP successfully pushed in 2015 for the Assisting Caregivers Today (ACT) Caucus, a bicameral, bipartisan group of lawmakers that works to highlight the challenges of caregivers and older adults and people with disabilities as they seek to live independently.

In 2018, Congress approved, and the President signed into law the RAISE Family Caregivers Act, which seeks to forge a national strategy to support family caregivers. The Act directed the Secretary of Health and Human Services to appoint an advisory council, and we look forward to the release of their initial report with recommendations this year, as well as the development of the overarching strategy.

Additionally, recognizing the Biden Administration sees investing in the paid workforce now as a way to create jobs and offer caregiving workers a long-overdue raise and stronger benefits, we are doubling down on efforts to urge Congress to address the paid workforce through pay and other compensation, paid leave, recruitment, training, retention, and adequate staffing in long-term care facilities.

The legislative victories reflect a dramatic change in public awareness. Before AARP made family caregiving a priority issue, the topic was virtually absent from the national discussion. AARP helped overcome this obstacle with evidence-based storytelling – explaining that unpaid family caregivers are the backbone of America's long-term care system, providing enormous value to individuals, families, and the system itself, often at significant personal cost.

Our 2019 report "Valuing the Invaluable" found that about 41 million family caregivers provided unpaid care worth $470 billion. Notably, as part of a new study we completed with the National Alliance for Caregiving, we recently revised the number of family caregivers upward to 48 million Americans who help loved ones age 18 and over. In 2016, our "Family Caregivers Cost Survey" showed that family caregivers spend nearly $7,000 each year to help loved ones, an expense that puts too many in debt.

This past March, AARP researchers reported that greater workplace support for family caregivers, such as flexible scheduling to help them manage time conflicts, could add $1.7 trillion to the U.S. economy in 2030.

Starting with our Ad Council campaign in 2014, we prioritized creating useful content for members and the public. AARP's online Caregiving Resource Center provides tools, tips, news, personal stories, a toll-free phone line for help, and resources in Spanish. Our Financial Workbook for Family Caregivers offers guidance on a multitude of topics that caregivers may contend with, including health care, power of attorney, estate planning, housing, budget, and investment. More than 50 million people have engaged with AARP's caregiving resources just in the last five years alone.

The pandemic is the latest chapter in this ongoing commitment. As many Americans left jobs to provide care for loved ones and feared for those who live in nursing homes, we stepped up our efforts to help. We continually updated information for caregivers, worked tirelessly to dispel misunderstandings, encouraged healthy behavior, educated employers on the issues—and fought to protect older Americans living in long-term care facilities.

Long after the pandemic is over, AARP envisions a world in which family caregivers get all the support they need to help their loved ones age with the greatest possible independence and dignity. Better choices for affordable, in-home care and more support for working caregivers are among the requirements to achieve this vision for all.

The Credit for Caring Act is a step in this larger effort, and we thank its sponsors for their important work: Senators Joni Ernst (R-IA), Michael Bennet (D-CO), Shelley Moore Capito (R-WV), Elizabeth Warren (D-MA), and in the House, Rep. Linda Sanchez (D-CA).

When it comes to family caregiving, we are all stakeholders.