Combating Financial Relief Scams in the African American and Hispanic Communities
By Felicia Brown , August 24, 2016 11:00 AM
No matter who you are or where you live, you can become a victim of fraud. No one is exempt. This year, my parents received a bogus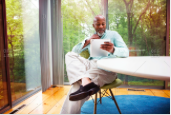 phone call from "Publishers Clearinghouse" indicating they were eligible to receive $1 million if they provided personal information. While my mother caught on that it was a scam, my father needed some convincing because he got blinded by the large amount of money promised. Immediately they called me, and I convinced my father that the caller was not legitimate. Yes, Publishers Clearinghouse is a real sweepstakes — but they don't call: Entry is through the mail.
Recently, the Federal Trade Commission published a report indicating that African American and Hispanic consumers are more likely to become victims of fraud and are twice as likely to have experienced more than one type of fraud — especially frauds promising income and debt relief. Some include get-rich-quick and pyramid schemes, credit repair, mortgage relief and other scams promising financial stability. A few years ago there was a preponderance of reported affinity fraud, a scam where an individual pretends to be a member of a religious group, ethnic community or professional organization to cheat affiliates out of their money.
Scams are rampant and scammers prey on your vulnerabilities, which is why it's really important that you protect yourself and become aware of fraud. So here are a few practical tips to help you stay vigilant and safe.
Say something. If you or someone you know has been scammed, report it! Research shows that many scams that occur in communities of color go unreported, which does not allow law enforcement to get in front of the problem quickly. Websites like AARP's Fraud Watch Network can help you stay up to date on scams and provide tips and strategies for keeping you safe. The FTC is launching an effort to increase awareness and encourage more reporting. And you can get information at Consumer.gov about basic consumer protection, learn how to spot imposters and receive information about how to specifically identify money scams.
Do your research. If someone offers you a deal that seems too good to be true, it probably is. There are tons of get-rich-quick schemes; don't fall for them. Research the company online and/or ask someone to verify if they are legitimate. If it's an investment adviser, check them out at your state securities regulator and also research the investment company they claim to work for to see how they make money. Be sure to look at reviews. Or Google search the phone numbers to see if the company has been reported in a scam.
Don't pay up front. If someone asks you to pay up front for such services as debt or mortgage relief, or loan offers, don't do it. It's probably a scam to get your money, and it's likely you will never see them or your money again. If you need debt payment, credit or mortgage assistance, there are reputable companies that offer those services. Do your research and ask around. Check out AARP Foundation to get information about free foreclosure prevention counseling and other programs for people needing income support.
AARP is committed to helping you stay safe by keeping you up to date with the latest scams. Sign up to receive AARP's Fraud Watch alerts so you'll know about the latest scams right in your backyard. And call 877-908-3360, the AARP Fraud Watch Helpline, if you feel you've been scammed.
AARP helps people turn their goals and dreams into real possibilities , strengthens communities and fights for and equips Americans 50 and older to live their best lives. Discover all the ways AARP can help you, your family and your community at AARP.
Photo: AARP
Also of Interest
Survey: The Dangers of Public Wi-Fi
 5 Ways to Stay Safe on Social Media
When Money and Emotions Don't Mix Well