5 Beauty Tools We Just Can't Live Without
There are a few basic tools every woman should have in her beauty bag to look cool, confident and fabulous . . . every day.

Here are my top five "must have" beauty bag staples . . . and why: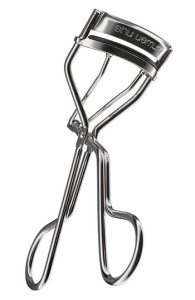 Eyelash Curler: Many women experience thinning hair after 50, even with their eyebrows and eyelashes. Skimpy lashes are a big beauty challenge for a lot of us, but luckily there's a simple, inexpensive trick to making them look more alluring. I've found that by curling them with a good eyelash curler, my lashes look fuller and longer. Makeup experts suggest start by crimping the tips of your lashes, and then working your way back toward the lash line. (But be careful not to squeeze the delicate skin of your eyelid!) Follow with a coat or two of volume-building black mascara (L'Oreal Voluminous is a great choice.) My favorite eyelash curler is by Shu Uemura, but there are lots of options in your local drugstore.
>> Sign up for the AARP Health Newsletter

Tweezer: The truth is that while our hair might be getting thinner on our heads, more hair might be popping up in weird places on our faces. But if you have the right tweezer, you'll be able to get to them quickly, easily and painlessly. Beauty experts everywhere swear by Tweezerman's Slanted Tweezer for not only shaping eyebrows to perfection, but for keeping stray hairs off our faces, where they most certainly do not belong!
Pointed Tip Cotton Swabs: Whether a speck of nail polish landed on your cuticle or a bit of mascara settled under your eyes . . . you can instantly solve the problem with a cotton swab that has a pointed tip, like Q-Tip Precision Tips Cotton Swabs. You can even use them to apply eye shadow as an eyeliner for a nice, soft, understated look: Dimly dampen the tip of the swab, dab it in the shadow of choice, and apply it to your top and bottom lash lines, as you would any eyeliner. Put a few in a small plastic bag, and pop into your beauty bag for help on demand.

Hair Clips: After decades of blow-drying and coloring my hair, it resembled roadkill on top of my head. To help my hair heal, I stopped using a blow-dryer every day, pulled back on overprocessing it by switching to highlights to blend in with my incoming grays, started using shampoo only once or twice a week, and substantially increased the amount of conditioner I apply. But to make sure my hair looks polished and pretty, after washing I "set" it with hair clips to keep it in place while it air-dries. When dry, I remove the clips, shake it out a bit and let it fall where it may. I specifically use the clips to add a bit of height at the top, and that's where they really work their magic. If you're thinking about taking this "less is more" approach to your hair after 50, hair clips are an essential beauty bag tool. Try DevaClips, my favorite.

>> Get travel discounts with your AARP Member Advantages.

Magnified Mirror: I saved the most important beauty tool for last: the magnified mirror. Once I turned 50, my eyesight turned terrible. I leave reading glasses in every room of my house, including my bathroom. But it's not practical to wear readers when you're putting on mascara, is it? What's the solution? Attach a magnified mirror with suction cups (mine is 10x magnification) to your bathroom mirror. And, carry a compact mirror with two sides - one regular and one magnified - in your beauty bag. Look, we've all seen those women who have too much eyeliner on, or lipstick that has run way past their natural lip line. You can bet your beauty bag that they just refuse to use a magnified mirror. I don't call it my magnified mirror . . . it's my magic mirror. And, no, I never leave home without it.

For tips on getting a pretty, fresh and modern look in minutes . . . check out this video:

Until next time, remember this: we can't control getting older . . . but . . . we can control how we do it! For more tips on living your best life, check out my book The Best of Everything After 50: The Experts' Guide to Style, Sex, Health, Money and More, and subscribe to The Best of Everything After 50 video series on the AARP YouTube Channel.
Photo credit: Nordstrom
Also of Interest



See the AARP home page for deals, savings tips, trivia and more