5 Things That Probably Look Better on Your Daughter
After 50, certain styles you once threw on with abandon should probably be abandoned.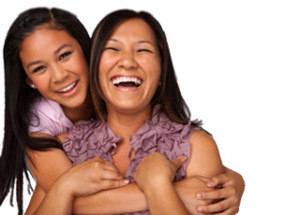 Too many women continue to sport outfits and makeup in midlife that would look much better on their daughters (or on other young women) than they do on them.

But the cause may not be what you think: It has little to do with size and everything to do with elegance. So even though I often wear the same brand of jeans as my two teenage daughters, I avoid these other styles like the plague:

1. Bra straps on display. Bra straps exposed as a fashion statement can look OK (I guess) on very young women - teenagers, for example. Once a woman reaches "career" age, though, her bra - no matter how chic - should be tucked away to take care of business. There are other, more sophisticated ways to look sexy and fresh.

>> Sign up for the AARP Health Newsletter 

2. Midriff-baring tops. No matter how many crunches you can crank out today, very few of us over a certain age have that taut, perfect abdomen that made it such a thrill to wear tube tops in 1971. In 2014, wearing a top that bares the midsection is probably best left to teens.

3. Dark lipstick. Red lipstick can look flattering and glamorous on many women, but rarely does it make women over 50 look fabulous. The reason: Dark shades of lipstick - even that lovely Ruby Woo from MAC you've fallen in love with - can creep into the lines around your mouth, dragging the face down instead of brightening it. Experiment with some coral pinks instead, such as the ones I recommend here.

4. Short skirts. No one wants to look frumpy. At the same time, we don't want to be caught trying to reclaim our bygone youth. Unless your legs are a 10, a skirt or dress that falls too far above the knee can be unflattering. For almost all women, the right length is just where the knee bends. (Too long can be equally unflattering, especially if you're short.) The only time a shorter dress or skirt works is when it's paired with black opaque tights or leggings, and mid-heel or flat booties.

5. Cap sleeves. Yes, this sleeve can create a very sweet and feminine look - but it's excruciatingly hard to wear. Rarely do I see a woman over 50 whose arms look sensational in a top with cap sleeves. Why? Because our arms are one of the first body parts to change, even if we're demons about doing pushups and lifting weights. Cap sleeves tend to accentuate the upper arms - the area that gets a little heavier as we age. Going sleeveless or wearing long or three-quarter-length sleeves are much better options.

>> Get travel discounts with your AARP Member Advantages.

Check out this video for more tips on wearing makeup that will help you look pretty, polished and modern in minutes:


Until next time, remember this: We can't control getting older, but we can control how we do it! For more tips on living your best life, look inside The Best of Everything After 50: The Experts' Guide to Style, Sex, Health, Money and More and subscribe to The Best of Everything After 50 video series on AARP's YouTube Channel.

Photo credit: Flickr



Also of Interest



See the AARP home page for deals, savings tips, trivia and more