5 Tips To Get You From Good To Glorious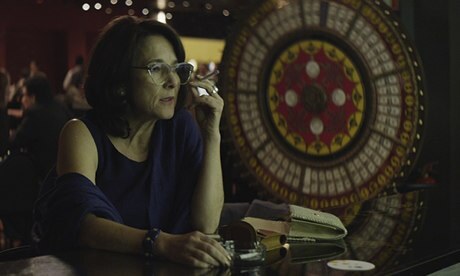 According to the U.S. Center for Disease Control and Prevention, we are 5-foot-4 or shorter, weigh between 150 and 160 pounds on average, and wear a size 14. These hard cold stats are way too scary, but they are exactly why you need to go see the movie Gloria, Chile's Oscar-nominated best foreign language film. Like us, the title character, played by Paulina Garcia, is 50-plus and not perfect. She's a bit flabby with a muffin top, saggy breasts, a few extra pounds and what I call "a face with experience." At first she seems totally average, almost frumpy. Later, Gloria's attitude, body language and smile transform her into a drop-dead beauty. Here are 5 tips I took away from this movie's inspiring character:
DANCE YOUR BUTT OFF. This 50-something divorced woman has a job but she spends evenings at social dance clubs where she smokes, flirts, drinks wine and gyrates with steamy glee. So shake your booty, sashay, swagger and swirl like Beyonce. Maybe make a Zumba class your workout. The Latin and global beats get your sensuality going. Try it home with a video like The Zumba Fitness Total Body Transformation DVD Set ($57.98,amazon.com).
LAUGH AND WEAR LIPSTICK. Stay amused. A wry grin and giggle are attractive (and research claims an antidote to depression and disease), especially when you add a face brightening lip color. Gloria laughs a lot through ups and downs but see Diane Keaton at this year's Golden Globes or Meryl Streep in the movie It's Complicated for further inspiration. Try: Revlon ColorBurst Matte Balm ($6.49, target.com).
DO YOUR HOMEWORK. Gloria smears on wrinkle cream and waxes her legs at home but gets to the salon for root touch-ups. On the other hand, she's not afraid to be seen without makeup or stark naked in the bedroom. Grooming routines keep our self-love, mood and confidence up no matter what's going on. All are essential. Try: L' Oreal Paris Revitalift Triple Power Intensive Overnight Mask ($ 24.99, lorealparisusa.com) and Olay Professional Pro-X Even Skin Tone Correcting Protocol ($39.99,target.com).
DRESS TO EXPRESS. Gloria has two wardrobes - neutral basics for the office and off-duty days and alluring looks for night. That's when silk blouses, deep V-necked jersey wrap dresses, sparkly jewelry, vibrant reds and purples put her in the spotlight. She wears huge plastic glasses 24/7 but somehow they add to her glamour and make her look fearless and feminine if not fashionable. Stick to your feel-good signatures and style. Life is not about being on-trend.
TRY SOMETHING NEW. Gloria tries pot, paintball target practice and bungee jumping but she also explores the charm of a hairless cat and a raunchy romance with a guy who wears a girdle (due to weight loss surgery). The point is to get out of your comfort zone and be up for mini-adventures. Take a solo vacation or cruise, start tweeting, buy white jeans for spring instead of blue (seriously), start biking to work, or try a new at-home hair color brand like Madison-Reed (go to www.madison-reed.com).
What have you got to lose...except fear?
For more beauty and style tips check out The Wardrobe Wakeup, Your Guide to Looking Fabulous at Any Age by Lois Joy Johnson ($14.55, amazon.com).
Photo Credit: Roadside Attractions