Finding Fab Clothes for Post 50 Fashionistas Just Got Easier
The older I get, the more I have embraced these two key concepts: "less is more" and "the simpler the better." This is especially true when it comes to fashion after 50.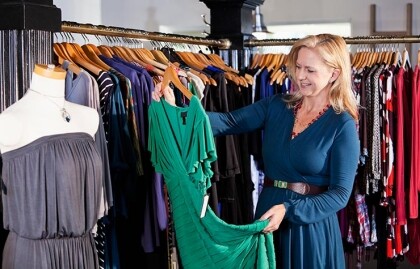 When I turned 50 a few years ago, I was so confused about what I should or shouldn't wear that I preferred unloading the dishwasher - my least favorite household chore - to looking for clothes. Shopping, for me, was intimidating and time-consuming. I usually got hungry, tired, and grumpy, which meant I ended up buying either the wrong things or stuff I didn't need. On the flip side, though, I want to look modern and definitely not dumpy or frumpy. To make matters worse, there really haven't been a lot of designers who create fashion specifically for us, and when they do, the clothes are ridiculously expensive.
Luckily, I had the good fortune to interview some of the most fashion savvy women in the country for my book, including Diane von Furstenberg and Ginny Hilfiger (sister of Tommy), all of whom gave me fantastic fashion advice (including how to buy terrific clothes in mass merchandise stores, like Target and Walmart) which I have been following ever since.
But my focus on fashion since I turned 50 made me realize that there is a real dearth of great style out there specifically for us. Always on the lookout for clothes that are well-made, easy-care, and affordable (I HATE spending a lot on clothes, especially in this economy), I recently discovered a terrific line that you should know about, too.
Channel surfing a few weeks ago, I came across HSN (Home Shopping Network), which I don't normally watch. However, something (actually someone) made me place the remote control on the table. Her name is Marla Wynne Ginsburg, a former top television producer who reinvented herself just a few short years ago when that all fell apart. She was so engaging I had to check it out. Like me, she was disappointed with the quality, pricing and style of clothes that target women over 50. So she decided to do something about it and started her own line of separates and accessories- MarlaWynne-which has quickly become one of the top sellers on HSN.
Marla is based in New York City, giving me the opportunity to meet her last week and try on some of her stuff. Fun! MarlaWynne's fashion mantra is "Easy care. Easy wear. Easy elegance." and she really delivers the goods.
During our time together, Marla explained that living in Paris and observing French women for a number of years has been her main source of inspiration. She told me:

The drape of a scarf, an elegant cape, the perfect jacket or sweater - the French women I saw were always sexy and feminine as they strutted their stuff down the Avenue Montaigne. They all seemed to own simple, elegant basics and that one special piece that gave them their own individual style and flair. Why can't American women over 50 have this, too? That's my mission.

I love my dark blue Uniqlo jeans ($39.90) and Target Merona dresses, cardigans (at $19.99 each it's hard not to buy one in almost every color), and t-shirts, but I'm getting a little bored and have been looking for a few new things for the spring and summer. I've found that adding separates (like from MarylaWynne) to my basics-like the jackets and slim, stretchy pants -are exactly what I've been looking for to put a little extra zing into my wardrobe. The really great thing about this line, too, is you can wear everything to work, a trip to the museum and lunch with the girls, or dinner out. Easy, elegant, sexy and anything but frumpy.
Having a basic wardrobe is essential, but there's a world of fantastic fashion out there, and your personal style should be your guide. The good news is that more and more designers and retailers are starting to realize that women over 50 are a pretty powerful bunch, so stay tuned. The most important thing is this: pick a look that reinforces your confidence and sexiness , put it on, and then go out and live your life. Don't worry so much about what you look like; we did too much of that in our younger - and more insecure - years. Now, we should enjoy ourselves and not waste time overthinking every fashion choice.
Best advice? Wear what makes you feel good about . . . you. Check out this video from "The Best of Everything After 50" series for the AARP YouTube Channel for a few more style tips:
Photo Credit: AARP