Arms and the Woman: 3 Cool Ways to Cover Yours When It's Hot
If you haven't quite achieved Michelle Obama's super-toned arms, is there a way to veil yours with style and confidence?

That's one of the most frustrating beauty challenges for women of any age. Even if you're at your ideal weight, your arms may be, uh - let's just call them "less than buff," leaving you reluctant to show them off as the weather warms up. What to do?

Here are three easy ways to look cool and stylish, no matter what shape your arms are in:

Sheer sleeves. This trend popped up a few years ago and is still going strong. Indeed, it's one of the most popular looks for 2014. You can find tops that are romantically sheer, like the signature creation below from Joie. But you'll want to wear a tank top under it, as shown.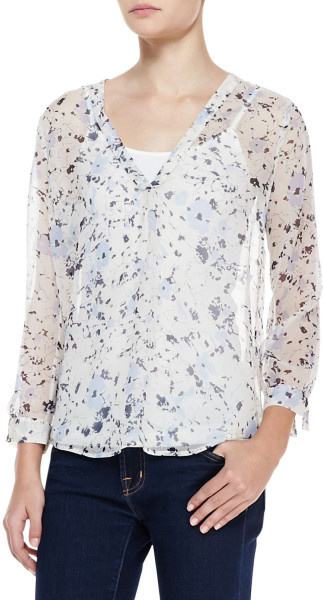 Another option is to find shirts that have sheer sleeves with built-in tanks, like the choice below from Alfani (which you can find at Macy's). This hybrid approach allows you to stay cool - and look that way, too!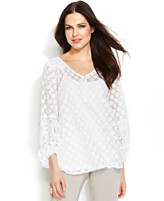 Layer with long-sleeved shirts. Here's a trick I've been using for years: Buy a few thin and snug-fitting long-sleeved or 3/4-length-sleeved T-shirts. (White is best, and will keep you feeling cool. Uniqlo has great ones for less than $10.) Wear them under tank tops, spaghetti-strap dresses or sleeveless dresses. A bonus: You'll shield your arms from the sun's harmful rays.

Embrace your outer cardigan. I've fallen in love with the Merona Ultimate 3/4 Sleeve Cardigan.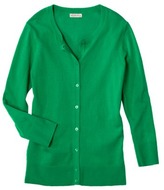 It comes in many colors, is light and cool, and can be worn over everything from tank tops and dresses to tailored shirts and more. Try this fitting tip: Buy your cardigan in a size smaller than you'd normally wear - the fit will be snug - then wear it open, not buttoned up. A snug cardi gives your arms a little coverage and your outfit a pop of color.

A few late-breaking thoughts: Avoid wearing cap or short sleeves - both cut the arm at its most unflattering point. Do, however, wear 3/4-length sleeves; they cover the part of your arm that's likely most out of shape, drawing the eye to the much slimmer lower arm and wrist. Add some bold bangles or a cuff bracelet to attract even more attention to that lower area.

To get your arms back in shape, check out this video on the proper approach to push-ups. Not only can the exercise tone your arms for summer, it's one of the best ways to build stronger bones and battle osteoporosis.



Until next time, remember this:

We can't control getting older, but we can control how we do it.
For more tips on living your best life, check out The Best of Everything After 50: The Experts' Guide to Style, Sex, Health, Money and More, and subscribe to The Best of Everything After 50 video series on AARP's YouTube Channel.