Behind the Seams: Hot in Cleveland's Costume Designer Lori Eskowitz
By Dian Holton, December 14, 2012 03:17 PM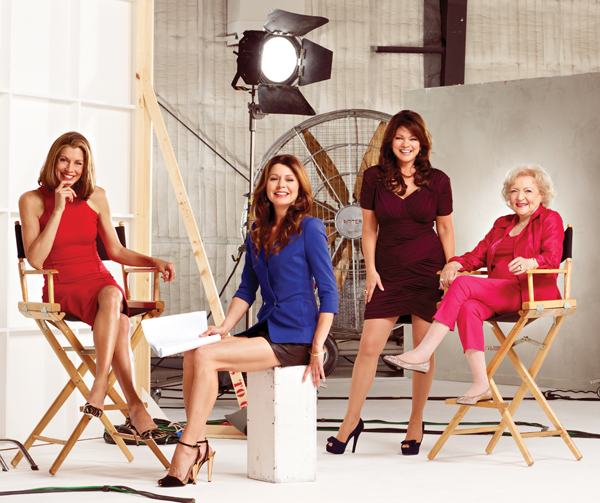 Wednesday nights are hotter and even more stylish. TVLand's Hot in Cleveland is back for a fourth season with its cast even more sizzling than before. Enter Lori Eskowitz, the costume wizard behind the great wardrobes worn by the sitcom's leading ladies, pictured above -Wendie Malick, Jane Leeves, Valerie Bertinelli and AARP ambassador Betty White. I recently had the delight of chatting with Lori about her work with these funny ladies.

How did you get started in this profession? Having grown up in the fashion business via my mom who ran fashion and couture houses in New York [like] Geoffrey Beene, I had a working knowledge of the industry. I came to L.A, initially working in the costume department for film for eight years but after getting tired of traveling for work I landed a position as a costume supervisor. Not long after, I ran into a college friend on the set of The Naked Truth, a show I was overseeing the wardrobe for, who offered me the opportunity to be the costume designer for a sitcom pilot he wrote. A few years, my friend moved on to write Will & Grace for which I became the lead costume designer. Since then I've been working in television.

Can you share some insight about working on Hot in Cleveland? My responsibility is to stay true to character when dressing people for TV. For me it's important for characters to dress the way they would if they were actually working and living in their environment. If someone works in an office I would make sure they look office-appropriate. If they're hanging out at home then I'd have them more casual. That being said, TV is slightly out of reality. For example, Valerie Bertinelli's character wears stilettos at home, which most people wouldn't wear in real life. But she has them on with jeans, which I find very appropriate [for home].

What is it like to work with this 50+ cast? These actresses are such a dream that it's easy. Because they are older, they're very confident. They've been on a ton of TV shows. They love what I do for them and are very respectful of my role.

Who borrows from the show? Valerie Bertinelli and Wendie Malick borrow a ton from the wardrobe department. They love what I purchase for personal and show usage.

What's something we don't know about Betty White? Betty doesn't like to wear dark colors. She doesn't like black or brown. She likes pastels and jewel tones, so when I shop for her I make sure I don't bring her anything that's too down.

Speaking of color, can you elaborate on the palette you use? In sitcoms, producers, networks, studio, etc. generally like for casts to wear bright colors. It translates well on TV. The clothing pops making for a livelier show. It can be a puzzle though having everyone in bright colors especially when there are four women in the same scene. Their colors have to compliment and not clash and you can't have too many patterns working in the same scene.

What's the most important tip you could give real women in the 50+ demographic? Dress age-appropriate. When you don't, I feel it is the biggest mistake you could make. I think you can dress classy and spend money on classic pieces and if you want something trendy and current, pick up something at inexpensive stores like Zara or H&M. They follow the trends and are more economical.

What's next for you? A clothing line? I've toyed with the idea but when I'm not working, I'd rather spend time with my kids.

To see more of Lori Eschowitz's work on Hot In Cleveland, tune in to TVLand on Wednesdays at 10 p.m. ET.

Can you name other TV actors or actresses that have great style? Pin your favorite sitcom looks on Pinterest and tag it #AARPTVStyle.

Feel Great. Have Fun. Be Stylish. Have style questions or comments. Feel free to leave comments in the box below and also follow Dian on Twitter .

Image courtesy of TVLAND.