Designer Catherine Malandrino Turned 50!
By Dian Holton , April 23, 2013 01:54 PM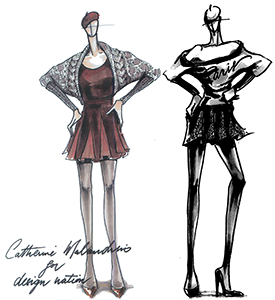 New York magazine nailed it when it labeled fashion designer Catherine Malandrino as the "ultimate Frenchwoman in America." And like her peer Marc Jacobs, she, too, turned the big 5-Oh this month (April 22). Malandrino's design concept has always been "to bring softness and refinement to an urban, feminine wardrobe and to help the woman show her character and individuality through her unique clothes." And it has worked for her as evidenced by her successful career both in her native France and the United States for more than 12 years. Malandrino has earned some cachet: Madonna has worn one of the designer's pieces from her "Flag" collection and Malandrino's boutique has appeared in the TV hit Sex and the City. Now that she is an international phenomon within the luxury fashion market, she's experimenting with bringing her aesthetic to the masses. This fall, Malandrino will team up with Kohl's department stores as their third designer to participate in DesignNation, a series of collections that reflects influences from global destinations on a designer's aesthetic. The 80-piece collection will draw from her recent trip to Paris and pieces will sell from $36 to $130 in Kohl's stores and online. Congrats to Malandrino on her birthday and success with her new line!
Feel Great. Have Fun. Be Stylish. Want to see the latest collections from designer Catherine Malandrino? View them here and let us know what you think. Also follow Dian on Twitter.
Also of Interest

Join AARP: Savings, resources and news for your well-being
See the AARP home page for deals, savings tips, trivia and more