Don't Be A Prune! 5 Face Savers for Snowbirds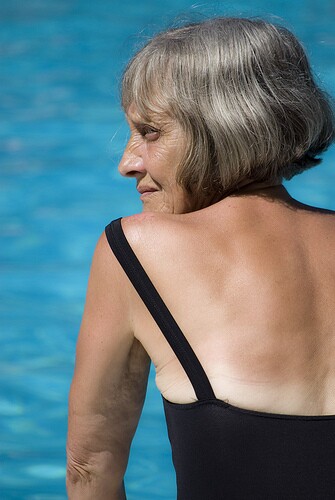 Legendary painter Georgia O' Keeffe would have been 125 next month but her minimalist boho style is ageless. She could step out of Vogue today, except for the pruney wrinkles and brown spots. A weather-beaten complexion may be authentic and "beautiful" in black and white photos, but for us? No thanks. Wrinkles have their own GPS tracking system and extreme temperatures attract their attention. Winter is a dangerous time, whether you flee to sunny Florida, Arizona or Costa Rica (the New Mexico desert was O'Keeffe's choice) or head north for cross-country skiing, hiking or grandkids. These five secrets can help your skin survive the season and thrive.
Don't get too rich or too thin. Think you can indulge in rich comfort foods and holiday goodies and slack off on exercise ? Your skinny jeans and leggings won't fit by January. Extra chins, a puffy face and dull skin will show up uninvited, too. Extreme dieting doesn't work either. Your face deflates, cheeks sag and expression lines look groovier (in a bad way). Why not commit to a healthy balanced diet and check what you eat in terms of quality, quantity and frequency? Spend winter building up your bones and get rid of excess body fat with consistent workouts. Then promise yourself the designer bag of your dreams for spring.
Boost emollients to chill out. Cold temperatures, wind, lack of humidity, indoor heating and extra glasses of wine suck all the moisture from your face. You might wind up with increased sensitivity, redness and flares of dermatitis or eczema. Rely on essential oils and serums for intensive moisture and soothing repair.Try: L' Oreal Paris Age Perfect Hydra- Nutrition Advanced Skin Repair Daily Serum ($19.99, lorealparisusa.com) or Josie Maran Argan Infinity Cream Intensive Creamy Oil ($28, sephora.com).
Hydrate for sunny climes. Keep the peptides, ceramides, humectants and antioxidants going in light lotions designed for humid or bone-dry heat. Hydration and sun damage prevention are essential to shore up your skin's protective barrier and bolster collagen repair from within. Do sunscreen every day. Even indoors: Near windows, driving, during air travel and on overcast cloudy days, UVA rays are still there! That goes for cold-weather babes, too! Try: Avon Anew Clinical Skinvincible Multi-Shield SPF50 Lotion ($36, avon.com).
Adapt your makeup. Customize your need for moisture, camouflage, color and sun protection. Use a tinted CC or BB cream or balm as a primer, and then blend on regular foundation where needed for more coverage. Or blend the two together and then apply. You can't "cover" wrinkles, but you can create the appearance of smoother, fresher, more luminous skin, and that's what looking healthy is all about.Try: Revlon PhotoReady BB Cream Skin Perfector Broad Spectrum SPF30 with Revlon ColorStay Whipped Creme Makeup ( $10.99 and $13.99, drugstore.com) or Bobbi Brown Extra Tinted Moisturizing Balm SPF 25 with Bobbi Brown Luminous Moisturizing Treatment Foundation ($54 and 52, bobbibrown.com).
Break bad habits. Drink more water - not lattes, lemonade or soda - to keep skin dewy and plumped from within. Stop exaggerated facial expressions, especially frowning and raising your eyebrows; they work for character actors on TV and in films, not us.
Of course, keep smiling and laughing - that produces the best lines in any weather.
For more beauty and style tips for women 50-plus, check my book The Wardrobe Wakeup, Your Guide to Looking Fabulous at Any Age by Lois Joy Johnson ($16.42, amazon.com).
Photo credit: Jackie Weisberg