Earrings Are the New Statement Necklace
When the New York Times reported last week that multiple ear piercings are catching on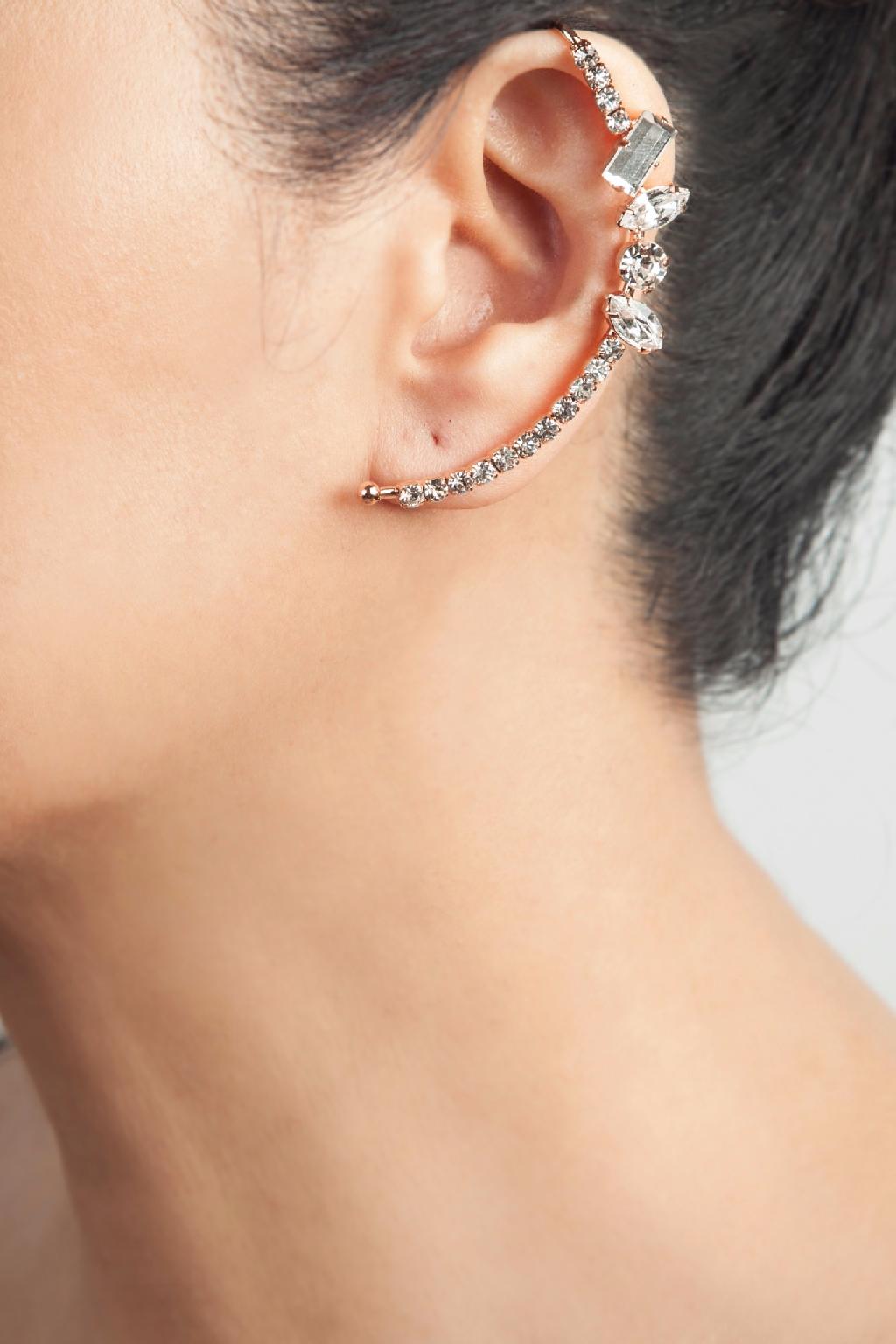 big-time with women over 30, I nearly spewed my latte.

If you want a piercing truth, consider this one: By age 50, many of our body parts have started to drop or droop — not just our earlobes, but also our nose tips, our boobs, even the timbre of our voices! And many of us have accelerated that effect through years of wearing heavy earrings, leaving us with stretched-out piercings and elongated lobes.

Because the "Dumbo look" is never attractive, let's look at some smarter, more sophisticated ways to get earmarked without going back under the needle.

Avoid risky business. Upper-ear piercings may be trendy, but getting them can be treacherous. The cartilage at the top and middle of the ear heals less easily than do lobes, which lack the material; cartilage is also more prone to infection.

Popular games, new recipes, movie reviews — AARP Leisure Newsletter »

Now that mall kiosks and tattoo spas have replaced doctors' offices as piercing centers, the hygiene can be iffy: If the equipment used for your piercing is contaminated, you could contract blood-borne tetanus, hepatitis or even HIV. Plus, those ear-piercing guns are loud — and painful.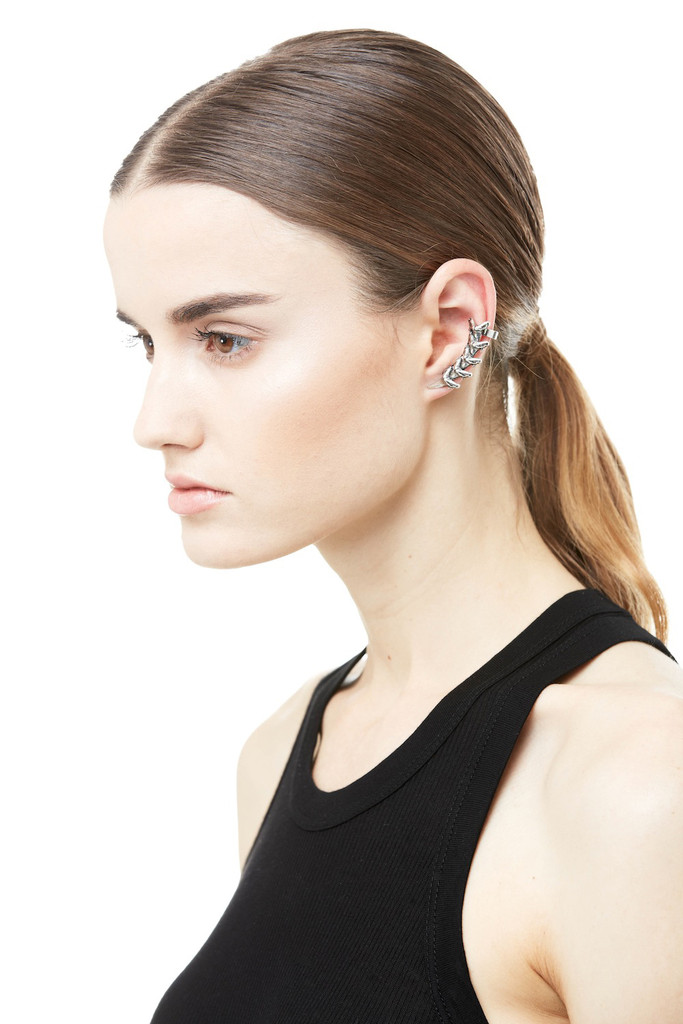 Don't stake it — fake it. Why would you risk additional actual piercings when you can get that "multipierced" look from earrings that blend illusion and clever design? Stacked rings and bracelets have proved so popular on our hands and wrists that enterprising designers are now transferring the look to our ears: Prestacked — that is, already connected — rings for the upper ears are available as both real and fake jewelry. Here are three variations to show off:

1. Ear cuffs. Just as a cuff bracelet hugs your wrist, ear cuffs hug your ear. Some clip on to frame the entire ear, while others grip only a tiny spot on the rim. Wear one as a solo accent, or as part of a larger array of ear adornments — and keep in mind that there's no need to match one ear with the other. Options include Rue Gembon Kourt Rose Ear Cuff (top photo this page), Sterling Forever Gold and Pearl Ear Cuff or Luv AJ Shark Tooth Cuff (left).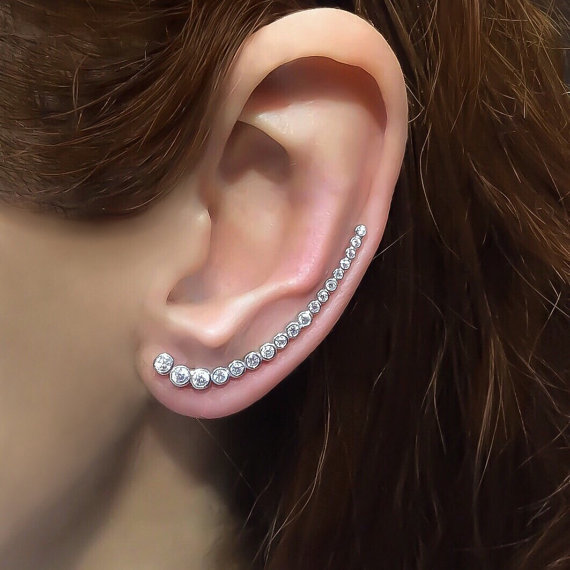 2. Crawlers (also called "climbers"). These swooping arcs follow the contour of your outer ear, drawing attention to your face — the same effect, when you stop to think about it, pulled off by those chunky, sparkly collarbone necklaces we all count on. Want a punkster edge? Try a rim of spikes. Prefer to go glam? Opt for feathery wings. With earrings that occupy this much real estate, who will ever notice your droopy lobes now? Among the many possibilities available are Bauble Bar Anderson Ear Crawler Set or (at right) Etsy TrendSilver Ear Crawler.

3. Jackets. If you have the standard single piercing in each lobe, these double-sided studs sandwich your ear, front and back. Replacing the customary ugly "push"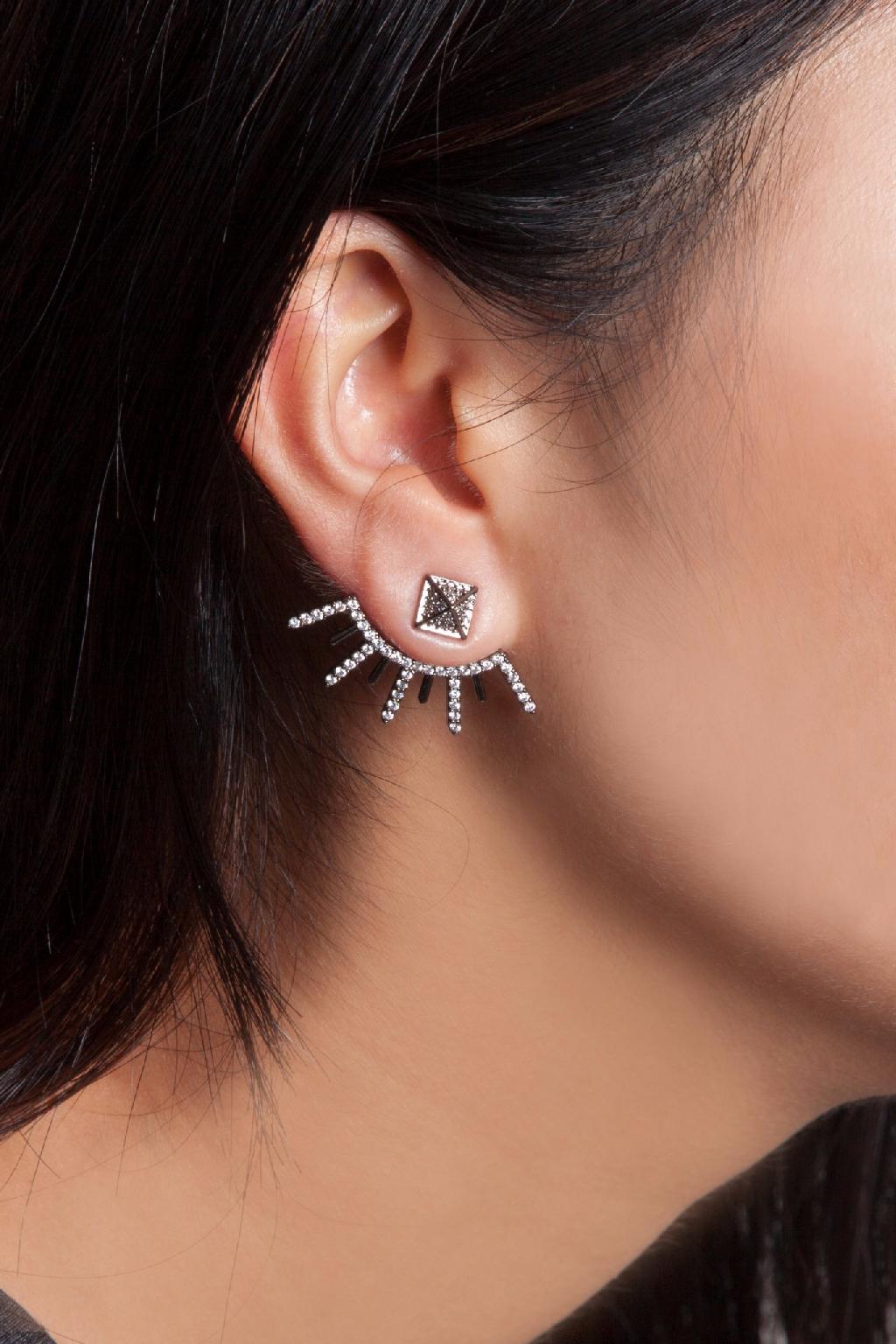 back, the closure is as decorative as the stud; it may dangle from, or even frame, the ear lobe. Thanks to their more equal distribution of weight, jackets tend to correct the Droopy Stud Syndrome that sometimes afflicts thinning older lobes. Jackets are lighter than drops or chandeliers, but they're every bit as eye-catching. Some candidates to consider: Rue Gembon Babbi Ear Jacket (left) or Pamela Love Turquoise Inlay Horn Earrings.

Get discounts on hotels, airfare, car rentals and more — AARP Member Advantages. »

Asymmetry spoken here. Why not try a simple pearl stud in one ear and a glitzy crawler up the other? Some earring "sets" — among them Humble Chic Crystal Cuff and Pearl Stud Set and the Anderson Ear Crawler Set — are intentionally designed with this offset built in.

More beauty tips for women 50-plus are heading your way in AARP's new Beauty & Style digital magazine app, debuting in November.

Photos: ruegembon.com; sterlingforever.com; etsy.com; ruegembon.com

Also of Interest

See the AARP home page for deals, savings tips, trivia and more.