Fashion Lessons From Donna Karan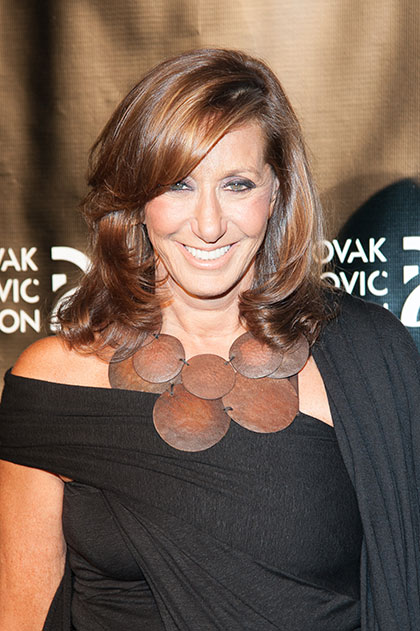 No prima donna, that Donna Karan.

By closing shop at age 66 — Karan announced last week that she's relinquishing her daily duties as chief designer of her namesake company — the visionary is stepping away from the world of fashion with her style legacy intact and her bared shoulders held high. Thanks to her shapely 1980s power suits and draped skirts, we finally stopped kvetching about our weight and learned to love fashion. Karan — no size 2 herself — knew precisely which illusions would fix or flatter every bump and bulge.

If her ideas were cloned, copycatted and knocked off by just about everyone, it's because, quite simply, they worked — and still do.

Karan and I grew up in the same Long Island town (Hewlett), then attended Parsons School of Design together in Manhattan. We were friendly-ish for a while, then drifted apart when super fame hit, but her style lessons never left me. They still influence both my personal wardrobe and my professional work as a fashion editor.

Here, then, seven Donna-isms to live by: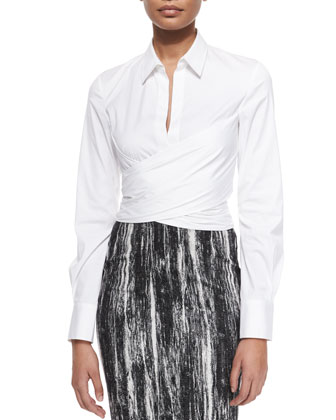 Start with seven basics. Donna pared down our overstuffed closets to a 24/7 wardrobe of multitasking, mix-and-match pieces — businesslike, stylish, sexy on demand. Her original seven items have evolved with the times. Today they might include:
* skinny black pull-on pants or leggings
* a crisp white shirt in a wrap or tunic style
* a draped or wrapped jersey dress
* a pull-on pencil skirt
* a tailored jacket (or one in buttery leather)
* a black sweater
* a bodysuit or tank as a base layer.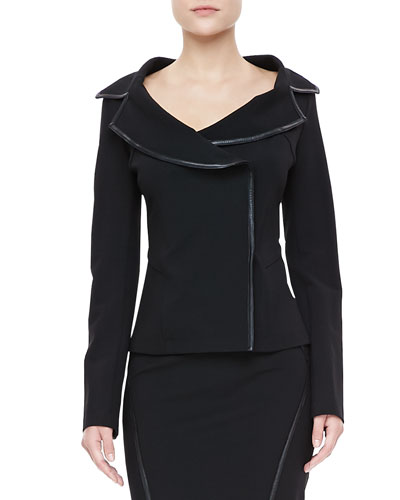 Tonal dressing is the ultimate slimmer. Far from being unimaginative, Karan showed us that wearing one color from head to toe makes any woman's body look longer, sleeker and more toned. Though black is the easiest color to pull off in this regard, the concept works just as well for neutral shades such as gray, ivory or beige. Mixing textures — knits, leather, cashmere, cotton and subtle prints — keeps the monochromatic theme lively.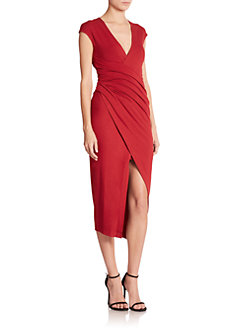 Show off your shape. Karan's masterly wrapping-and-draping skills cleverly blurred away bulges, ripples and extra pounds. (No wonder zaftig celebs such as Barbra Streisand and Susan Sarandon became devotees of the brand.) She encouraged us to show our shape by exchanging boxy, baggy clothes for strategic cling and contouring.

Moral of the story? A curvy but covered silhouette may be nature's best power tool!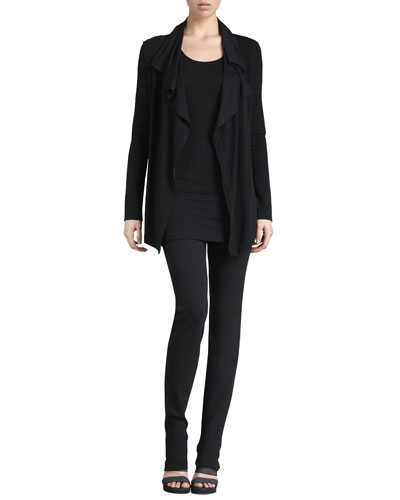 Comfort is style. Karan exalted stretch fabrics and cashmere for their ability to make us feel relaxed, body-confident and chic. A black cashmere sweater, we learned, is seasonless, cozy and luxurious. (Just promise me you'll buy it only on sale!) Also: Tailored items in stretch fabrics fit better, allowing us to dress up (but de-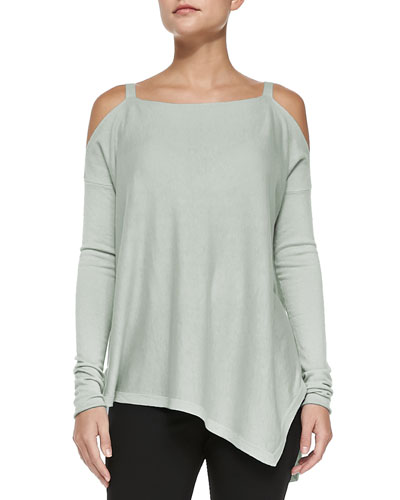 stress) in either work or evening clothes.

Necklines can plunge a different way. Karan insisted a woman's shoulders were fabulous fashion assets, thus suitable for stylish display whether you're 50 or 70. Indeed, why not let them eclipse décolletage that's crepey or sun-damaged? Tops, dresses and sweaters whose necklines feature draping, wide V's, asymmetrical lines, shoulder-to-shoulder shallow boatnecks or "cold-shoulder" scoops — a Karan trademark, those — make our necks look longer and more elegant. They also distract from any so-called "flaws" below.

Get discounts on hotels, airfare, car rentals and more — AARP Member Advantages. »

One great jacket is all you need. Karan initially gave working women big-shoulder, nipped-waist blazers to boost their authority — and to counterbalance the width she acknowledged we possess at hips and booty. But that Working Girl ethic couldn't last (and frankly, who mourns it?), and soon the jackets morphed into asymmetric styles, whittled V-necks and buttery leathers that draped artfully — and layered easily — o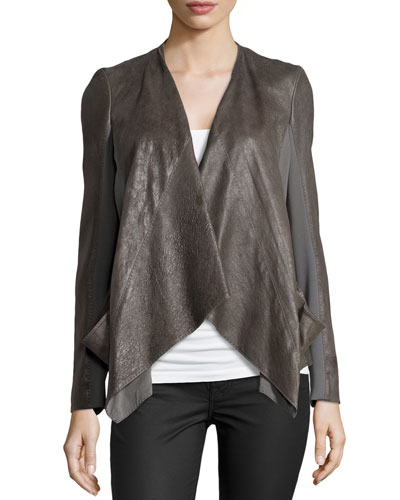 ver everything from stretchy leggings to pencil skirts, work dresses and jeans.


Power up the accessories. Honking-big earrings and necklaces, sourced from around the globe and frequently inspired by artworks from antiquity. Bold belts that cinched the waist or rode low on the hips. All of these provide a style fillip and keep the eyes focused right where your assets are best.

Stay tuned for Karan's next incarnation: She plans to concentrate on philanthropy, health care and cultural awareness through her Urban Zen Company and Foundation. No doubt her breakthroughs will continue to inspire us all.

For more beauty and style tips, please check out my Wardrobe Wakeup: Your Guide to Looking Fabulous at Any Age.


Photos: #1, Getty Images; #2-7, neimanmarcus.com; #8, 1stdibs.com

Also of Interest

See the AARP home page for deals, savings tips, trivia and more.