Get the Look: Tribal Jewelry
By Dian Holton, July 17, 2013 09:08 PM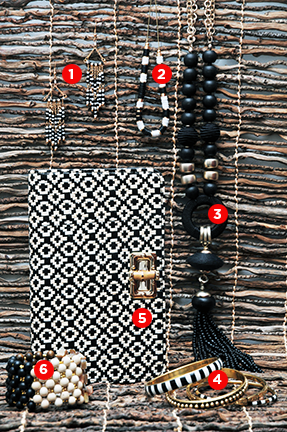 It's officially summer and I'm ready for an exotic vacation! I've spent more than enough days indoors catching up on TV shows, fixing home appliances and fantasizing about time away from work. Recently I learned my friend Liz was planning a three-week sightseeing jaunt to Africa. Knowing this would be a wildly educational and enriching trip, I just couldn't fathom sweating out my first visit there during the hottest time of the year. So instead I decided to channel the culture with a few tribal-inspired pieces and await a more comfortable time to go.

1 | Earrings ($7.95; Old Navy) Pair these beaded earrings with a linen tunic for a bohemian look.

2 | Layering Necklace ($18; Anthropologie) Try wearing a dainty necklace alone or accompanied by other pendant necklaces in various lengths and shapes.

3 | Necklace ($69; Chico's) Bold and graphic, this necklace can enhance any look, especially when worn with a maxi dress.

4 | Bangles ($18; Aldo) Get more bang for your buck with these stackable gold and black patterned bracelets.

5 | Wristlet ($58; Ann Taylor) This nifty straw handbag with a turn-lock bamboo closure, has a removable wristband that you can wear as wristlet or clutch.

6 | Bracelet ($18; Macy's) To add a little glamour to your wrist, try this multi-colored, multi-textured stretch bracelet.

Styling by Dian Holton . Photography by Nicole Crowder .

Feel Great. Have Fun. Be Stylish. Follow Dian on Twitter .