Give Your Feet a Beauty Break This Summer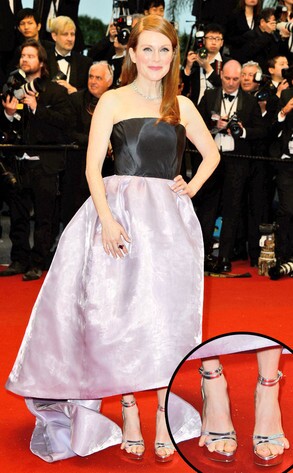 I never considered wearing comfort shoes but Julianne Moore's toe trauma at Cannes (her pinky toes spilled over the sides of her high strappy sandals) and a "bunionectomy" chat with Today's Kathie Lee Gifford changed my mind. Gifford says her daily four inch Manolo habit depended on the foot surgery which involves the removal and/or repositioning of bones and tissue, a painful recovery of six weeks or more, stitches, pins and a walking cast. Fun, right? Let's all agree to give the 26 bones, 33 joints and 126 muscles, ligaments and nerves that live in each of our tootsies a well-deserved summer break with TLC and sandals. After decades of pumps, platforms, wedges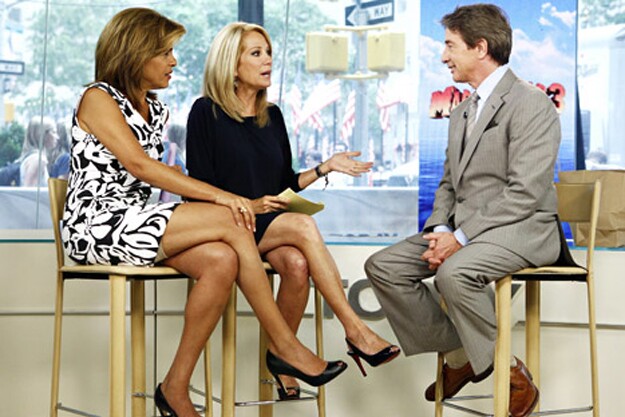 "post-stiletto -stress-disorder " is on the rise among women 50+. Here are three of our biggest complaints and what to do:
BUNIONS AND HAMMERTOES. Both conditions can be caused by years of cramming your feet into narrow tight high heels (including sexy killer boots). Bunions, FYI, are protruding lumps on the sides of your feet at the base of the big toe. Hammertoes are a condition where your second, third, and pinkie toes bend and curl under like claws. I never thought I'd say this but take a look at the
chic "healthy choice" sandals from FitFlop, Birkenstock and Orthoheel. They have soft adjustable straps, molded flexible contour soles for foot alignment and look a lot like fancy European designer sandals! Try: Birkenstock Gizeh Birko-Flor ( $89.95,zappos.com) in orange and Orthaheel Dr. Weil by Orthaheel Accomplish Post Strap ($119.95,zappos.com).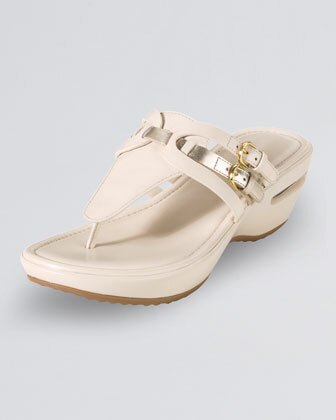 SORE FEET AND BLISTERS. Corseting your feet in tight strappy sandals, wearing stiff materials like patent leather or forcing your weight onto the balls of your feet in super-high wedges or platform heels is a disaster waiting to happen. You can end up with blisters from the friction or inflamed nerves, even hairline fractures that can lead to osteoarthritis up the road. Open padded thong or slide sandals in soft fabrics with a contoured cradle-shape wedge cushions aging bony feet and provides support. Try: FitFlop Yoko ($100, zappos.com), Cole-Haan Melissa Buckled Thong Sandal ($105, neimanmarcus.com), FitFlop Flare Slide Leather ($11o, zappos.com).
CALLUSES. Thick layers of tough dead skin on soles make our feet look "old" and ugly. You have three easy solutions. Soak feet in a simple botanical oil bath like Freeman Bare Foot Peppermint + Plum Foot Soak ($3.79, www.freemanbeauty.com) before polishing bottoms with a pumice. Apply an overnight foot cream with chemical exfoliants like salicylic and glycolic acid to soften and loosen dead skin. Philosophy Soul Owner Exfoliating Foot Cream ($16, philosophy.com) is genius on mild to medium calluses. And for extreme cases slip on Baby Foot ($25, www.beautysage.com) gel filled exfoliating booties packed with seventeen natural extracts. You wear them for an hour and within two to seven days your feet start to peel and continue to dissolve truly gross dry calluses. A cautionary note: Avoid callus treatment if you are diabetic and discuss with your doctor.
Then bring on the pedicures and trendy polish! Come September your feet will look and feel brand new.
For more beauty & style tips check The Wardrobe Wakeup, Your Guide to Looking Fabulous at Any Age by Lois Joy Johnson ($15.78, amazon.com)
Photo credits: Julianne Moore at Cannes,  Hoda Kotb and Kathie Lee on the Today show, Orange Birkenstocks, Cole-Haan sandals