Once upon a time, I was a blondaholic.
These days, however, my role models are all silver-haired beauties: I long to look like Daenerys Targaryen from Game of Thrones or Storm from X-Men, or Julianne Moore as President Alma Coin in The Hunger Games.

What's behind my shifting loyalty? Partly I blame the "moonlit manes" that have been popping up all over Pinterest. True, some of these silver foxes may have achieved their signature look thanks to wigs (or extensions or Photoshopping or — let's hope! — good old magical genes). But if you, too, are ready to flaunt your gray grandeur, try these useful tactics.
Your tint is in. Don't worry if you can't recall the last time gray hair enjoyed this degree of social acceptance: It was the 1700s, when powdered locks were the height of style. The widespread custom turned dark hair gray and light hair white.
Enjoy life with our popular games, delicious new recipes, the latest movie review and more! — AARP Leisure Newsletter
Now younger fashionistas and celebrities are just "dye-ing" to get their 18th century on. The newly cool hue has also been front and center in ads from two well-known couture brands: Two days after Céline announced that the 80-year-old gray-bobbed Joan Didion would be its new spokesmodel, Yves St. Laurent unveiled its own ad campaign featuring 71-year-old Canadian rocker Joni Mitchell, her long white locks flowing proudly over the company's folk tunic.
Everybody must get toned. A certain shade of gray is inevitable; as hair follicles stop producing melanin, we all lose pigment. The precise shade is genetic — but so is when and how fast the turnaround will take.
Don't, however, subject yourself to going grayer at the salon, like millennials: That treatment requires stripping out pigmented color before the gray dye can be put in, just as you would for a double-process blond. Already damaged by heat, chem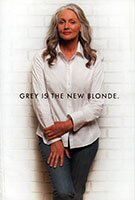 icals and time, our thinner, more fragile locks simply can't take such abuse.
Many silver belles are pros. Like beauty execs Cindy Joseph (left) and Linda Rodin, many of my recent favorite "pins" on Pinterest are currently working as models, or they have in the past. Scrutinize the photo credits and you'll discover that many women are repped by European agencies, such as Masters Models or Close Models. Others are clearly chic women in the beauty-and-fashion biz, shot on the streets of Paris, London or Milan (where grownup gray has always been glorified ... hallelujah!).
Those studio shots, by the way, most likely include a little help from the model's phalanx of photographic friends: hair stylists, extra added gray or white pieces for length and volume, wind machines and so on. But when the results are this fantastic, who cares?
Slide into gray with a color boost. Celebrities and models do it, so why shouldn't you? Highlights and lowlights — especially those painted on, a technique known as balayage — scatter your hair's regrowth pattern, keeping the roots irregular. This means no "ring around the crown" as color grows in.
Get discounts on hotels, airfare, car rentals and more — AARP Member Advantages. »
If your hair's natural color is a mousy or dull gray, it will benefit from the brightening effect of continued highlights. So, too, will women with thin hair or visible scalp issues, who need high- and lowlights for depth and contrast. Those already dyeing their hair a light blond — but now ready to let it grow in white or a light silvery gray — will have the easiest time: A cool rather than warm toner for your final rinse at the salon will help.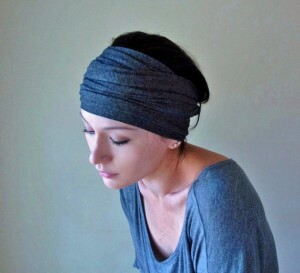 Camouflage cleverly. If you're determined to "tough out" the grow-in period, three things can help:
1. A wide, soft jersey hair band. This is a great way to cover the first three months of roots with a fashionable twist. Examples include BeautifulBoundaries Yoga Headband or EcoShag Grey Jersey Scarf.
2. A clip-in piece of fake fringe at the front can hide the first couple of inches of roots. Try, for instance, Christie Brinkley Hair2Wear Full-Sweeping Side Fringe or HairUWear Raquel Welch Faux Fringe.
3. Help those roots out — literally — with a touch-up powder designed to blend new and old shades between shampooings. Two options: Madison Reed Root Touch Up or Color Wow Root Cover Up.
Burnish your brows. Gray and white brows are your "arch" enemies. (Sorry, I couldn't resist!) So even if you manage to achieve a luscious gray mane, deepen your brows close to their original color.
For more beauty and style tips for women 50-plus, watch for AARP's new Beauty & Style app, coming to tablets soon!
Photos: Peter Augustin/Getty Images; courtesy boombycindyjoseph.com; etsy.com
Also of Interest

See the AARP home page for deals, savings tips, trivia and more.