Here's What's Great About Seeing Sexy At 60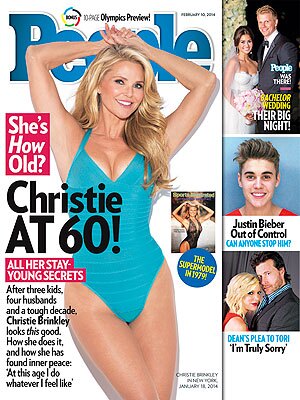 Former Canadian defense minister Paul Hellyer, 90, made news earlier this month when he was quoted by Britain's Daily Mail saying "aliens walk among us." Yes, Mr. Hellyer, I agree! As a beauty and fashion editor who's worked with top models for decades I know there is something other-worldly about women born with amazing bone structure and bodies that look good in anything.
Most of us didn't look like models at 25 and we won't or don't at 60 either. So why is the new cover of People magazine with a swim-suited 60-year-old Christie Brinkley and American Apparel's new lingerie ad with 62-year-old undie-clad Jacky O' Shaughnessy creating more buzz than a UFO sighting in Nevada? Because two very different mature women are proudly showing off their age and bodies in a very public way. Here are three reasons to thank them:
IT'S OK TO TELL PEOPLE HOW OLD YOU ARE. Most women I know from 52 to 67 say they are "52." Sixty is taboo. Brinkley's People cove r reads: She's How Old? Jacky's tagline is "Sexy has no expiration date." Yet, we are still stuck in a number rut. When you tell a friend she looks great don't add "for your age."
Photos: Jane Seymour and Other Stunning 60-Plus Celebs
THEY DARE TO BARE. We're used to the fuss made over celebs like Iman, Jane Fonda or Raquel Welch "aging well" but try to find new photos of them in lingerie or swimsuits. Despite O'Shaughnessy's slightly more "authentic" look (she does have some lines and a little jiggly flab at the middle), both models are brilliantly defying the age-ism trend by showing more skin. Don't you wish Victoria's Secret would get the hint and use women in their 50s and 60s to model their products? Let's encourage every brand and retailer to be more inclusive of us in ads and on websites. Race, size and gender are no longer issues in beauty and fashion; it's time to break down the age barrier too. And please use models other than Carmen and Lauren Hutton - though I love them both - enough already.
>> Sign up for the AARP Health Newsletter
IT TAKES A VILLAGE AND THEY KNOW IT. No model wakes up looking like she does in photos. A team of hair and makeup artists work hours to achieve the look, photographers and art directors set up the most flattering light, stylists and editors drape, pin, and tape clothes into place and then there's Photoshop to tweak all. The end result is why models get beauty and fashion contracts, date rock stars and spend more time at the dermatologist/gym/cosmetic surgeon/salon/ and dentist than we do. Be glad it's not you and let them inspire an end to age-ism.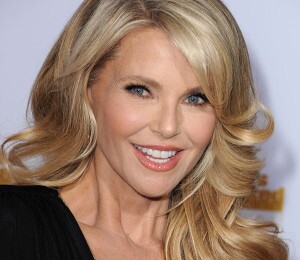 So Christie and Jacky, thanks truly from your grateful peers and here's hoping we see more faces and bodies over 50 and 60 in advertising and the media for 2014. If not now...when?
For more beauty and style tips for women 50+ check my book The Wardrobe Wakeup Your Guide to Looking Fabulous at any Age by Lois Joy Johnson ($14.55, amazon.com).
Top Photo Credit: People
Bottom Photo Credit: Getty Images
>> Get entertainment and dining discounts with your AARP Member Advantages.

Also of Interest

See the AARP home page for deals, savings tips, trivia and more