Jane Seymour's Open Heart
By Dian Holton , May 03, 2013 03:52 PM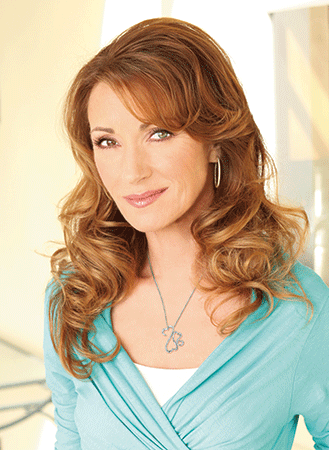 Many of you know Jane Seymour as the actress behind Michaela Quinn, the strong lead character in the hit '90s television series , Dr. Quinn, Medicine Woman. What you may not know is that Seymour has evolved to become a brand that includes a clothing line, home accessories, floral designs, books and starter painting kits. I connected with the busy entrepreneur, who hasn't completely given up acting, to talk about her latest endeavor, which ( hint, hint )would make a great Mother's Day gift.
Why did you start designing jewelry and why is it called Open Hearts?
JS: I began to adopt a certain philosophy during a difficult period in my life when I was painting and noticed that the hearts I painted were always open. I came to realize that this reflected my mother's advice that love should have no boundaries and should flow unconditionally. This led me to create a symbol that mirrored my mother's advice that only when you can love yourself and keep your heart open can you best give and receive love.
See also: 3 Pieces of Jewelry That Make You Look Younger
I made my open hearts design into a necklace before I started competing on Dancing With the Stars and, from that experience, I was inspired to create an jewelry collection titled "Open Hearts by Jane Seymour." This line reflects all of life's experiences-joys, heartbreaks and inspirations.
Who is the inspiration behind your collection?
JS: My mother - Mieke Frankenberg- whose advice "If your heart is open, love will always find its way in," I gleaned from. In addition to her wisdom, I have been strengthened through the years by the incredible people I've met that have not only overcome adversity in their lives but also worked to improve the lives of those around them. From dear friends like Christopher Reeve and Robin Roberts to the amazing fans who send me their stories every day, I am constantly inspired and humbled by the amazing accomplishments of so many.
This continued inspiration has led to the creation of the Open Hearts Foundation, a nonprofit organization that is dedicated to spreading the open heart philosophy into communities worldwide. The foundation provides funds to charitable organizations in the areas of health, arts, education and sports, and honors individuals who exemplify the open heart philosophy in their service to others.
What type of woman do you envision wearing your pieces?
JS: The great thing about the line is that it truly offers something for everyone at every age. It has a universal appeal in that each design has a unique meaning that enables each woman who wears it to connect with the piece in a special way while reflecting the cherished relationships in her life.

With Mother's Day coming up soon, which piece would you recommend for a mother, wife and/or grandmother?
JS: Open Hearts Family! This new collection represents a design evolution of the artwork and an extension of the philosophy. It celebrates the traditional family unit, but also the extended families that we create from the people we open our hearts to as we journey through life.
And your favorite piece is...
JS: A necklace that includes both a big heart and little heart connected, which signifies the bond of mother and child or grandchild.
To learn more about Jane's endeavors, visit her website . To purchase Open Hearts by Jane Seymour, click here .
Feel Great. Have Fun. Be Stylish. Follow Dian on Twitter.
Also of Interest

Join AARP: Savings, resources and news for your well-being
See the AARP home page for deals, savings tips, trivia and more