3 Steps To Naked Beauty Confidence

You've never looked better right? Highlights, manicure, pedicure, whitened teeth and a wardrobe that rocks. Just in time for new adventures in the 50+ world of online dating. You write an irresistible profile. You're brilliant at reeling in "the possibles" and throwing back the losers. You do first-date "auditions" at Starbucks with Oprah-like skill. In fact, getting back into dating mode after a breakup, divorce or widowhood isn't hard at all... until things get intimate. The idea of romance and sex is fine by us, but it's the first-time, getting-naked part we dread. What about the rolls, the flab, the brown spots, the cellulite and saggy flesh? Get a grip girlfriend. Here's how to look better in the buff with three "mojo" boosting beauty tricks:
DE-BLOAT, DE-FLAKE AND DE-WEED. Get sleek as an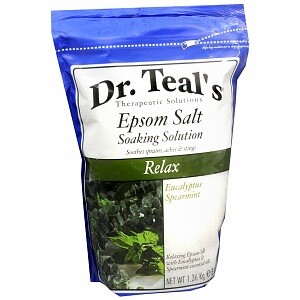 ex-supermodel by soaking in a warm tub of plain old Epsom Salts. The magnesium sulfate draws out excess fluid and de-puffs the tummy, ankles and anywhere else you may retain water. Try Dr. Teal's Epsom Salt Soaking Solution in "Relax" ($6.99, drugstore.com). Snack on natural diuretics like watermelon, cucumber and pineapple. Exfoliate elbows, knees and legs while you bathe and de-fuzz too. No you don't need a Brazilian wax or a bedazzled va-jay-jay just neaten things up. Then slather on a delicious coconut-scented body cream like The Body Shop Coconut Shimmer Body Lotion ($7.20, thebodyshop.com) or Laura Mercier Almond Coconut Milk Souffle Body Creme ($55, saksfifthavenue.com) to keep the sensual vibe going.
TURN ON THE LIGHTS. You're the stage designer and lighting director. A golden glow warms up your skin and softens all flaws. Prep your body with a daily self-tanner but remember to do your back view too. For instant help, try a transfer-resistant body moisturizer with a tint like Miracle Skin Transformer Body SPF 20 ($23, sephora.com). Splurge on gold-lined lampshades lit with low-watt rosy, peach light bulbs. Think Botticelli, Peter Paul Rubens here. Paint your bedroom and bathroom in skin flattering makeup hues of peach, apricot, rose or soft buttery yellow. Buy sheets and pillowcases in those colors too. Candles are nice accent, but why not go for maximum impact and stay fireproof too?
GET INTO IT. How sexy did Liz Taylor make a slip look in Butterfield 8 and Cat On A Hot Tin Roof ? How about Ann Bancroft in The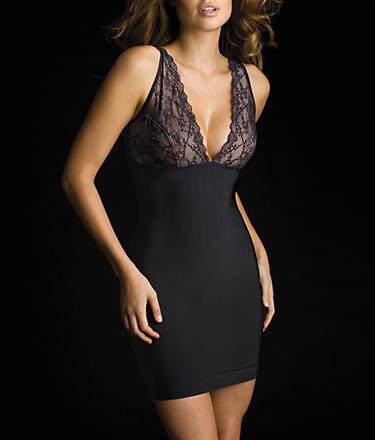 Graduate? Trade your robe or over-sized t-shirt for a full slip in black or ivory. It gives glam coverage when making the morning coffee or just lying around. A slip with built-in shaping power looks sensual but secretly gives you a jiggle-free control. Check out Nearly Nude Thinvisible Firming Slip with Lace ($78, barenecessities.com) and Yummie Tummie Liz Convertible Slip ($98, barenecessities.com). Flip your hair over and spray the roots with hairspray or dry shampoo. Then flip back and use your fingers to comb the product through for a tousled bed-head allure.
You're ready for your closeup!
Photo credits:
Liz Taylor: diggersrealm.com
Dr. Teal's Epsom Salt: drugstore.com
Laura Mercier Almond Coconut Milk Creme: saksfifthavenue.com
Nearly Nude Thinvisible slip: barenecessities.com