Roar Into Fall With a Moto Jacket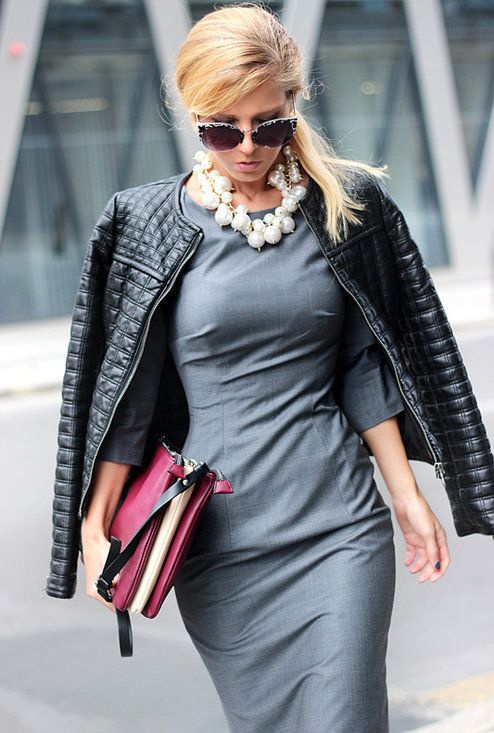 Want to add zip to your fall? Get a moto jacket. It's one of the most versatile pieces you'll ever own.

Most people think "leather" when they hear the term "moto jacket," but its defining characteristic is actually its silhouette: short, zippered and with attitude to burn. Indeed, some of this season's most intriguing motos contain not a stitch of leather: suede, knits, coated cotton — the list is fairly inexhaustible.

One of my favorite recent finds is a moto jacket made of vegan leather. (Don't confuse this material, formerly known as "faux leather," with über-tacky "pleather.") The jacket was designed by animal activist Cornelia Guest, so it should be no surprise to learn it's available through a site called Project Gravitas.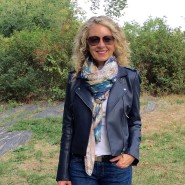 I opted for a navy shade, then paired it with a pair of dark, straight-leg jeans from Uniqlo and a favorite scarf from Calypso St. Barth. Other great vegan-leather options are on offer from Blank (I've already picked out one in cornflower blue for spring), TopShop and Free People. (Though moto jackets look terrific on women of any age, many of these online stores deserve Cluelessness Awards for showing super-young models.)

Get popular games, new recipes, movie reviews — AARP Leisure Newsletter »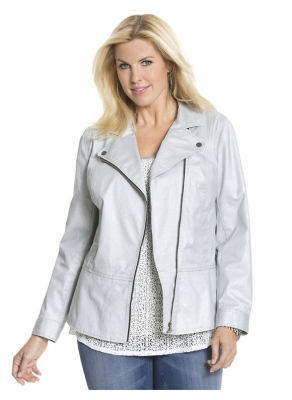 To find an elegant and infinitely wearable moto jacket for yourself, keep the "metal quotient" low — that is, leave the oversize zippers, chains and studs to those who own actual motorcycles. Here are a few more tactics to keep in mind if you're ready to rock a moto this fall:

Dress it up. A moto made from thin leather or some other light material can take the place of a blazer or cardigan for indoors. To update your standard "work look," wear it over a sleeveless sheath dress.
Layer it. Wear a moto over a long (below the hips) snug-fitting sweater with ankle-length jeans or pants. Then top it off with a gorgeous scarf.
One is all you nee

d. Motos in other materials are fun, but one in classic black is timeless and can be worn with just about anything — even an ankle-length dress. In fact, I'm starting to worry my moto mojo may be morphing into a major mania. During a recent AARP photo shoot (right) on 99 Ways to Save, I accessorized my basic black moto jacket with a bucket of pink paint!






Get discounts on hotels, airfare, car rentals and more — AARP Member Advantages. »

Photos: Lookastic, Darim24, Barbara Hannah Grufferman

A lso of Interest



See the AARP home page for deals, savings tips, trivia and more.