Style Knows No Size - or Age
Are boomer babes having a "Confidence Crisis"?

I ask you that because it seems like we're not so in love with our bodies these days. Even the peppiest kale-munching yoga practitioner among us can be heard whining about her saggy boobs, loose thighs and tummy bulge. And whether you're a size 4 or 14, shopping for fall clothes only amplifies the angst.

So before you take refuge in that security blanket known as "Old Sweatpants and a Big Tee," try these tips to get over yourself - and amp up your attitude: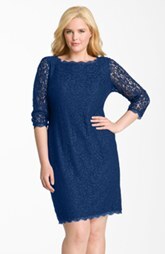 Stop competing with yourself. What's the point of comparing your body to the one you had at 25, 45 or even just last year? (I'm hoping you'll reply, "None whatsoever!") So repeat this "reality mantra" after me:

1. "I will not envy aging supermodels, peers with taut gym bodies or impossibly young models on sites supposedly meant for women my age."

2. "I do not need a personal trainer, a juice cleanse, liposuction, a tummy tuck or gastric-bypass surgery."

3. "I do need to work out - consistently - and eat healthfully (likewise consistently).

4. "I will jump on the treadmill, walk more, drink more water and practice portion control."

>> Want to Drop Pounds Fast? Try These 12 Tactics

Ignore the size tag. With the average dress size for American women now a 14 - and the average bra size 36D - many 50+ females are rocking curves that would be the envy of Marilyn Monroe. If you're part of the plus-size platoon, acknowledge the fact that your body has "moved on"; toss the 14 pairs of jeans you've been saving for "when I get back to my normal weight." And get rid of any "fat day" clothes: Those baggy sweaters, full-cut pants and oversize anything (from boxy blazers to floppy tunics) aren't doing you any favors.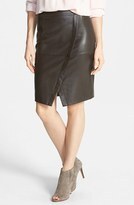 Show your shape. Fitted clothes make everyone look instantly slimmer and more youthful. So add these three basics to your wish list:

1. A body-skimming stretch lace dress shows curves and blurs the rest.

2. Slim ankle-cropped "boyfriend jeans" reveal trim ankles and fabulous shoes.

3. A rich leather pencil skirt (left) adds a firm, sleek base for silky blouses, light layers and A-shape sweaters.

All three of the above items are available in sizes 0 to 14 and 14 to 22 or higher. Try, for example, Adrianna Papell Lace Overlay Sheath in plus sizes 14 to 22 or Diane Von Furstenberg's Zarita Lace Dress in sizes 0 to 14; Eileen Fisher Plus Roll Cuff Boyfriend Jeans in sizes 16 to 24 or Levi's Boyfriend Jeans in sizes 24 to 32; or Halogen Leather Pencil Skirt in sizes 0 to 16 or DKNYC Plus-Size Faux Leather Pencil Skirt in plus sizes 14 to 22.

>> Get travel discounts with your AARP Member Advantages.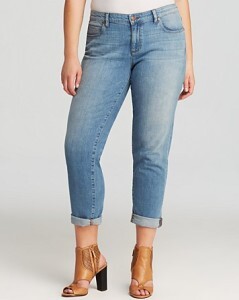 Seize control. Buy some fresh "power undies" in nude or black to compress and smooth your body - and to fire up your brain with an immediate style surge. Options include a biker shaper, a sexy bodysuit and a full-coverage T-shirt bra (because breasts change with weight gain or loss, age and upper-body weight training). Try Spanx Slimplicity Hi-Waist Shaper Plus-Size, Spanx Lust Have Slimming Teddy or Self-Expressions by Maidenform Full-Figure Bra.

For more beauty and style tips for women 50-plus, check out my Wardrobe Wakeup: Your Guide to Looking Fabulous at Any Age.


Photos: nordstrom.com, nordstrom.com, bloomingdales.com



>>Next: 5 Smart (and Womanly) Buys for Fall

Also of Interest



See the AARP home page for deals, savings tips, trivia and more