Going Solo? A Fashion Editor's 5 Travel Tips
More single women 50-plus are traveling alone this winter season. Some prefer the easy package of a cruise or resort. Others head for adventure, exotic locales or the culture of a foreign city. Travel is always a challenge and safety is now an extra issue. We like feeling comfy and independent but polish gets us upgrades, service and assistance when required. After decades of schlepping around the world on photo shoots, I've let go of "excess baggage." Five travel tricks let you do it, too.

NO BIG BAGS. One soft roll-on spinner that stuffs under seats or in bins is ideal. Check exact flight and airline measurements (include wheels and handles) to prevent a last-minute gate rejection. If you must take more, check a medium-size hard shell lightweight wheelie. A distinctive color is easy to spot on the carousel. Tape your email address and itinerary to the inside lid and put your business card or destination in the luggage tag. Remove old airline tags and take an iPhone photo of your bag. Victorinox and Travel Pro are women-friendly but sturdy; flight attendants love them (check ebags.com for sizes).

>> Sign up for the AARP Health Newsletter

DRESS UP COMFY. Look classy and groomed. A tailored jacket or chic trench coat gives slim ankle-cropped pants or skinny jeans attitude and elegance. Just add driving moccasins or ballet flats, tinted moisturizer and lipstick. You'll get a better seat/table/room/cab and feel A-list confident. No cleavage, slogan tees, sweats, track suits, leggings, skirts, big athletic sneakers, boots or heels. They're an invitation to feel sloppy, dowdy, fat, cranky or hesitant. Once on board, wear headphones, carry your Kindle and a sleep mask, and wrap up in a generously sized scarf/shawl. The combo ensures privacy and discourages pesky seatmates.

PLAY IT SAFE. Wear a sports bra - it easily stashes extra cash and a credit card - and slip on a wedding-ish ring. Carry paper maps, and make two copies each of your itinerary, passport, driver's license, airline tickets and credit cards (leave one copy in the hotel safe, one back home with a friend or relative).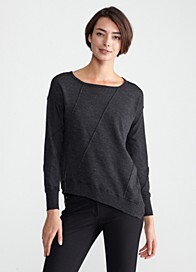 PACK 'LITE.' Stick to monochromatic black/gray pieces for 24/7 versatility. You'll feel thin, won't worry about stains, and can mix in low-cost fillers as needed if necessary. Bring more tops than bottoms, more statement necklaces and scarves than tops. Lightweight knits that layer are better than heavy sweaters. Choose modern ballet and boat necklines, relaxed A-shape sweaters and tunics, draped-front cardigans for style and subtle camouflage. Try: Eileen Fisher ( eileenfisher.com) and Uniqlo ( uniqlo.com).

MULTITASK BEAUTY. Forget what you do at home. Before leaving, scout department store counters for samples of de-aging serums, lotions and potions especially individual use foils. Pack disposable wipes for makeup removal, a tinted moisturizer to freshen skin, dry shampoo as a volumizer/blow-out extender, a do-all balm to nourish and protect everything from cuticles to flaky lips and a red cold nose, a feminine rose or peach lipstick to look "done" but not overdone fast. Try : Simple Radiance Cleansing Wipes ($5.69, drugstore.com), Elizabeth Arden Eight Hour Cream Skin Protectant ($19.50, elizabetharden.com), Maybelline Color Sensational Lipcolor in Peachy Scene ($7.49, maybelline.com), Bobbi Brown Essentials Lip Color in Soft Rose ($25, bobbibrown.com)

For more beauty & style tips for women 50-plus, check my books The Wardrobe Wakeup,Your Guide to Looking Fabulous at Any Age by Lois Joy Johnson ($14.55,amazon.com) and The Makeup Wakeup, Revitalizing Your Look at Any Age by Lois Joy Johnson and Sandy Linter ($18.25, amazon.com).

Photo credit: Eileen Fisher



Also of Interest

Join AARP: Savings, resources and news for your well-being


See the AARP home page for deals, savings tips, trivia and more